Last Updated on May 1, 2021 by KayakPro
Whether you want it for fishing or leisure, a good kayak will go a long way. If picked properly, it'll withstand the longest and most adventurous trips. For that matter, Perception is a definitely worthy manufacturer.
In the Perception Pescador Pro 12 review, we'll know why it's one of today's best-selling kayaks. I'll review its construction, storage, comfort, and possible shortcomings.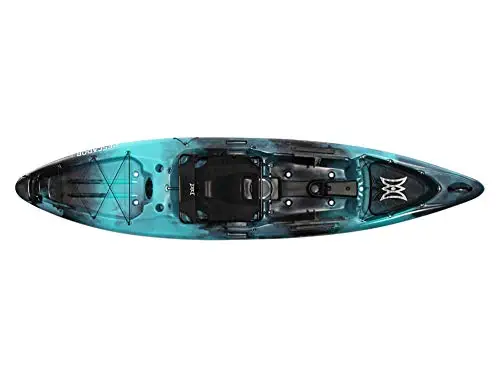 Without any further ado, let's dive right in!
General Features of the Perception Pescador Pro 12
In this section, I'll talk about the technical specs, build, performance, and other things that might relate to the user experience.
Size & Weight
The Pro 12 can be categorized with the large kayaks. It measures around 12 feet in length and 32 inches in width. Luckily, the large size doesn't always mean heavy construction. When empty, the Pro 12 weighs about 64 pounds.
As you probably figured from the product image, the Pro 12 is a single, sit-on-top kayak.
Build: Sturdy and Durable
If you've been into kayaking for a while, you must've heard about the exceptional quality of the Pescador series. The Pescador Pilot, Pro 10, and Pro 12 were all built with durability in mind.
The Pro 12, in particular, is optimized to withstand the most intensive use. For starters, it's made of high-density polyurethane that balances well between being sturdy and lightweight.
Perception says that its unique surface treatment makes this kayak perfectly resistant to UV, abrasions, and impacts.
Over the keel, you'll find an easily-replaceable skid plate that allows the kayak to be pulled over rough terrains without damage. I only wish if it was a bit larger to last somewhat longer.

perception Pescador Pro 12 | Sit on Top Fishing Kayak...
Your perfect first fishing kayak - Made in USA
Lawn chair style mesh seat with 2-level seat adjustment and breathable mesh for ultimate all-day comfort and no pain
Seat can be lowered for relaxed paddling or raised for optimum casting
Leak-proof one-piece construction with built-in buoyancy for added safety
It Has 2 Rod Holders
Just behind the seat, there are two rod holders molded into the kayak's body. Clearly, these holders can be efficient in keeping your rods out of the way while you're paddling.
But to be honest, I don't like these built-in holders. Yes, they're effective for storage, but they don't offer the best stability. More times than not, your rods might tip outside the holders after a tight spin.
Luckily, the Pro 12 allows for an upgrade. With its double gear track systems, you can mount any holder you want. I prefer the ones produced by YakAttack since they offer the ultimate versatility.
YakAttack Omega Pro Rod Holder with LockNLoad Track...
Works flawlessly with spinning, casting, larger conventional reels (even fly rods of all sizes)
Allows spinning reels to be stowed in the natural downward position, not hung off the side
A 360-degree rotating collar offers the ability to quickly secure the rod by capturing the reel
Multiple modes allow anglers to easily stage rods for quick access or lock them in for maximum security
What's Unique about the Perception Pescador Pro 12?
In this section, we'll take a look at some of the features that make the Pro 12 stand out between other kayaks.
Adjustable Pro Seat
Since this kayak is primarily intended for angling, it's equipped with a comfortable stadium-style seat. With its breathable mesh fabric, it won't collect sweat, even after hours of use.
By default, the seat assumes a straight back to give you the necessary support for lengthy fishing days. However, you can also recline it backward to relax and enjoy the moment.
If you want to enjoy the most minimal experience, you can remove the seat altogether.
Huge Storage
If you like to pack your kayak with lots of fishing gear, the Pro 12 should be an obvious choice. With a maximum weight capacity of 375 pounds, you won't leave anything behind.
Toward the bow, there's a fairly wide tank-well with a mesh cover. On the other hand, the stern tank-well has sturdy bungee keepers to accommodate larger stuff.
Pros
So far, the Pro 12 looks promising. But there's more to it than meets the eye. Here are some of the positive aspects that were praised by many online customers.
It's Built for All Body Types
Most anglers struggle with this issue. If a kayak is built to be strong, it'll probably lack comfort. Surely, the opposite is also true.
Fortunately, Perception was able to reach a middle ground. They made the cockpit large enough for you to move around freely without compromising the kayak's strength.
Since the entire seat can be pushed forward or backward, any angler can feel well-supported, regardless of his height. The footrests are also optimized for quick adjustments in the middle of the angling trip.
It's Inherently Stable
The wide build of the Pro 12 offers inherent stability. That's why I always recommend this kayak for beginners. It should boost their confidence until they're ready for something more challenging.
But it's crucial to note that this stability would be somewhat limited over choppy water. Due to the fairly thin depth of the Pro 12, Perception suggests limiting its use in lakes, ponds, slow rivers, bays, and calm coastal water.
Surely, this doesn't mean that it can't be used otherwise. If you have the required skills, the Pro 12 will definitely offer exceptional versatility.
Cons
Just like any other kayak, the Pro 12 has some negative aspects. It's important to consider them thoroughly before purchasing to make sure they'll be able to satisfy your needs.
It Might Be Hard to Maneuver
As a rule of thumb, a long and wide kayak, like the Pro 12, is perfect for people who crave speed and stability. However, the bigger size always cuts down on maneuverability.
Therefore, the Pro 12 might not be suitable for small, tight waterways and local bays. As an alternative, I'd suggest something like the Intex Challenger. Since it's about 3 feet shorter than the Pro 12, it should be perfect for the mentioned situations.
Prone to Splashes
Since the Pro 12 is a sit-on-top kayak, you might be exposed to occasional splashes here and there. In summer, that's certainly good news. In winter, however, it'd be super annoying.
The wide build of the Pro 12 might slightly worsen the problem. It'll inevitably cause bigger turbulence in the water, resulting in more splashes.
For this matter, a sit-inside kayak should be more convenient. There are a lot of great options in this category, but I personally like the Perception Expression 11.5. With its state-of-the-art seat, it has the same unique comfort of the Pro 12.
The Final Word
After that through Perception Pescador Pro 12 review, I can confidently recommend it to both beginners and experts. Its large build should provide lots of inherent stability and storage space for lengthy angling trips.
Primarily, the Pro 12 isn't intended for choppy water due to its thin depth. But you can still use it in these situations if you have the required skills. After all, its comfortable seat should enable you to bravely roam through any environment.
If you're looking for more maneuverability, I think you'll probably like the slightly shorter Pro 10 or the Intex Challenger.
I hope this review answered your questions. See you soon with another one!
Last update on 2021-06-09 / Affiliate links / Images from Amazon Product Advertising API