Last Updated on April 25, 2021 by KayakPro
Back in the day, you used to take your kayak and head off to the sea, on a recreational river tour, or for the occasional thrill on the white waters. Then, you look around, and now you have a lovely family. So can you still go on those kayaking trips?
Or maybe, you're like many folks who decide to try a new family activity. You like the idea of kayaking, but you're not sure whether it's appropriate for your youngest ones.
In this article, we'll answer all your questions. With proper planning, kayaking with kids can be safe, plenty of fun, and memorable for the whole family.
Are Your Kids Ready for Kayaking?
A six-year-old kid might be ready to take on kayaking, while an older child might seem apprehensive and even timid. We've seen this before so many times, and we know that there's nothing odd about that.
Age isn't the only determinant of whether or not your kid is ready for a kayaking trip. Here are a few other pointers to keep in mind as you make your recreational plans.

Your child likes swimming and water activities
Your child has sufficient coordination to handle paddling
You can trust your child with keeping the life jacket on at all times
An unexpected incident wouldn't make your kid panicky
Your child doesn't have any health issues that could be risky during the trip
Your child understands the importance of listening to the adults in the trip
Choose the Right Gear for Kayaking with Kids
This is among the most important aspects of a successful kayaking trip. You can get some expert input from kayaking guides or instructors. In addition, soliciting advice from other kayaking parents could also be priceless.
Whether you'd buy or rent child-friendly gear, here are a few points to keep in mind.
The Kayak
If this is the very first trip for your child, then you need to make sure that the kayak you're using is stable and relatively easy to handle.
A tandem recreational sit-on-top kayak is often a good choice for beginners. Your child can take the front seat, and that lets you watch over him at all times. Moreover, from this position, you can offer better guidance.

perception Kayaks Rambler 13.5 | Sit on Top Tandem...
The roomy, two-person design maintains the maneuverability of its smaller sibling, while adding stability | Can be configured for a solo paddler with...
Product dimensions – 162" L x 34" W | Deck height – 15.5" | Weight – 78 lbs. | Weight limit – 550 lbs. | Scuppers – 6
One-piece rotational-molded kayak | Paddles are not included | Perfect for all skill levels
Can be used on lakes, ocean bays, light surf or even slow moving rivers | Large rear open storage for cooler and other gear | Additional mold-in...
An inflatable kayak is often a helpful first step to get your child acquainted with kayaking. You can frequent a nearby small lake or swimming pool for a few weeks. Then you can upgrade to more sophisticated gear and longer trips.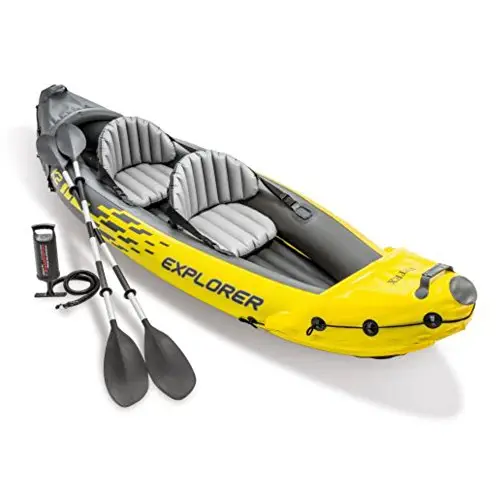 Intex Explorer K2 Kayak, 2-Person Inflatable Kayak Set...
Comfortable for anyone: Kayak includes an adjustable inflatable seat with backrest; Cockpit designed for comfort and space
Dimensions: Inflated size 10 feet 3 x 3 feet x 1 feet 8 inch; Maximum weight capacity: 400 pounds
Directional stability: Removable SKEG for directional stability
Increased visibility: In case of emergency, bright yellow color helps visibility
The Paddles
Paddles come in a multitude of shapes, sizes, and weights. Most brands make special gear for kids that suits their smaller stature and physique.
A lightweight paddle made from aluminum is often good. A kids' paddle should have a small grip, in addition to an adjustable shaft and blade.
Sale

The Lifejacket or PFD
The size and fit of the life jacket matter the most. A smaller PFD would be uncomfortable and wouldn't provide the necessary buoyancy. As for using a larger one, that might easily slip when it is most needed.
A kid's PFD would also be easy to wear since you wouldn't want your child itching to take it off all the time. Get one with a crotch strap, and pick bright colors, if you can.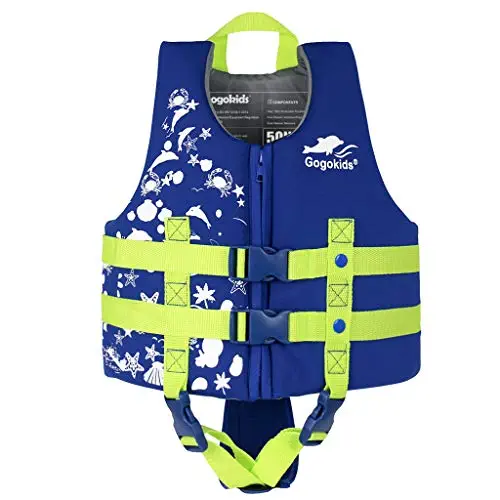 Kids Swim Vest Folat Jacket - Boys Girls Floation...
【Great Design】Jacket style, it wraps around the child's torso and keeps arms free for swimming.
【Neoprene Material】Top quality neoprene for warmth and buoyancy, give children more confidence in swimming learning.
【Comfort & Safety】Adjustable chest strap with quick-release buckles for comfort and safety.
【Crotch Strap】The kids swim vest comes with an adjustable crotch strap that ensures a snug fit.
A Wet/Dry Suit and Sandals
Depending on the weather and expected water temperature, a swimsuit might not be sufficient. And regular clothing would get wet quickly. To keep the kids safe and snug, you might need to buy a neoprene suit to keep the cold at bay.
Sandals or rubber boots are also necessary. Especially, if you're going to make several stops on the shore. Make sure to bring olive or mineral oil, and rub some on your kids' feet. It makes putting on and taking off neoprene shoes much easier.
Safety Kit
This is among the most important items you should pack. Be as prepared as you can with first aid necessities, as well as medications, sunscreen, and communication devices. You should also bring rope, light torch, a utility camping knife, and a compass.
Waterproof Bags
All the food, kits, extra clothing, and safety gear, would be spoiled if the water gets to it. That's why using suitable waterproof/dry bags could seriously save the day.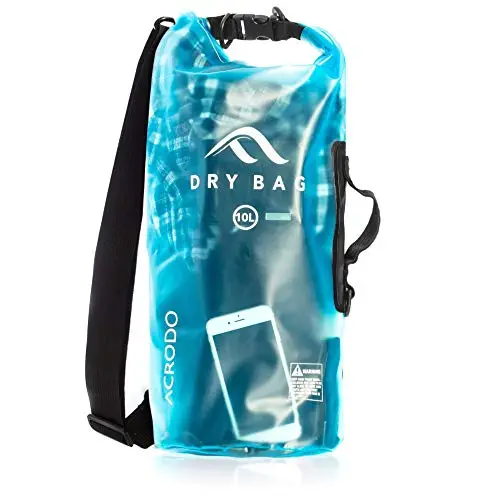 Waterproof Dry Bag - 10 & 20 Liter Floating Dry Sacks...
KEEPS YOUR ITEMS DRY – don't let a little water ruin your fun! Keep your gear from getting wet while kayaking, boating, fishing, the pool, or the...
FLOATS IN WATER – this tote won't leave you with a sinking feeling if your possessions slip overboard. Leave a small amount of extra room for air...
SHOULDER STRAP & HANDLE FOR EASY CARRY – easy to maneuver with two ways to carry. You can wear your dry bag cross body style for hiking comfortably,...
TOUGH MATERIAL RESISTS WEAR & TEAR – constructed from top-quality, durable materials. Acrodo Dry Bags are built to withstand the outdoors, camping,...
Teaching Your Kids How to Paddle
Paddling a kayak requires a few skills. There are several techniques to propel it forward, change its direction, slow it down, and do a full turn. Mostly the movements are simple and intuitive, but they need to be learned. Pretty much like riding a horse or a bicycle.
You could do this ahead of the actual kayaking trip, and take your kids to a nearby pool or little lake. Alternatively, you can dedicate the first couple of hours of the kayaking trip to learning the fundamentals. Then, you can add to these lessons a bit more every new trip. A bit like on-the-job training.
To get the best results, make sure that the kids are in a pleasant mood. Buy or rent age-appropriate gear, so they wouldn't be overwhelmed by extra-large or excessively heavy paddles. And choose a kayaking destination where they'd feel safe and have fun.
It would probably be easier to teach older kids than younger ones. However, starting young often yields remarkable results, especially in sports.
What Are the Best Places for Kayaking with Kids?
The children's age and skill level are important factors to consider as you think about possible kayaking destinations. However, it's generally better to go to places that aren't too far off the shore. This way, you can take the kids back whenever the need arises.
This is especially important if this is the first kayaking trip the kids ever take. They might not find it too entertaining, or they could get tired earlier than you were planning. Kids also need frequent stops to eat snacks or visit the toilet.
Lakes are often optimal choices. Calm rivers are next on the list, as they require a bit more control while steering the kayak. They do, however, offer a lot more excitement for the young explorers.
Open sea kayaking and white water kayaking are the two categories that you should select after careful consideration. They're higher risk destinations and often require following more stringent safety regulations. Sea kayaking usually needs soliciting the services of a professional guide as well.
What Do You Need to Pack for the Trip?
There's only a limited amount of storage space in a kayak. That's why you should only pack the essentials. Still, being out on a boat with kids entails being very well prepared, which sometimes means a bit of extra packing.
Lunch and Snacks
The fresh breeze, physical effort, and general excitement, often leave the kids famished. In addition, it's important to replenish the children's energy reserves, so they can stay active. Good food also assists in maintaining a joyful sunny disposition.
That's why a nice meal is often necessary. Sandwiches, protein bars, finger foods, and fruits, are good choices for the family picnic.
Another point to keep in mind is how you're going to keep the water from getting into the food container. Leak-proof packaging and waterproof bags come in handy in such situations.
Beverages and Hydration
When people are sailing or doing water sports, they often underestimate the need for consistent hydration. It's actually just as important as hydrating while running or hiking. Kayaking is a physically demanding activity. And having a generous supply of water, juice, and Gatorade is an absolute necessity.
Some kayakers prefer using a cooling container for the drinks, but that's not a must. Especially if the weather is already mild or cold.
Sun Protection
Being out in the sun for more than an hour and a half leaves its mark immediately. And I don't just mean the tan on your skin. UV rays are harmful when a person is exposed to direct sunlight for an extended amount of time.
Getting 'burned', having a rash, feeling dizzy, complaining of headaches, are some of the immediate symptoms people could feel after a few hours in the sun. the simple way to avoid these unpleasant outcomes is to apply sunscreen and wear a hat.
A Change of Clothing
There's a good chance that your kid will get all wet halfway through the trip. Kayaks are often low and the water gets in profusely. That's why having a spare change would make the trip much more pleasant for your child.
You'd also need an extra jacket or hoodie for the return trip. By the time the sun goes down, the weather often becomes rather chilly.
Entertainment Stuff
For a child, the only activities worth doing are the ones that include toys, games, and playing. Even though kayaking is fun, bringing along a few toys that your kids can tow and dangle into the water is always a blast.
For the older kids, a net or some marine exploration gear could be more appropriate. And if they're into photography, you can get a waterproof camera. They would get the chance to snap some exceptional shots throughout the day, and it would be a truly memorable trip.
Some Safety Tips
Here are some
safety tips
to make sure that you and the kids have a good time while kayaking. Good planning goes a bit beyond packing a delicious meal. Being knowledgeable about safety and practicing rational behaviors, is also a part of your meticulous plan for an awesome trip.
Make sure that the kids know the 'wet exit' by heart. The spray skirt is effective in keeping the water out, but at the same time, it will keep the kayaker in.
Practice the basics at the community swimming pool. The kids are familiar with it, and would be more receptive to training.
If your kids aren't good swimmers, a few lessons prior to kayaking would be great. Being better swimmers would make them more confident in a kayak. It's also safer if they are well acquainted with water sports.
Kids could get annoyed with wearing a lifejacket all the time. Make sure they never take it off despite that.
Always keep the kids in front of your eyes, never behind you. They can take the front seat in a tandem kayak, or lead the way if they are paddling in individual kayaks.
Inform the coast guard about your itinerary, and make sure your communication devices are fully functional.
Never use the tow line as a safety belt for the kids. This could be quite hazardous, and it's against regulations.
Bring along a first-aid kit for any emergencies.
Make sure you have a compass, torch, radio, ropes, blanket, and other extras depending on where you're going. Also, on the duration of the trip.
Food and water are essential for keeping the kids energized. Bring more than you estimate as sufficient.
FAQs
We often receive inquiries regarding the age-appropriateness of kids for kayaking. The following are some of the questions we commonly get.
Can a 4-year-old go kayaking?
Kids that age are barely able to swim, and might not have the physical ability to hold a paddle for too long. This age could be a bit early for a kayaking trip.
Can a 6-year-old kayak?
At six years of age, most kids can do laps in the swimming pool. They're often confident enough inside water, and can actually have fun as they splash and play with others. A child with a good physique can handle a paddle for a little while.
These kids would probably be unable to handle an individual kayak, but they could do fine sharing a tandem kayak with a parent. They can learn the paddling techniques with an adult, and if they get tired, the grown-up will carry on.
Can kayaking be dangerous?
Like any other water activity; kayaking can be dangerous. And not just for kids, it could also be risky for adults. Not wearing the right PFDs, disregarding the basic safety requirements, and even skipping sunscreen could all have unpleasant outcomes.
When it comes to kids, there are a few more safety measures. Starting with keeping them always constantly under the direct supervision of an adult.
Can a 2-year-old go canoeing?
A canoe often has more sitting space than a kayak. It's also more stable on the water, and less likely to capsize. That's why several families choose to go canoeing with their toddlers and pets.
This decision, however, should come with the highest possible regard for safety. It's always preferable to take children who can swim and handle water well on such trips.
In Conclusion
When I was very young I used to like swimming, but I seriously dreaded being on a boat. My family thought that I would never ever join them on the boat trips they liked so much. Then one day, I saw them all boarding an awesome sailboat, and I just went for it.
Kids might not be very predictable with what they would or wouldn't like to try. One of the things to remember is that they could change their minds overnight. Slowly getting them used to the surroundings, gear, and safety rules is the best approach.
Once they feel familiar and confident with the idea of kayaking, you and your family are all set for many enjoyable trips.
Last update on 2021-06-09 / Affiliate links / Images from Amazon Product Advertising API