Last Updated on April 25, 2021 by KayakPro
Bought a new kayak? Bored with your old one? It's time for an upgrade!
There are so many ways to improve your kayak. Whether you use it for leisure, fishing, or sport, several add-ons can serve to enhance your experience!
Is your kayak uncomfortable? It's time to get a new seat. Does it tip over too easily? Consider getting outriggers. Do you like nighttime sailing? You need some kayak lights.
There are many more improvements to consider. Without further ado, let's take a look at some popular kayak modification and upgrade ideas.
Top 12 Kayak Modification Ideas
Every upgrade has its own way of being attached to your kayak. This should be clear in the product manual, and if it isn't, it's best to look up how or ask your local aqua-sports equipment store.
1. Kayak Storage Crates
There's a hollow area in the kayak called a tank. It can be accessed via opening the hatch. This area is for storing cargo, but merely throwing your stuff in it doesn't sound very convenient, does it?
Purchasing a few kayak storage crates or bags is a better way to organize and properly position your gear and equipment within the boat. Be sure to measure the hatch to make sure the boxes can fit in.
Some kayak crates can be attached above deck by ropes or clips, depending on the type you buy. These allow easy and fast access to more critical gear such as the lifejacket, a flashlight, drinkable water, and the hand paddle, which we will later discuss.
Take into consideration that up-top boxes should be fully enclosed. This is to avoid accidental exposure to water. Just as well, they should be sturdy and well-fixed on the kayak to keep them from toppling over.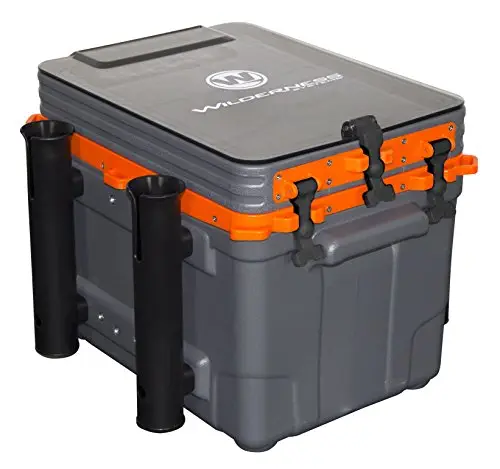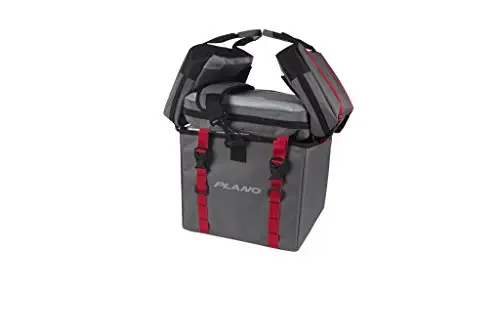 Plano PLAB88140 Weekend Series Kayak Crate Soft Bags,...
Plano Tackle Storage | Protecting your passion since 1952 | The ultimate kayak soft tackle bag | Dimensions 12" L x 17.5" W x 12.5" H | Includes: Two...
Fits securely in milk crate (not included) or rests freestanding as crate alternative | Durable water-resistant fabric | Secured by series of sturdy...
Four-panel design carries as much or as little as you need | Easily remove panels and utilize attachment points for customizable storage
Large open interior with two sections of bulk storage | Side storage panels double as sturdy carry handles
2. Lighting
Have you ever stayed out longer than you'd planned to on your kayak, and when it started getting dark, you could barely make out your surroundings? Yikes! That doesn't sound good.
Not only do kayak lights help you see more clearly in dimmer environmental settings, but they also help other boats see you. This can truly save you from incidents as hazardous as head-on collision!
Another great use for kayak lights is the ability to use them for SOS signaling. Anything can happen on the open water; you never know when this can come in handy.
Sale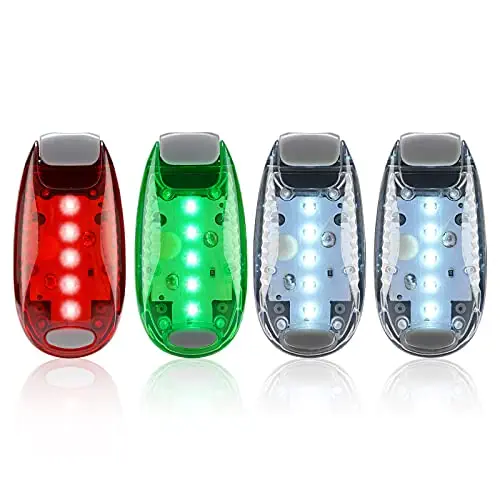 4pcs Navigation lights for boats Kayak, LED Safety...
【4PCS BRIGHT LED LIGHTS】, each LED light includes 5pcs SMD LED on the PCBA board, bright; 3 different colors for different purposes, 1pc red and...
【WEATHER-RESISTANT】, IPX5 weather-resistant case, so it's suitable for outdoor use, it is widely used for different boats, pontoon, kayak, bike,...
【A PRACTICAL SCREW DRIVER】, with this tool, you could easily change the LED light's battery; the screwdriver is precisely machined with...
【EASY INSTALLATION】, the LED light's back is with a clip, which could easily attach to a flat belt; With these extra elastic straps, you can...
3. Battery Box
You'll find that the installation of lights to your kayak will require a battery, naturally.
Battery? Electricity and water? That doesn't sound like a good combination. This is why it's crucial to get a battery box. A battery box should be waterproof, so keep this in mind when making a purchase or creating one at home.
Sale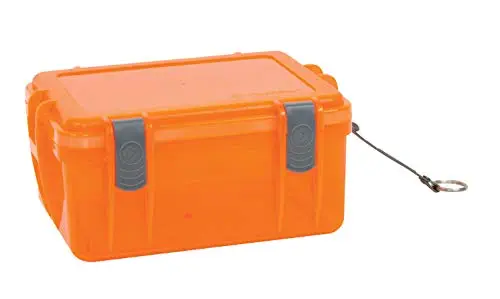 Outdoor Products - Watertight Box (Shocking Orange,...
Polycarbon
Multipurpose box protects against moisture, dust, dirt, and sand; great for boating, kayaking, fishing, and more
Rubber key clip and strap attachment point; O-ring closure for a watertight seal
Made from shatterproof translucent polycarbonate; small size measures 3.25 x 5.25 x 6.75 inches with 840 ml capacity
4. Paddle Leash
Another upgrade you'll definitely need is a paddle leash. If you've ever accidentally let your paddle slip into the water, and had to swim in to retrieve it, then you know how big of a dilemma this can be.
This can happen to anyone, especially if the weather suddenly takes a turn for the worse. Investing in a paddle leash is one of the best ways to ensure you never have to dive in if you weren't planning to, or if you go overboard and wonder whether to chase after your kayak or the paddles!
This little invention comes in very handy, especially for anglers who constantly switch between the paddle and a fishing rod.
Paddle leashes can be attached to other equipment as well, not just the paddles. The fishing rod itself is a good example.
5. Rod Rest
Speaking of fishing rods, one modification any kayak angler should invest in is a rod holder.
Most fishing kayaks already come equipped with some, but if your kayak is not of that variety, and you wanna try fishing out-of-the-blue, fear not! You can get a rod rest.
The best thing about buying your own is the ability to choose the kind of rod rest you want. You may find one with articulating arms or ball-and-socket joints. These features can help you customize the angle and direction of your fishing rod. Just as well, you'll be the one deciding exactly where the rod hold goes on your kayak.
You can get more than one, whether it's to accelerate flexibility or to equip multiple fishing rods at once.
6. Hand Paddle
A hand paddle is an excellent modification. Like full-sized kayak paddles, but shorter, hand paddles are easier and faster to maneuver with.
They're great for emergencies. They can help you quickly switch directions, making your way around logs or rocks.
Hand paddles can give you the advantage of the slow movement, too, allowing you to sneak towards fish quietly without spooking them.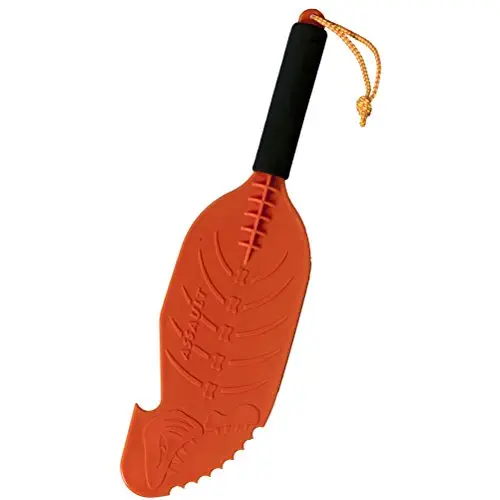 Backwater Paddles Assault Hand Paddle - Orange
Features. Can be used with one hand. Slim profile and lightweight design.
Hook feature to grab your line or dock, serrated edge can be used to launch yourself off solid surfaces. Made of strong, fade resistant plastic....
Model No. 06-0014. Made in USA.
7. Anchoring System
Another important kayak modification to consider is an anchoring system. For whatever reason you may wish to 'park' your kayak somewhere; this can prove quite difficult without an anchor.
Oftentimes, this is needed for fishing. Imagine trying to enjoy a good hour of angling, only to have to reposition the boat every couple of minutes because the current keeps moving it! Investing in an anchor system is an excellent way to avoid such a frustrating scenario, as its heavyweight will hinder the boat's automatic drifting by anchoring it to the water ground.
Many kayak anchors can be folded up! This means that, when not in use, you can easily store them away in the tank.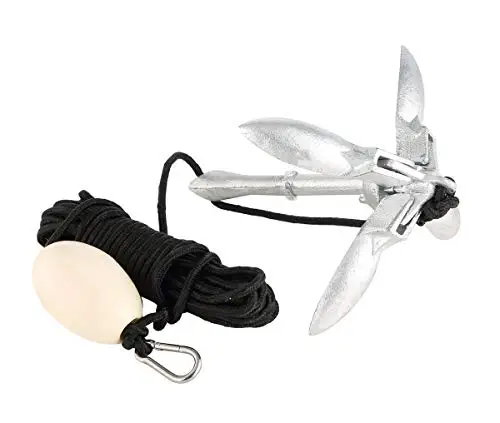 weyleity 1.5kg Kayak Anchor with 12meters/39.37feet6mm...
【Feature】 Our anchors are made of rust resistant galvanized iron and include an extra long 40ft marine grade rope, a nylon storage bag, a buoy...
【Applicable】Our anchor is the ideal accessory for outdoor enthusiasts who are into fishing, meditation, watching sunsets or photography.
【Easy to Use】 Slide the anchor collar upwards, fold open the 4 flukes, slide the collar back down, and lock into position. Use as much anchor rope...
【Buoy Design】Attractive anchor marker buoy. High visibility anchor marker buoy is easy to find out anchor location and pull it back.
8. Drift Sock
Now isn't that a funny name? Much like an anchoring system, a drift sock helps keep your kayak firm in place. Anglers especially will want to get this, for they know fish can be startled at the slightest of movement.
Pointedly, your kayak can be affected by any sudden rush of wind or choppy water. A drift sock helps fight your boat's urge to move along with the smallest of external stimuli. It resembles a parachute or large funnel. If your kayak is especially large, you may want to get two drift socks.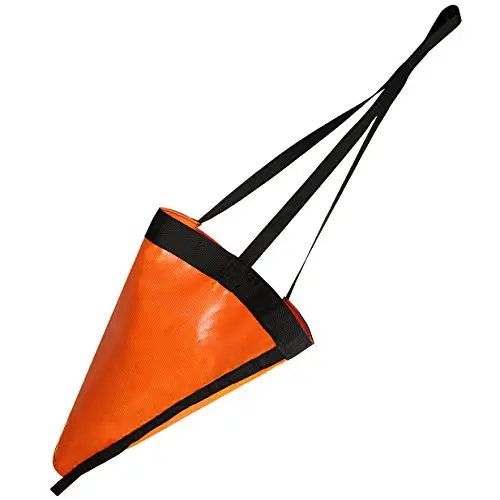 MOOCY 24-Inch Drift Sock Sea Anchor Drogue, High...
Tough PVC rip-stop fabric with reinforced webbing strap
This heavy duty functional drift sock anchor is great for stabilizing your boat in wind
Suitable for power boats, sail boats, inflatable boat, Jet skis, kayaks as sea brake or sea anchor
Compact and easy to stow, easy to use and improves fishing success
9. Outriggers
Outriggers are for narrower vessels. If your local body of water is prone to strong winds or fast currents, this can make a kayaking experience very unstable.
To avoid numerous 'man overboard' incidents, upgrade your kayak with outriggers. They can help reaffirm your kayak's stability by transferring weight to its sides, resulting in a flatter, more stable platform. No longer would you need to worry about whether or not your kayak would tip over if you tried standing.
10. Seat Upgrades
But enough about warnings and stability. How about some leisure-based upgrades?
Does your back ache whenever you spend the littlest time on your kayak? There's only one thing to blame: the seat. Fortunately, there are plenty of ways to improve your cockpit chair, or trade it in for a new one!
Getting a chair with a seatback is definitely feature number one to look for in more comfortable chairs. This is such a life-saver for long sailing hours.
More elevated seats are good for fishing, giving you a high-point view advantage over the fast, pesky little fish. Naturally, you also want seats with thick, soft cushioning.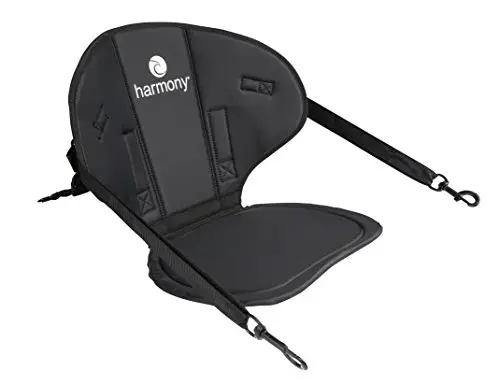 11. Camera Mount
Worried about taking your camera along? What if you drop it in the water?!
Nope. Not gonna happen as long as you have a proper camera mount. Firstly, you want to make sure that your camera and the mount are compatible. Most mounts work well with cameras that have standard tripod mount-points.
Also, keep in mind that you absolutely must have your camera in a waterproof case. The last thing you want is for a trip-over to happen, and there goes the camera.
With that cleared up, camera mounts can be a great way to record your kayaking adventure, or if you're sailing alone and just caught a big fish, the mount can help take the picture for you. Say kayak!
Sale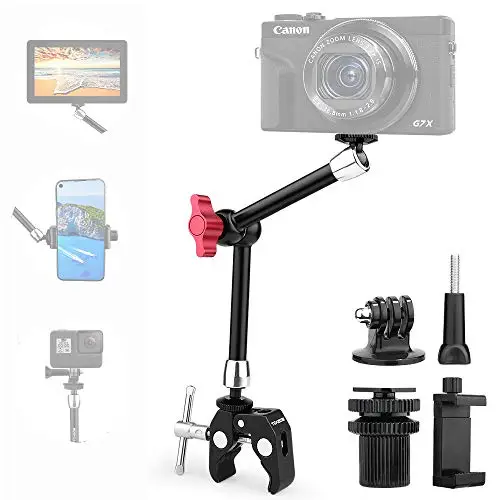 11" Adjustable Robust Articulating Friction Magic Arm...
11-inch mini magic arm, made of aluminum alloy & stainless steel, with high-end aluminum polished, maximum load weight is 3kg / 6.61lbs, a perfect...
Adjustable ball head design on both ends with standard 1/4-screw, provide multi-angle shooting, suitable for monitor DSLR camera, camcorder, action...
Meshing teeth design in the middle, provide more stability and security , easily tighten the joint of magic arm by turning the hi-torque screw
Super clip made with non-slip rubber pad inside, increase the friction and reduce the scratch of the pole, more stable and secure, work with 50mm...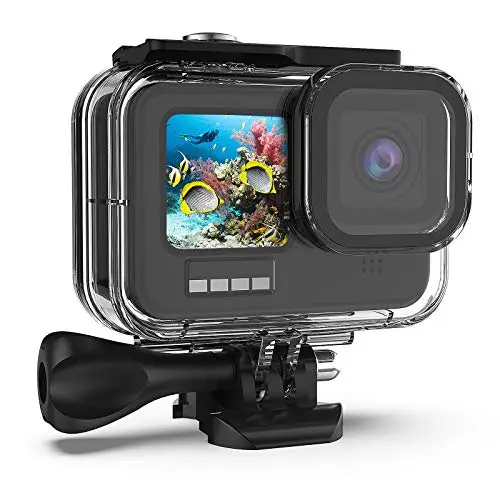 Kupton Waterproof Housing Case Compatible with GoPro...
📷【Professional Design】Compatible with HERO9, Kupton waterproof housing case fits like a glove and seals tightly, providing ultimate protection...
📷【60m/196ft Waterproof】This waterproof housing case with upgraded waterproof sealing ring and tight buckle helps avoid water leakage or fogging...
📷【High Light Transmittance】Featuring 99.99% transimittance, the lens of waterproof housing case allows for crystal clear photos/videos. Back...
📷【Full Protection】Made of high-quality PMMA material, this waterproof housing case protects your camera lens and screen from dust, shock and...
12. Fish Finder
An excellent modification for anglers is the fish finder. Though a bit pricey, fish finders can truly enhance your fishing experience by providing you with real-time sonar information on the water below you!
You wouldn't just be able to see what school of fish you're currently above, but also any other objects as logs, vegetation, rocks, etc. Some fish finders even feature built-in maps via a GPS system.
Installing a fish finder to your kayak will likely require the addition of a battery too, just like the lights. But there are other smaller fish finders that run on small, compact batteries.
Wrap Up
Kayaking is a wonderful activity, an excellent fishing technique, and a hefty sport. Upgrading your kayak is a great way to enhance your kayaking experience.
Remember to invest in more stabilizing modifications first, such as paddle leashes, lights, and outriggers. These can save you lots of time and energy when facing weather hiccups. Later, there's nothing wrong with looking to enhance the more leisurely experience. Back pain sure makes you think twice about taking your kayak out for a spin, not with a seatback!
There are so many more useful and important upgrades you can add to your kayak; we only scraped the surface!
Last update on 2021-06-09 / Affiliate links / Images from Amazon Product Advertising API