Last Updated on April 25, 2021 by KayakPro
Finding the right sit-on-top kayak, also known as an SOT, can be a difficult process with so many options available on the market.  Many people are drawn to SOTs because of their ease of use.  It's not hard to get in and out of the kayak, and they tend to be ideal for those looking to do some fishing on their kayak.
List of the Best Sit on Top Kayaks
With that in mind, we've compiled a list of the best kayaks on the market in 2021.  We've taken into account things like quality, durability, reviews, manufacturer, and more.  So, without further ado, let's take a look and see which ones made the list.
IMAGE
SIT on TOP KAYAK
DETAILS

Best fishing kayak

BKC RA220 11.6′ Single Fishing Kayak

Type:

Solo

Style:

Fishing

Price:

$$$

Check Price

Great for Beginners

Great for Beginners

Vibe Kayaks Skipjack 90 9 Foot Angler

Type:

Solo

Style:

Fishing

Price:

$$$

Check Price

Ideal for Fishing

Ideal for Fishing

Vibe Kayaks Yellowfin 100

Type:

Solo

Style:

Fishing

Price:

$$$

Check Price

Best Recreational Kayak

Best Recreational Kayak

Type:

Solo

Style:

Recreational

Price:

$$$

Check Price

Great for Lakes and Rivers

Great for Lakes and Rivers

Ocean Kayak Frenzy One-Person

Type:

Solo

Style:

Recreational

Price:

$$$

Check Price

Great for Entire Family

Great for Entire Family

Type:

Tandum

Style:

Recreational

Price:

$$$

Check Price

Recommended for Beginners

Recommended for Beginners

Perception Pescador Sit On Top

Type:

Tandum

Style:

Recreational

Price:

$$$

Check Price

Excellent for Paddling Pairs

Excellent for Paddling Pairs

Type:

Tandum

Style:

Inflatable

Price:

$$

Check Price

Recommended for Oceans

Recommended for Oceans

Type:

Solo

Style:

Inflatable

Price:

$$$

Check Price

Durable and Budget-friendly

Durable and Budget-friendly

Type:

Solo

Style: Fishing
Price:

$$$

Check Price
Before we dive into the reviews, here's a quick comparison table to take a look at:
Best Sit on Top Fishing Kayaks

Available in seven different colors, the BKC RA220 is a 1-person kayak for the fisherman who wants to cover plenty of distance over water and desire maximum control over their boat.
Features
Although it provides seating capacity for a single person, the RA220 fishing kayak lets that person store plenty of gear with its 450 lbs load capacity. It lets you store all your essentials in watertight storage space, whereas you can keep the other items in a designated cargo area.
Regardless of the water in which you might go fishing, its foot-pedal operated rudder provides you with ultimate control over this fishing kayak. In case you want it, you can easily stand on the stable platform of this kayak without the fear of falling overboard.
As for the two flush-mount rod holders which accompany this kayak, you can use them both for keeping fishing poles away and for keeping lines in the water for the purposes of trolling. A couple of bungle paddles, meanwhile, let you secure this kayak's paddle to the hull in case you want to get some rest.
Provides standup stability
Waterproof storage area
450lbs load capacity
Foot-pedal operated rudder control
Final Verdict
With the BKC RA220 fishing kayak, you get loads of storage options, a platform which lets you stand without the risk of falling overboard and loads of other extras. What more can you ask for!
Although it is primarily designed for fishing, you can also use the Vibe Skipjack for recreational purposes as well. Add to the equation its lightweight, and there aren't many faults which you can find with this model.
Features
Measuring 9 feet long and 32'' wide, the Vibe Skipjack is a very stable kayak whose pronounced edges reinforce its stability to let you stand while trolling. It comes with bungee side paddle parks which let you secure the boat when you aren't fishing, and 4 carry handles make carrying this kayak a cinch.
Furthermore, this kayak comes with an adjustable deluxe seat to let you enjoy your time on the water. You get front and rear UV protection straps with the seat and it also has a small rear pouch with enough space to store all your essentials. A mounting point for accessories is also provided.
Two sealed cargo hatches in the middle and on the bow of the kayak allow you to easily access fishing-related items. These hatches are equipped with bag inserts to make sure your cargo remains dry. You also get 4 flush-mounted rod holders which enable you to put several lines in water while you're trolling.
Considerable cargo room
Extremely maneuverable
Incredibly stable
Not the fastest kayak out there
Final Verdict
In case your next fishing expedition intends to take you to a tighter waterway – one where you'd need a maneuverable kayak to get things done – the Vibe Skipjack 90 might be an ideal option for you.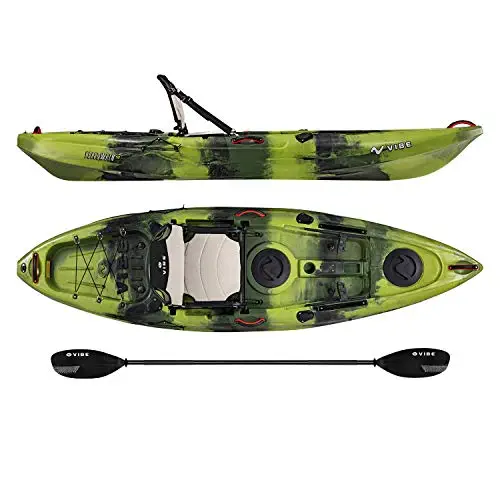 The Vibe Yellowfin 100 is one of the newest kayaks on the block so you won't hear many persons going mad about its features. However, as its inclusion in this review suggests, this model has got everything to be the next big thing.
Features
To handle the problem of leakages which renders many kayaks useless, the polyethylene material of construction of the Vibe Yellow goes a long way. Its single piece-design and the absence of joints means that there is little if any, chance of leakages developing in this kayak after multiple uses.
Furthermore, this model contains 9'' storage hatches which, in turn, are secured by levers to lock your essentials safe and are made waterproof with their bag inserts. Or if you want to store some fishing gear, there's space for them in the tankwell by the stern.
Lastly, the Vibe yellowfin includes bungee paddle parks to let you secure your paddles when not in use. Two tray holders on both sides let you keep your hooks and baits well-organized and a built-in cup holder will look after your drink. Plus, there are 4-soft grip handles to make transporting this model a cinch.
Tray and cup holders
Easy-grip carry handles
Has adjustable footrests
Final Verdict
For those of you who go for fishing every now and then and want a kayak with all the features to make your next trip a memorable one, the Skipjack Yellowfin 100 might be very suitable for you.
BEST SIT ON TOP Recreational KAYAKS
Following are the best SOT kayaks for recreational purposes:

Will it be good for a beginner? Does it have enough storage space to handle all your essentials? Will its cargo storage area hold all your gear? To find out the answers to these (and similar) questions about the Perception Pescador 10, let's check out its features.
Features
Offering a maximum load capacity of 325 pounds, the Pescador 10 is a 10 feet long kayak whose short length makes it incredibly easy to maneuver in calm waters. Still, despite its compact size, this model provides plenty of space.
For instance, if you want to store cooler or other larger items, there's molded-in storage area located just behind its seat – one which has bungee cords to secure your items. Also located behind the seat is a molded-in storage area which you can use as a rod holder.
On both the right as well as the left side of the seat, you get gear tracks to attach accessories, such as GPS. Then there's the recess located in front of the seat to let you store fish-finding gear. Plus, you also get a cup holder for your drinks. Also provided is paddle-storage area to keep it from floating away.
Leak-proof design
Loads of storage area
Compact and lightweight
Not the one for stormy waters
Final Verdict
While this kayak is built for recreational purposes, its manufacturer has sprinkled it with several other fishes to attract the fishing-crowd, as well. That means that both anglers, as well as non-anglers, can enjoy what it has to offer.
The Ocean Frenzy One-Person is a responsive kayak which would remain stable as long as you keep it on flat waters. Which is to say that like most other recreational kayaks on the market, you shouldn't use it in windy conditions.
Features
Since it is a one-person kayak, Ocean had little choice but to equip it with 9' length and 31' width – dimensions which make this boat quite easy to handle. Still, what it lacks in size this kayak more than makes up for with its durability, comfort and storage options.
For instance, to make sure that this kayak lasts longer, Ocean has equipped it with a one-piece high-density polyethylene fabric. Not only does this choice makes this kayak rust-free, but it has also solved the problem of wear and tear which plagues other types of fabrics.
Additionally, with its four-way adjustable seat and footrests, you can be as comfortable as possible during your trip to the sea. And as you do that, the two tankwells – one of the stern and the other at the bow – will keep safe and sound all your essentials as well as other fishing-related gear.
4-way adjustable seat
Has footrests
Durable construction
Final Verdict
As a mere glance at its review will tell you, the Ocean Kayak Frenzy is a suitable option for beginners and experts alike provided you can afford to ignore the absence of a storage hatch in its package.
BEST SIT ON TOP Tandem KAYAKS
Following are the best SOT kayaks which you can use in tandem with your partner: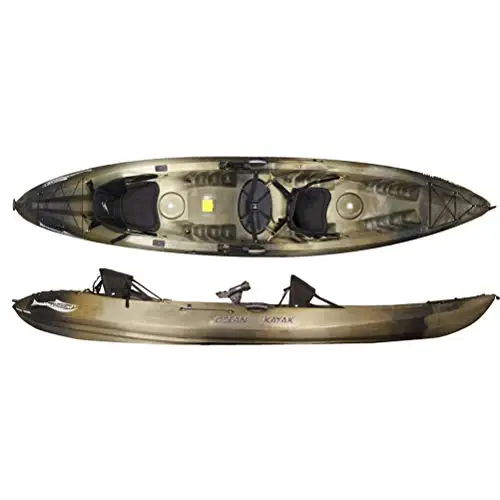 Provided you have no qualms paying the steep price this kayak demands for its services, the Ocean Kayak Malibu can be a great option for the entire family.
Features
Starting with the best feature that the Ocean Malibu has to offer, it offers three seating positions despite having only two Comfort Plus seats. This makes it a worth-having option if two adults plan on using this kayak along with a small child.
Conversely, if you plan on paddling it solo, the center seat will come to your rescue. The kayak is equipped with overlapping footwells to provide pain-free foot bracing to the solo paddler. Its unique hull and deck design means you can easily stack multiple hulls on the deck.
Yet another notable feature of this kayak is the skid plate which makes it more durable. Also provided are gear straps using which you can effortlessly secure loose items. A couple of molded carry handles, meanwhile, allow you to easily transport this compact kayak.
Gear straps to secure items
Multiple foot positions
Three seating positions
Storage space is a bit limited
Final Verdict
With its comfortable seating experience, footrests which let you embark on a pain-free ride and molded carry handles which let you easily transport it, the Ocean Kayak Malibu is another great SOT kayak on this list.

Whether you're a beginner at kayaking or want something specific from your next vessel, the Perception Pescador sit on top kayak offers an immense number of benefits with its relatively recent features.
Features
Everything about the Perception Pescador is solid, model and reliable. It has few moving parts which are never a bad thing, as less moving parts means less area for wear and tear to target. Like most kayak models, this one is equipped with a single rod holder, though you can make more additions.
To demonstrate its utility for recreational purposes, this kayak offers loads of storage options. Both the seats have storage hatches in front of them with protective lids to store your essentials. Also provided are drink holders to house your beverages, and there's a large rear storage area to store larger items.
Lastly, user comfort is yet another area where this model hasn't compromised. It has quick-adjust footrests which complement paddlers of all foot-sizes. You can position its seats to get a personalized fit and its paddle attachment point frees both of your hands to let you fully concentrate on fishing.
500 lbs weight capacity
Adjustable seatback positioning
Front & rear storage areas
Has molded-in handles
Lacks attachments in its package
Final Verdict
The Perception Pescador is a comfortable sit on top kayak which offers all the bells-and-whistles which you might want in a recreational vessel.
BEST SIT ON TOP Inflatable KAYAKS
Following are the best sit on top inflatable kayaks:
Weighing at just 30 pounds and costing less than most other inflatables on the market, the Intex Explorer K2 is an excellent option for paddling pairs provided you can learn to live with its minimal transportation and storage space.
Features
Kayaks like the Intex K2 which have a streamlined design are perfect for smaller water bodies like lakes and rivers. Not only does its compact shape makes the K2 easy to paddle, but its I-beam floor also equips this model with rigidity and stability.
Carrying capacity and comfort are two areas where this model truly shines. It can withstand a weight of 400lbs which means two average weight adults and a medium-size dog can easily go kayaking on it. Also, with both its seats being inflatable, you won't have many problems finding your best fit.
Perhaps because it is wider than your average inflatable, the Intex Explorer is incredibly stable in calm waters. You can also rest easy knowing that this vessel tracks well in still water. That's because of its removable skeg which you can install in its base to keep the K2 in a straight line.
High weight capacity
I-beam floor adds stability
Has a removable skeg
Oars in its package are low quality
Final Verdict
With this model selling like hotcakes, it goes without saying that most kayakers love the combination of a budget-friendly price tag and a beginner-friendly operation that it offers.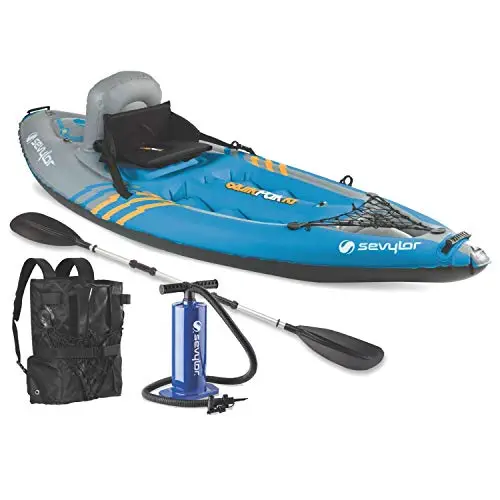 In addition to its 5-minute setup which ensures that there's minimal time between you taking this kayak out of your car's boat and riding on it into the sea, the Sevylor Quikpak K1 offers plenty of reasons to be the 2nd best inflatable sit on top kayak in our list.
Features
With its upper part made of industrial grade PVC and tarpaulin lining its bottom, the Sevylor K1 is virtually indestructible on lakes, rivers, and even open seas. Yet another benefit which both these materials provide is that once you fold this kayak, its collapsible design will let it pretty much fit in your backpack.
To make the kayak buoyant at all times, it has five chambers. In an unseemly scenario when one of them gets punctured, you'd still have enough air chambers to get you and your loved ones back on the shore. However, since it has an Airtight system, the chances of leaks happening in this vessel are pretty slim.
Finally, we cannot help but credit its cockpit as one of the best things about the Sevylor K1. It allows you to easily enter and exit the boat, has adjustable seats to give you a comfortable riding experience and has Double Lock valves to let you inflate/deflate the whole system in absolutely no time.
User-friendly
Rugged and durable
Double lock valves
Final Verdict
Regardless of whether you're a beginner who is just learning the ropes or an expert worried about his safety, the Sevylor K1 has got plenty to offer.
Best Budget SIT ON TOP KAYAKS
Following are the best budget sit on top kayaks: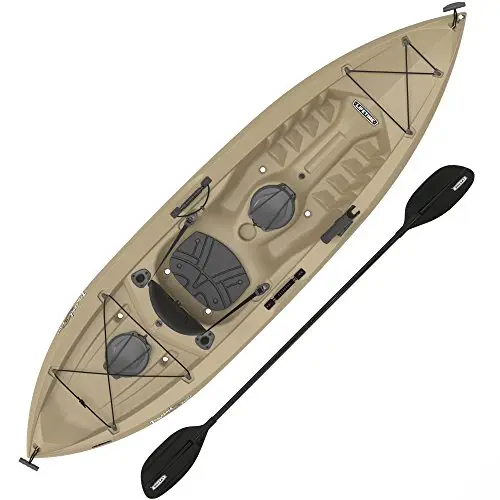 Most people think that budget kayaks don't last long and are therefore a waste of the money that they charge for their services. Most people, as you'd realize after reading our review of the Lifetime Tamarack Angler, haven't yet heard about this model, it seems.
Features
If there's one area where the Lifetime Tamarack belittles its meager price tag, it has to be the storage options that it provides. Two six-inch latches in the bow and middle of the boat let you store smaller items. You also get a separate, dedicated area to store bigger items such as coolers, bags, etc.
While its price tag means you can't ask for more, the Angler still has the tenacity to provide a few bonus features. It contains front and side bungees which will hold the paddle in place as you're busy in your drink. Three rod holders – 2 flush-mounted and 1 swivel top-mounted – are also in there.
As for its comfort level, that's one area where you feel like you are getting what you paid for. The seatback, though padded, isn't adjustable – so you'd have to live with it. Though the foot grooves are better as their design lets them compliment the contours of your feet to give a comfortable experience.
Ample storage space
UV protected material
5-year limited warranty
The seat might get uncomfortable when used for extended periods
Final Verdict
Our review of the Lifetime Tamarack Angler reveals it as a dependable product which provides great value for your money and sweetens the deal by including an ample amount of space options.
Available in seven different colors and in a price tag which won't blow a hole in your pocket, the Sun Dolphin SS 10-Foot kayak targets beginners with its relatively basic set of features.
Features
Even when you're choosing a budget kayak, you should never compromise on the build. Fortunately, the manufacturers of the SS 10-foot heeded our advice, as suggested by the high-density PE hull of this model. Reinforced further by Fortiflex material, the hull, which is also UV resistant, can take severe beatings
To further sweeten the deal, this vessel offers thigh-pads in its package. Also, while you don't get a fully adjustable seat, what you do get is an adjustable pad which provides necessary lumbar support, with its adjustable foot braces taking care of people of different heights.
Onboard, this vessel has a dry storage compartment where you can store your essentials and other valuable items. On the back of this boat is a 'Portable Accessory Carrier' which we recommend you use for storing items that you won't need every now and then. And in case you need to rig some accessories such as fins or fishing poles, you can take advantage of the onboard shock rigging.
Strong and UV-resistant
Comfort from the back pad and thigh pads
Easy to maneuver
Doesn't provide rod holders for fishing
Final Verdict
As you might have guessed by now, the Sun Dolphin SS 10-Foot sit on top kayak provides great value for money by offering sturdy construction and comfortable riding experience.
Sit-on-Top Kayak Buying Guide
If what is a comfortable sitting position, easy access, and better view, then you can't settle for anything less than the best sit on top sitting kayak. And to make sure you get exactly that, this buying guide will help you out.
What is a Sit On Top Kayak?
As the name implies, sit on top kayaks have a design which allows you to, well, sit on top of them! They don't have an enclosed cockpit and their paddler isn't positioned inside of the kayak, as you might notice with other types of kayaks.
Instead, with their cockpit being out in the open, the SOT kayaks won't make you feel that you'd be trapped inside the kayak in the event if it capsizing. Other than that, these kayaks have molded seats and a sealed hull to allow easy ingress and exit.
Still, despite all their advantages, not everything is hunky-dory with SOT kayaks. Since you're always out in the open, you can't save yourself from getting wet. Or, if it's too hot out there and you forgot to apply your sunscreen, your skin might get burnt in a matter of minutes.
Easy to get on and off
No claustrophobic feeling
Room to carry more gear
Keep cool when it's hot out there
Disadvantages of SOT Kayaks
Can get wet and cold
Watch for sunburn!
Types of Sit on Top Kayaks
As you have already seen in the reviews section, the best SOT kayaks come in multiple types – with each type designed to serve a different purpose i.e. fishing, recreation, etc.
Sit on Top Tandem Kayaks
If you want to head out with your best friend or partner – and find it fun to paddle together – the tandem kayaks are a must-have for you.By fostering a sense of cooperation since both of you will be paddling at the same time, these kayaks make padding fun. That said, you'd have to paddle quite actively since these models tend to be quite large and heavy in comparison with other types.
Ideal for beginners
More storage space
Good for longer trips
Sit on Top Fishing Kayaks
As more and more people get enamored with the idea of kayak fishing, sit on top fishing kayaks are getting more popular. These kayaks have features such as pontoon stabilizers, a flatter hull which gives stability and water wheels which are pedal-powered to allow you to maintain your grip on the fishing pole.
Short and lightweight
Can easily store them on a car rack
Some models also offer storage space
Sit on Top Recreation Kayaks
With their length never exceeding 12 feet, the SOT recreational kayaks are stable and easy to steer. They also feature a small area to let you store essentials, a bigger cockpit for easy ingress and exit and a wide hull for faster movement. You can use these kayaks on areas of saltwater, flatwater streams, and lakes which are shielded from waves and winds.
Less chance of capsizing
Easy to maneuver
Comfortable riding experience
Not famous for their ability to track (move in a straight line)
Sit on Top Inflatable Kayaks
In contrast to what most people believe, not all inflatable kayaks are designed to be used for recreational purposes. Provided you can afford to pay a bit more upfront, you can get a model which is meant for whitewater. We recommend that you only use them on calm waters since their wide and sturdy hulls make it difficult for you to paddle them in rough water or high winds.
Hard-wearing
Easy to maneuver
Good for beginners
Not for rough water or high winds
Paddling location
Where are you going to paddle with your SOT kayak? As you're going to find out, the answer to this question will help find the right kayak for your needs.
Small Rivers
As per a rule of thumb, small rivers tend to move quicker than their larger counterparts, and you can use SOT kayaks in up to Class II rapids. You won't only be able to learn how to kayak if you're a beginner, but local rivers also let you easily recover if flipped.
Furthermore, the presence of self-bailing scupper holes in your SOT kayak gives it a huge advantage when its deck is overwhelmed by water waves. The strategic positioning of these holes allows the water to drain out of the kayak without requiring you to do anything.
Large Rivers & Lakes
Since they tend to be slow-moving, you can easily handle large rivers while sitting on a SOT kayak. These rivers allow you to try out the widest of activities and are brilliant for fishing, overnight camping, day trips and touring. Which is why most kayaks on this list can be easily used in this setting.
However, if you want to go kayaking on lakes, you might need to note that a lake's size determines the size of your SOT kayak. The larger the lake, the bigger (and wider) your SOT kayak needs to be to make you feel stable on the water.
Hull material
In case you're wondering, the underside of your kayak is known as its hull. Depending on the material used in its construction, a hull might act as a deal maker (or breaker) for you. Following are some of the most common hull materials:
– Polyethylene
Also known as plastic in common parlance, its low weight and low cost make polyethylene hull an attractive proposition for most buyers. However, if your hull is made of lower grade plastic, it might end up compromising the durability of your kayak.
– Composite
Composite is either made from carbon fiber, aramid, laminates of fiberglass, or a blend of all three. You might also find some hulls made of Kevlar and graphic composites. Hulls made from composite are lightweight and are much more responsive to water waves.
– Wood
In addition to providing flexibility to the hull – thereby enabling it to withstand and absorb shock – wood makes a kayak lightweight and allows it to float easily on the water. Unfortunately, wood hulls which are protected from damage by moisture tend by their varnish covering tend to be astronomically expensive.
Storage and Seats
While SOT kayaks that provide more storage space for your gear tend to be more expensive, this one-time extra cost that you have to pay is preferable to that worry which you subject yourself to by leaving that extra gear on the beach under the custody of someone else.
As for seats, we always recommend that you go for kayaks which provide an adjustable seating system. Doing that will help you get the right fit.
Sit on Top Kayaks – FAQs
Q: Should I buy a kayak with a rudder or a skeg?
A: If you're a beginner who wants to paddle their kayak straight and don't know how to do it, you might need a rudder which you can think of a device which "steers" the kayak. However, if you're an expert and can maintain the direction of the SOT kayak without any external help, a skeg might suit you better.
Q: Which hull shape is the best for a sit on top kayak?
A: Depending on the purpose for which you need a SOT kayak, any of the following four hull shapes might come handy:
California Hull: If you want better stability
Chine Hull: If you desire more speed
Fishform Hull: If you are kayaking in surf zones
Flat Hull: If you're a beginner who prefers a sure (and slow) ride
Q: Are sit on top kayaks more stable?
A: There are two reasons why sit-on-top kayaks are more stable than the sit-inside kayaks.
First, thanks to their closed hull design, the SOT kayaks are virtually unsinkable, though they do have self-bailing scupper holes in case you still manage to tip them over. Second, since they tend to be much wider, SOT kayaks provide more stability than their sit-inside counterparts.
Q: Are sit on top kayaks good for rivers
A: As stated earlier, sit on top kayaks are great for rivers – whether it is the slow-moving type crisscrossing your city or the fast-moving one in the countryside.
Q: Are longer or shorter SOT kayaks better?
A: The answer to this question depends on how you intend to use your model. If you want your kayak to be the fastest in the water than you'd do better spending your money on a longer kayak. Or if you want slow (but sure) ride, a shorter SOT kayak might serve you better.
Q: What is the most comfortable kayak?
A: Of all the sit on top kayaks that we tested during the review phase, the Ocean Kayak Frenzy came across as the most comfortable as its 4-way adjustable seat and adjustable footrests let you kayak for hours without a hint of pain.
Q: What is the lightest weight sit on top kayak?
A: Among all the kayaks that you see in this review, the Sevylor Quikpak K1 is the lightest.