Last Updated on April 25, 2021 by KayakPro
Choosing the best sit-on-top fishing kayak can be tricky, especially when there are so many brilliant options at your fingertips! For newbies, the choice on offer can get a little confusing – just what is the difference between sit-in and an sot? How much extra storage will you need?
And is there anywhere to stow your fishing rod? Getting to grips is not easy, and this is where our expert advice comes in handy. As a rule, sit on top kayaks are the best option for beginners, for recreational kayakers, and for those who like lots of freedom to move about easily.
They are a comfortable and easy to maneuver option, and have extra stability and support – great if you are still finding your sea legs!
As the name suggests, these come with an open cockpit, and you are not confined into a small space; instead, the seat is placed on top of the kayak, allowing you to climb on and off unimpeded – perfect for heading into the water for a quick swim, and clambering back out to paddle on and take a closer look at a visiting pelican, or must-catch fish!
Within the sit-on-top kayak category, there is still a wide range of considerations; you can decide on everything from the perfect color to the weight capacity, space for fishing gear to the type of seat -this is a chance to really go to town, and enjoy a host of cool accessories!
Best Sit on Top Fishing Kayak – Comparison Table
IMAGE
KAYAK
DETAILS

Lifetime Tamarack Angler 100 Fishing Kayak

Material:

High-density Polyethylene

Comes with:

Two 6″ Storage Compartments

Price:

$$$

Check Price

Vibe Sea Ghost Sit on Top Fishing Kayak

Material:

Single Piece Polyethylene

Weight Capacity:

500 Pounds

Price:

$$$

Check Price

BKC RA220 11.6′ Single Fishing Kayak

Comes with:

4 Storage Compartments

Weight Capacity:

450lbs

Price:

$$$

Check Price

Perception Pescador Pro 12

Offers:

2 Level Seat Adjustment

Weight Capacity:

375lbs

Price:

$$$

Check Price

Lifetime 10 Foot, Two Person Tandem Fishing Kayak

Material:

UV Protected Polyethylene

Weight Capacity:

500lbs

Price:

$$$

Check Price

BKC TK219 12.2′ Tandem Fishing Kayak

Material:

High-Density Polyethylene

Weight Capacity:

440lbs

Price:

$$$

Check Price

Vibe Kayaks Sea Ghost Fishing Kayak

Recommended for:

Rivers and Lakes

Weight Capacity:

425 Pounds

Price:

$$$

Check Price

Ocean Kayak Prowler 13 Angler

Recommended for:

Traditional Kayak Fishing

Weight Capacity:

325 Pounds

Price:

$$$

Check Price

Sun Dolphin Bali SS Fishing Kayak

Great for:

Lakes and Rivers

Offers:

Maximum Stability

Price:

$$$

Check Price

Old Town Predator MX Angler Fishing Kayak

Offers: Comfortable Sitting & Stable Standing
Weight Capacity:

400 Pounds

Price:

$$$$

Check Price
To help narrow down your options, we have put together the ultimate guide to the very best picks in sit on top kayaks. Based on reviews from real kayakers, these products each have their own pros and cons, low prices and high-end options, and our ultimate guide will have you comfortably identifying your stern from your hull like a true kayaking pro in no time!
What to look for when choosing a Sit on top fishing Kayak?
Choosing the best sit-on-top fishing kayak is an exciting challenge, and there is a range of variations to consider when making your choice. Ultimately, your purchase will depend on your own needs, factors, and lifestyle, but here are a few of the key kayak features to bear in mind, to help you get started on your search, and narrow down the size of your 'to buy' shortlist!
Material
The material of your fishing kayak is going to be a key consideration, and many kayak reviews will highlight this feature. The material can have a significant impact on where you can take the vessel, the overall weight and portability, the types of water you can tackle, and the extra features and bonuses you can get.
When it comes to the best fishing picks, most anglers choose boats that are a little sturdier and can withstand wilder weather conditions. Many dedicated fishing kayaks are set up to offer the ultimate fishing system, and pride themselves on offering the exact things you need for success, such as rod holders and other extras.
Fishing fans also tend to prefer lighter materials; this allows you to bring more fear on board without worrying about exceeding the weight capacity. Weight is another key factor in choosing the best sit on top kayaks; the lighter the model, the easier it is to carry, and the more speed it can pick up quickly and easily on the water.
These do tend to be more expensive however, since they are made with top quality materials, and so tend to not be as appealing to new anglers. There are three main types of material that tend to be used for kayaks, and each has its own pros and cons.
Polyethylene plastic:
this is the cheapest option, and tends to be used in
beginner kayaks
, or those intended primarily for recreation. They are also the heaviest material, and will degrade if left in the sun and exposed to constant UV rays. To avoid this, these
kayaks will need to be stored under a cover
when not in use.
ABS plastic: Most mid-range kayaks will be made from ABS. It offers the durability of polyethylene but comes in at a slightly lower weight, making it easier to transport. Most of these vessels have the deck and hull crafted separately and then bonded together to form an identifiable two-tone design.
These are popular fishing kayaks, as they are tough enough to withstand scrapes and rocks, but lighter than the polyethylene option.
Composites: The lightest options, composites are made from a blend of fiberglass and carbon fiber, which helps to make them super lightweight and easy to transport, as well as the best options for picking up speeds quickly and easily on the water.
They are the material of choice for serious competitors, as well as those who may pursue kayak fishing professionally or at the top levels. The only downsides are their vulnerability to rocks and damage, as well as the leap in price.
Length
Length is another key consideration when purchasing your new kayak, and again, the model length you choose will depend primarily on your own needs and preferences.
As a rule, longer boats are preferable if you are planning a long trip, as they offer more storage space – a 
kayak for fishing in the ocean
or on an extended expedition will benefit hugely from the extra space, and it is worth paying for a few more inches.
If, however, you are planning on racing and focusing on speeds and turns, a shorter hull is a better idea – this gives you the flexibility you need to move more quickly, and a few seconds could be the difference between victory and a loss!
Beam
The beam – or width  – of your kayak is another decision to be made, and this choice can have a significant impact on the stability and speed of the vessel, as with length. As a general rule, a wider beam offers greater stability than a narrower one, and so is a good idea for new adventurers, and those who value a little extra security.
They can also make it easier to stand up in the kayak if needs be; sometimes this is essential when fishing to ensure the best results. Choosing a beam that is too wide can have it's own issues, however; it can make paddling difficult and cumbersome, as well as reducing speed due to an increased surface area contact with the water increasing drag.  There are two main types of stability to consider when it comes to the beam:
Primary – refers to the initial stability of the kayak in flat, calm conditions
Secondary – Refers to the ability of the kayak to stay stable in rougher conditions and waves
Most kayak fans will aim for a vessel that sits in between these two types – this offers a more versatile experience and can be used for fishing in many different types of waters and conditions. Not only does this offer more freedom to those on board, but it also ensures extra value for money, as you can buy one kayak which can easily tackle a range of challenges.
Seats
Most sit-on-top fishing kayaks are chosen for their ease of access, and so seats can be a secondary concern for many buyers. If, however, you are planning to spend extended periods on the water, it is important to find the best and most comfortable seat available, as this can help to protect your back from discomfort.
Footwells
An often overlooked aspect of many ordinary kayaks, and fishing kayaks alike, is ensuring that there is plenty of space available in the footwell. The best options will allow you to stretch your legs to avoid cramp, and will be covered to help keep your feet dry and free from splashes – an unfortunate side effect of many sit-on-top fishing vessels!
Some kayaks will also offer the option to adjust footwells to increase or decrease capacity depending on your needs and preferences, length of your legs, needs for storage and so on, and this is a good feature if you plan on taking long journeys, or just need a lot of comfort and choice when sailing.
Storage
Perhaps one of the most important features of any kayak – especially fishing kayaks – is storage. Fishing is an activity that comes with a lot of equipment, and keeping this safe and secure is a key priority for many anglers.
Kayaks, by their very nature, tend to get soggy, and so having a safe, secure and watertight area for storage of everything from your phone and camera to tasty snacks and a spare set of clothes is essential.
As well as your gear, you should also consider your tools – many kayaks will come with extras such as rod holders and paddle holders – both crucial tools onboard fishing kayaks! – and these help to keep your hands free while on the boat and allowing you to stand, move and stretch freely whenever required.
Rudder
Though by no means an essential for every kayak, a rudder can make a positive difference to some anglers and could be a point to consider when you buy your next model. If you are heading out to open water and wild waves, such as those undertaking ocean fishing, a rudder is a sensible accessory that can boost your fishing experience.
They can help to reduce the amount of paddling you need to do, and so are a great option for those undertaking lengthy expeditions, or battling strong currents where you are likely to get tired after a while.
Boats which are longer in length also tend to have these fitted as standard, as they are more popular options for fishing kayaks, and one of the important features for fishing fans to enhance their journeys.
Fit
The physical fit of the kayak you choose is also important; you should make sure you can get in and out of the vessel easily and without obstruction, and that you are able to sit on top of the kayak without feeling cramped or confined.
If fishing, check that there is room for all your gear without compromising your space, and be sure to check out the weight capacity of the vessel before making your purchase – ultimately, the best kayaks are those which allow you to feel comfortable.
Paddle
Not all kayak models will come with paddles as standard, so this is important to check before you commit to a decision. It is also a good idea to ensure that your chosen kayak has paddle holders or storage, to keep your hands free while you are on the water.
Cost
Your budget will ultimately determine the type of kayak you purchase and will be largely directed by your needs and preferences. Top fishing kayaks command a far higher price than smaller, recreational vessels, and you will find yourself paying a higher price for a lighter weight, more storage capacity, and a wider range of accessories.
Why You Should Use a Sit on Top Fishing Kayak?
Choosing a sit on top kayak, as opposed to a typical 'sit in' or inflatable kayak, has a number of benefits, particularly for fishing fans.
 Flexibility & Comfort
One of the biggest motivations for many anglers is the comfort and flexibility which comes with a sit on top model. Unlike a 'sit in' kayak, these allow you to climb in and out without issue and prevent the enclosed, confined feeling which can come with other types of kayak.
They also tend to offer a little more space to stand and move, and are not such an issue if you do happen to take a tumble! Ultimately, the best fishing kayaks will allow you to stay comfortable during your journey – this is a  key priority.
Fishing in Shallow Waters
Sit on top kayaks also allow you to hang out in calm, shallow water without any issues, and save you time when fishing. They are less likely to fill with water if you capsize, due to space, and so it is easy to turn them right side up and climb back in.
Sit in and kayaks tend to fill up quickly, meaning you have to head back to shore to dump out the water and head back out – precious time which would be better spent hunting for fish! An inflatable kayak is also a disadvantage here; these can catch and tear on rocks in shallow waters, cutting your exploration short.
Storing the Catch
Storage space is another bonus with a sit on top kayak, and this makes them the best choice if you need to transport a lot of stuff. A sit in variety means that you are taking up most of the space in the interior – not much room to store essentials!
When sitting on top, however, you make room for extra nooks and crannies which become available for storing your necessities, and having everything you need and want close at hand.
Sit on top vs Sit in Kayak for Fishing
When it comes down to it, the top fishing kayaks we have seen in our own and external kayak reviews tend to be the sit on top model. These are less likely to capsize, and easier to handle if they do tip over.
These types of kayaks can also handle shallow and deeper water with ease, offer the space to store rods and other essential fishing equipment, make the most of built-in paddle holders, and tend to have greater capacity thanks to an open design.
When opting for your new fishing kayak, it is best to pick the sit on top – you will certainly enjoy all the benefits, and have the added advantage of being able to add your own seat!
FAQs
 What is the best material for Sit on Top Fishing Kayaks?
Composites are the best material for a fishing kayak; they are lightweight, easy to move, and durable. ABD plastics are another budget-friendly choice, and may be more suitable for choppy, rough water.
Is a sit on top kayak better for fishing?
A sit on top kayak offers greater flexibility for anglers, allowing them more freedom to stand, move and recover in the event of the kayak capsizing. Their extra built in features and accessories are usually geared towards fishing, and they offer greater capacity and relaxation for long days on the water.
Is a sit on top fishing kayak good for the ocean?
A sit on top fishing kayak is the safest choice for the ocean; they do not fill up if you capsize, and anglers have more room to move and fall in safely in the event of an incident.
How do you sit in a sit on top Kayak?
As the name suggests, a sit on top kayak is easy to enter; you just climb onto the top, and settle yourself in the seat which sits on the deck! Taking out a kayak is a fun, exciting way to enjoy the water, and can be a great opportunity for fishing fans to grab some elusive catches.
A sit on top fishing kayak allows you greater freedom, and offers the storage and movement you need to enjoy the very best fishing experience – all you have to do is choose your favourite!
Best Sit-on-Top Fishing Kayak Product Reviews
We want to make sure you pick the perfect product for your outing, so read on for our top ten pieces, and start enjoying your new watercraft in no time! From fishing favourites to inflatable systems, here are the best in sit-on-top kayaks!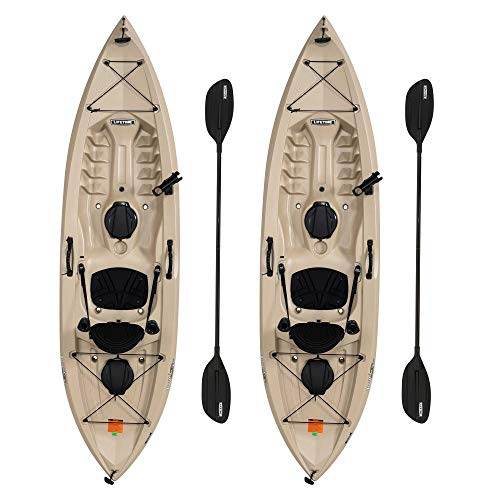 If you are on the hunt for the best fishing kayak, this Lifetime Angler should be top of your list. Comfort is the number one priority, with multiple footrest positions, allowing riders of different sizes to sit comfortably; a feature not often found in sit-on-top kayaks.
The seat back is also fully adjustable, as well as the seat pad – perfect for those long trips where the fish take hours to make an appearance, and adding to the chilled and laid back vibe.
Anglers are fully catered to thanks to flush mounted fishing rod holders, as well as a top mount fishing rod holder, and the stable flat bottom helps to ensure stability, even in the roughest rapids and busiest rivers.
This is a vessel which can offer the very
best fishing experience
, and is made from a high-density Polyethylene for a lightweight, easy to manage construction – it weighs just 57 lbs – which has the added advantage of UV protection, and which can be transported thanks to the inclusion of front and rear carrying handles. Even better, all your items are safe thanks to two good-sized storage spaces at the hull of the kayak.
Super lightweight and easy to manage
Easy to transport on foot
Plenty of storage space
Parts feel a little low quality compared to more expensive models
With a vibrant blue finish, this Vibe Sea Ghost kayak is the perfect choice for those looking to stand out from the crows, and offers a host of excellent features which have helped it to earn a place on our top sit-on-top kayak options.
Designed for one person to sit aboard comfortably, the 23ft length ensures great capacity, and a variety of quality storage features include a 20″ front oval hatch, a rear hatch, and a rear tank well  complete with bungee. The centre console is also perfect for easy access – you might want to keep essentials such as lunch in this compartment!
Fishing fans will also be satisfied with the available space for accessories, including 2 flush-mount rod holders in addition to 4 integrated gear tracks, making this one of the best equipped fishing  kayaks included in our list.
Even better, you can enjoy even longer trip sign total comfort thanks to a dual position Vibe Hero seat, designed to easily and comfortably support your body atop the water, and a pre-installed controlled rubber system means that you can preserve your energy and allow the kayak to do the hard work during lengthy paddles, or when you are up against strong currents to extreme wind – it is still easy to move and navigate your way to success!
At just 75 pounds, this is also the perfect pick for sport kayaking events, and is easy enough to transport.
Stunning blue design is eye-catching and unique
Packed with features for fishing trips
Capacity of 550 pounds
Includes rod holders for convenience
May require adjustments and tightening up after the initial trip
Quite heavy to transport alone – two people will likely be requires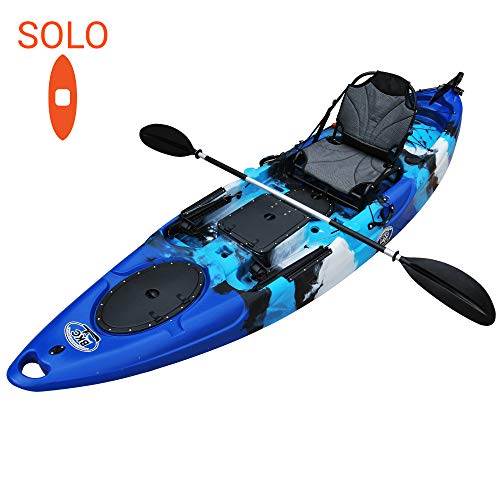 Stability is often an issue when it comes to investing in a fishing kayak, but this BKC Fishing kayak takes care of the problem, offering enough stability to allow anglers to stand up while casting, with no risk of hitting the water when you least want to!
When it comes to picking the ultimate fishing kayak, this should be a top pick, and it ticks off many of the essentials you need to enjoy a stress-free fishing trip, every time. Two flush mount rod holders allow you to have your hands free while kayaking, and these can also be adapted as paddle holders to keep the deck tidy when you are relaxing and getting comfortable.
They can also be perfect for keeping your lines firmly in the water if you are still fishing or trolling, ensuring you have one less headache to worry about. Paddles can also be secured thanks to the bungee rests – no need to worry about losing a paddle and finding yourself stranded!
Storage is another huge advantage of the watercraft, and there is plenty of capacity for watertight storage – must have for kayaks – which means that you can stock up on supplies, keep your gear in great working order, and stay comfortable on a long trip.
The BACK is also a great ocean kayak thanks to the foot operated rudder pedal – this means that you are completely in control even if the water conditions get a little hairy, and can operate the kayak without requiring paddle steering.
With a weight capacity of 450 pounds, this is a sturdy, solid system which is designed to operate as your ultimate fishing kayak. Plus, it only weighs 68lbs, so it is perfect to transport and move from car to water with ease!
Stunning blue-grey camo finish
Very comfortable, even on long journeys
Advanced rudder pedal allows the angler to be totally in control during the whole journey
Cheaper than their main competitor – Vibe kayaks
Aspects such as clasps do feel a little cheap compared to a more expensive model
Only seats one person at a time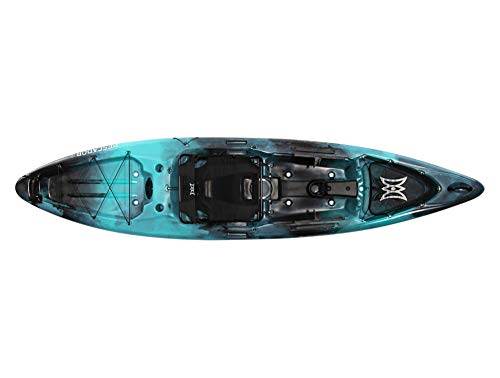 It's hard to tell whether you are heading out fishing, kayaking, or simply relaxing when you sink into the comfort of the Perception Pescador Pro 2 kayak! Fishing kayaks are not renowned for being super comfortable, and the sport often entails hours of waiting round for the perfect bite.
Thankfully, this is a kayak built to accommodate this, and includes a brilliant lawn chair style seat, made from mesh, which is designed to let you fish in total comfort.
The seat is adjustable across 2 levels, allowing you to personalise the angle to your perfect fit – raise it up to ensure you are casting from the best possible angle, or lower it for a relaxing doze, and let the local pelican have his fill of the fish!
As a bonus, the seating construction material includes breathable mesh – this helps reduce the chances of overheating or discomfort, and means you can relax and fish all day with no pain.
Storage is another important factor in any kayak; paddlers want the chance to save space, while keeping their precious belongings safe. The Pescador model includes spacious open storage at both the front and the rear of the kayak, as well as integrated accessory rails, allowing you to keep everything from
fishing rod holders
to
fish finders
within easy reach.
Stunning blue camo finish helps you stand out from the crowd
Constructed from a single piece to reduce leaks and improve buoyancy
Adjustable seating allows for a personalised fishing experience
Storage space is open – there is a risk of water damage to your items
Quite heavy to transport and move from vehicle to water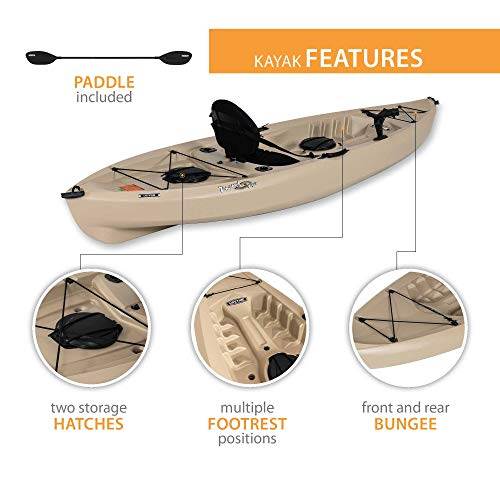 One of the great things about kayaking is the opportunity to spend it with others, and this Lifetime kayak is designed to allow you to do just that!
Suitable for both solo and tandem paddling, the 10ft length offers plenty of capacity and space to move around comfortably, and a weight allowance of 500 pounds means that you can take to the water with confidence. This is a model designed for kayak fishing, and this can be seen in the host of extra features included.
Adjustable foot rest positions allow two of you to sit in comfort, and still have plenty of space to cast and reel as required – movement can be an important aspect of a fishing trip!
The kayak also includes three fishing rod holders – perfect for when you want to kick back and relax – as well as a rear storage hatch on the back of the vessel, which is perfect for storing everything from snacks to cameras and keeping them out of the way of rogue water and splashes!
Two paddles are also included, to help you get going in still to calm water, and these can be safely stored thanks to the paddle holder slots, or secured to the vessel with bungee cords, when not in use.
Smaller width – 36 inches – and length means that this is portable and easy to move.
Suitable for both solo and tandem trips – quite unusual for a fishing kayak
Anglers will need to take care when moving around the kayak
The rod holders do not seem 100% watertight, and this could lead to leaks
Kayak also only weighs 82 pounds, allowing for transportation, though it may be easier to drive as a solo kayaker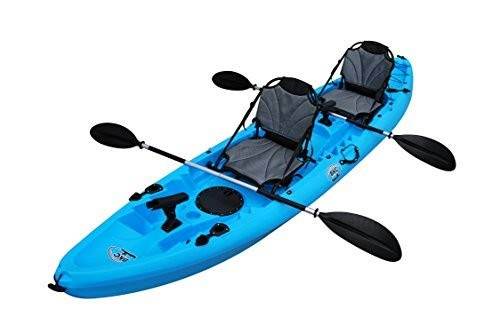 Sleek, stylish, and finished in a stunning grey camo style, this BKC kayak looks like it means serious business – and you will be pleased to discover that this is far from style over substance.
This is the ultimate fishing kayak, and every aspect of the construction is designed to help enhance and improve your fishing experience and safety in all types of waters – and all for a reasonable price!
The watercraft weighs just 68 pounds, making it super easy to move and transport – you can simply load up, drive to your nearest hotspot, and upload with ease!
With a 12 foot 2 inches length, there is plenty of room for up to three adults to enjoy, and a high weight capacity of 440 pounds allows you to bring your passengers on board with no worries.
Once your team is on board, they can relax on two super soft, padded kayak seats – perfect if you just want to kick back and take in the view! Even better, paddle parks allow you to store your paddles safely with elastic bungee cords – this can save you the unwanted trip into the water to retrieve them!
Fishing fans will appreciate the inclusion of six rod holders – four flush mounted and two adjustable – helping to keep your gear out of the way and ready for the next fish. The kayak is designed to make your life easier, and items and essentials can also be stored on board the boat thanks to two easy to access, specially designed watertight storage hatches – one in the front, and one in the back.
High-density polyethylene construction helps to blend a lightweight design with the stability and security you need on the water, while also offering UV protection. Overall, there really is everything you could ask for from a top-quality fishing kayak!
Can sit up to three adults with ease, and includes a high weight capacity
Specifically designed for fishing fans
Offers a stable, smooth ride, and can handle choppier waters
Comes with two carrying handles for transport
Seats do tend to slip forward slightly when paddling
A little more expensive than other models on the market – not the choice for those looking to save money!
Turn heads for all the right reasons in this Vibe angler kayak! At 11 ft there is plenty of room for a solo rider to tackle the waters in total comfort, and this is a fishing kayak designed to combine speed and stability in one high quality vessel!
Fishing fans will find plenty of space for their accessories, as the boat includes two flush-mount rod holders, in addition to four integrated great tracks for customised rigging, helping to improve stability and make sure you enjoy a far more comfortable trip.
As an added bonus, the kayak contains a pre-installed rudder system, with a pedal controlled by your toes, and this means that you can drive the kayak forward and save your tired arms from frantic paddling on a long expedition, or if you find yourself up against a strong wind or wild current.
Comfort is enhanced thanks to the Vie Hero seat; this is designed to support your body and spine- important for any sit-on-top kayak – and this can be just what you need after a long day of waiting for the fish to bite.
Storage is another key consideration, and there are plenty of options here. The centre console can be opened up and used to store essentials, and a front hatch measures an impressive 20 inches, offering plenty of room.
The rear of the boat includes quality extra features, with a large, bungeed rear storage tank, and another useful hatch – there is a lot of kayak for the price here!
All are designed to keep water out, and will save you hunting around in a bag or single spot every time you need to gran an essential, as well as freeing up cockpit space.
Weighs 62 pounds, so is manageable for one strong kayaker, or two adults to manage and manoeuvre
Huge variety of storage options, and all of a good size
Includes a comfortable seat for long days on the water
Sleek hull design allows you to pick up speed while maintaining stability
Middle storage compartment must be secured correctly, or it tends to slip
Rudder lines may need to be re-run before a journey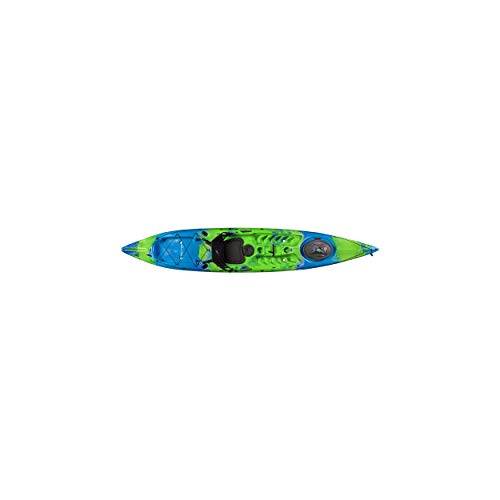 Speed and stability are the key words we associate with this Ocean kayak angler, and this is a speedy, strong kayak designed to drive through calm waters, or tackle rough rapids with ease. The vessel weighs just 56 pounds, and this makes cutting through the water effortless and allows you to build up some serious speed.
The open hull and sit on top design allow you full freedom of movement which can be invaluable when fishing, and mark the difference between getting your paws on the prize, and allowing victory to elude your grasp!
This is a boat made for those who want to have sun and take chances, and every aspect of the model is designed to help facilitate this.
Comfort is another key factor, and the inclusion of the four-way Comfort Plus seat goes a long way to making this a priority; you can remain supported and comfortable during a long journey – and they are perfectly padded if you need to just relax and enjoy the view!
Fishing gear and accessories can be stored safely thanks to good access to bow to stern storage, and an oversized tank well in the rear, combined with a Click Seal front hatch, are both perfect for keeping your essentials safe.
As an added bonus, the kayak comes with two cup holders, as well as paddle keeps – make sure your hands are free, and enjoy your coffee in total comfort!
Comes with a lifetime warranty on the hull, making this a great long-term investment
Weighs just 56 lbs for speedy movement on the water, and portability on land
Measures 13 feet 4 inches – plenty of space for one person to relax and move freely
Scupper holes are located right under the seat – this could lead to splashes!
Seat bottoms are a little hard, and this could lead to discomfort on a long outing
A vibrant blue finish makes this a kayak to stand out on the water, while a host of extra features and a system dedicated to fishing help to make this one of the best sit on top kayaks on our list.
Basic, simple and effective, this is a great pick for advanced kayakers and relative newbies alike; the open cockpit makes entering and exiting the vessel super simple, and at just 10 ft long and 44 lbs in weight, this is perfect for portability and easy transport; just drive down to the ocean or lake, and head to the water with no fuss.
This is a boat designed to make life easy, and combines great tracking and the ability to paddle straight and effectively with a stable and comfortable kayaking experience.
The open seating area is comfortable, and includes adjustable foot braces, as well as a paddle holder and protective thigh pads to keep you cosy and secure while on the water.
A dry storage compartment allows for essentials to be grabbed at a moment's notice, and this is the best choice for a sit-on-top kayak which does the job effectively and easily.
Super lightweight and easy to manage thanks to a small size
Comes with carrying handles for easy transportation
Hardly any storage space compared to other models
Not many extra features
Not the best choice for kayak fishing
For a fishing kayak which ticks all the boxes, the Old Town angler is a top consideration. Many models will focus on one particular weather condition, but this Old Town offering can tackle smooth rivers to sporting events, and wild rapids to fishing trips with ease.
Those anglers looking to buy a versatile, all in one boat to tackle all their needs should look no further – this might be one of our favourite options. There are plenty of extra features, including side – mount paddle storage, and a moulded paddle rest to keep your paddles in check while on the water.
To make sure you stay comfortable while on board, the Old Town vessel includes an Element Seating System which offers both high and low positioning, allowing you to pick the perfect position to tackle a long day of fishing, while the adjustable foot brace system means you can stay safe and keep your back supported.
A 400 lbs weight capacity and 12 foot length offers plenty of room to move and stretch, while a slip-resistant deck keeps you safe and mobile even on a wet day.
Your gear and equipment can stay safe and dry thanks to a water-tight bow hatch, and this means you have everything you need to enjoy the ultimate sit-on-top fishing experience.
Includes everything you need from a fishing kayak
Geared towards safety and comfort during your time on the water
Great weight capacity keeps you supported, even with heavy equipment
Quite heavy to load and unload alone – you will likely need assistance