Last Updated on April 27, 2021 by KayakPro
A sunny day, fresh running water, and a wonderful kayak you're in. What's missing?
The perfect kayaking shoes.
While kayaking, you spend a lot of time in the water. For such a long journey, your comfort is undebatable. One of the pillars of a comfortable trip is a nice pair of shoes.
In this article, we'll be guiding you through the best kayaking shoes in 2021.
Best Kayaking Shoes in 2021 – Our Top Picks
We scoured hundreds of pages to save you the hassle of exploring endless options and confusing yourself. Below, you'll find the best kayaking shoes on the market, alongside their detailed reviews.
Mishansha Quick-Dry Water Shoes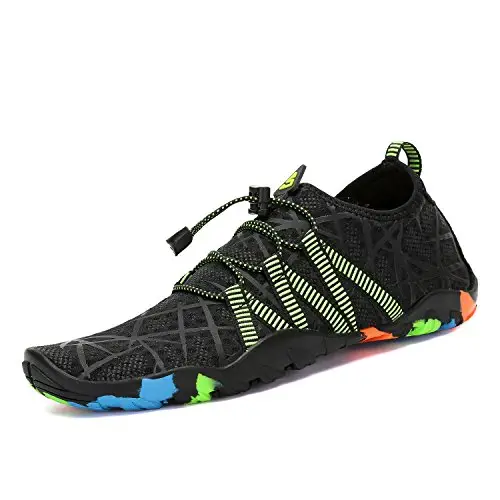 Mishansha Men Women Water Shoes Quick Dry Barefoot for...
PERFECT MATERIAL:Upper with salt resistance wear resistance stretch breathable ultra light weight Lycra material for fast draining and cross...
QUICK DRY WITH DRAINAGE HOLES:Unique and top-quality anti slip camo rubber sole, with several holes on each bottom to ensure proper water flow out of...
Easy On and Off:The pull tap at the heel allows for quick and easy entry, protecting your feet from dripping off.
ELASTIC STRAPS:According to the width of the foot quickly adjust the shoes elastic and avoid the annoyance of tying your shoes.
Mishansha's Quick-Dry water shoes blur the line between comfort and durability. Their rubber outsoles combined with lightweight stretch lycra upper soles make them super convenient for kayaking.
Mishansha's shoes deserve to be claimed as the best overall water shoes for plenty of reasons. Unlike other shoes, they're not made entirely of neoprene, so they're impractical to walk with outside your kayak, neither are they regular shoes that won't take water well.
The design is smart with thick, durable rubber soles that can take some walking on terrain while being anti-slip. Internally, there's a flexible insole made of soft foam to provide arch support and protect your feet when stepping on stones or rocks.
To enhance the quick-drying technology, the rubber soles are incorporated with seven holes on each shoe that provide proper drainage for water. Water will flow out of your shoes, creating an overall dry, cool inner shoe environment.
When it comes to the upper soles, they're made of quality lightweight lycra that's salt resistant. They're highly breathable and fast-draining, making them a comfortable companion to your kayaking adventures.
Best for kayakers who like to spend some time walking out of their kayaks.

Specs
Sole Material: Rubber
Upper Material: Lycra & Spandex
Cut: Low
Fastener: Slip-on
Gender: Men & Women
Sizing: Runs big
Pros
Available in a wide variety for men and women
Fast-drying material
Easy pull-on heel taps
Adjustable elastic straps
Works well for multiple water sports
Cons
They run a bit big, you might need to size down
NRS ATB Neoprene Kayak Shoes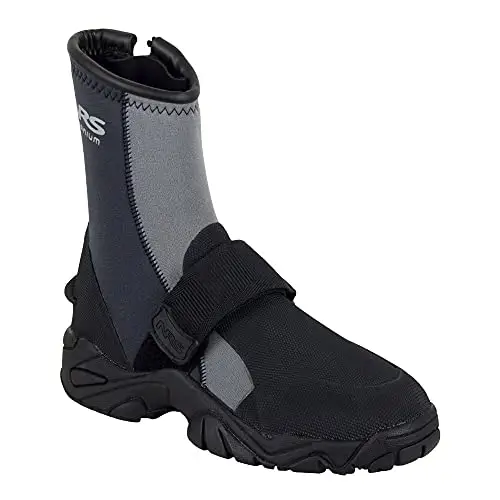 NRS ATB Neoprene Kayak Shoes
The hiking boot lug sole gives superior traction, in the water and on land
You'll like the comfort and warmth of the 5-mm neoprene upper while the 7-mm insole cushions your foot for quick side hikes or a grueling portage
It's a great shoe for daily river running
YKK ankle zippers make it easy to get in and out of
NRS is a titan in the world of water recreational sports apparel. It's well known for producing reliable, rugged equipment to the highest standards, and its ATB Neoprene kayak shoes are no different.
For those who prefer boots and ankle shoes for kayaking, NRS's shoes are your go-to. They're made of a thick 5mm neoprene upper sole that's both comfortable and reliable. The only downside is that they have no draining technologies. While they have an acceptable level of ventilation, they'll need some time to dry off.
You'll gain all the traction, support, and protection you need from these sturdy shoes. The outsole is made of plastic, which does well for walking inside your kayak, but won't be the best option for walking on land.
Thanks to the ankle zippers, fastening these shoes is as easy as a breeze. For a more snug fit, there's an instep strap that secures your feet inside the boots.
Best for kayaking through cold water.
Specs
Sole Material: Plastic
Upper Material: Neoprene
Cut: Boots
Fastener: Zipper
Gender: Men & Women
Sizing: No half sizes, men should size up, women should size down
Pros
Velcro at the top zipper helps with a tight fit
Anti-slip
Lace-free fit
Super comfortable
Money-back guarantee
Cons
They're not perfect water drainers
NeoSport Premium Neoprene Wetsuit Boots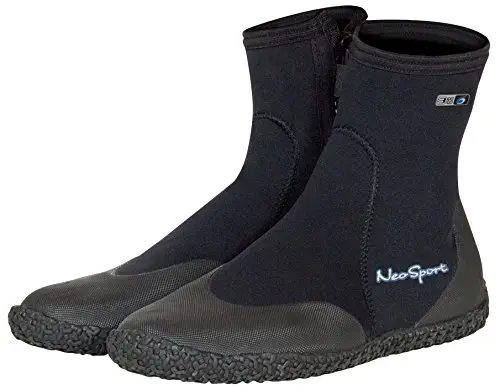 These multipurpose wetsuit boots from NeoSport work for a handful of water sports. Whether it's fishing, diving, skiing, or kayaking, NeoSport's Wetsuit boots are up for the challenge!
They're made of a synthetic neoprene upper sole, coupled with a puncture-resistant rubber outsole that works together to protect your feet against slipping. They also feature a high-quality zipper with an anti-water barrier behind it that prevents the entry of water into the shoes.
We love that they're available in plenty of thickness options; 3 mm for warm water, 5 mm for moderate water, and 7 mm for cold water. No more freezing feet while kayaking!
Thanks to their construction, these boots are super comfortable. Alongside their versatility, this is probably their most significant merit. These are good boots for average activity. They won't work well for stepping on stones, nor for glacial water.
Best for regular kayaking with no stepping out of the boat.
Specs
Sole Material: Rubber
Upper Material: Neoprene
Cut: Ankle
Fastener: Zipper
Gender: Unisex
Sizing: Runs small
Pros
Works for plenty of water sports
Comes in multiple sole thickness options
Comfy
Reasonable price
Puncture-resistant sole
Cons
Flimsy zipper
They let water in
Kokatat Men's Scout Boot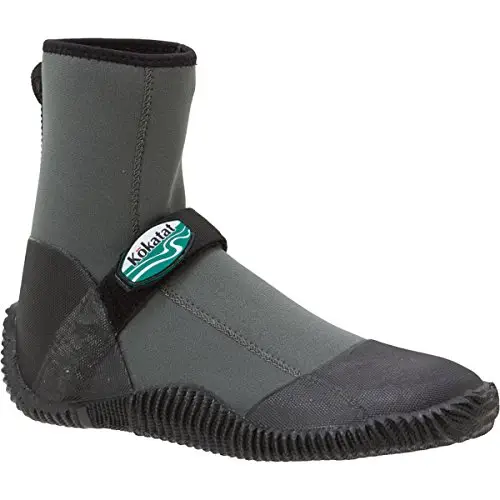 Kokatat Men's Scout Boot Charcoal - Size 6
Lightweight, zipper-less boot for water sport activities
Features a hook and loop adjustment strap
Toe cap and heel counter with excellent traction
Has a vulcanized rubber outsole
Are you one of those kayakers who constantly needs to get in and out of your kayak? Whether for fishing, walking by the sea, or kayaking in shallow rivers? These Scout boots from Kokatat are probably the answer to your prayers!
Kokatat's Scout boots strike the balance between being comfy inside the kayak and heavy-duty outside it just right.
The rubber outsole is textured to provide a tight grip against slippery surfaces. It extends to a rubber toe cap that improves traction. As for the upper sole, it's made of a double-layered neoprene that's lightweight as well, which helps protect your feet against the elements without adding unnecessary weight.
The rigid anti-slip footbed is ideal for kayakers who kayak through shallow water and near river beds. You'll face some situations where you need to step in water to pull your kayak or something. Kokatat's Scouts are made for just that!
Best for kayaking in shallow waters. Also works fine for those who get in and out of their kayaks frequently.
Specs
Sole Material: Vulcanized rubber
Upper Material: Neoprene
Cut: Ankle
Fastener: Pull-on
Gender: Men & women
Sizing: Runs tight
Pros
Flexible
Impressive anti-slip outsole
Super comfortable
Cons
WateLves Barefoot Quick-Dry Aqua Sock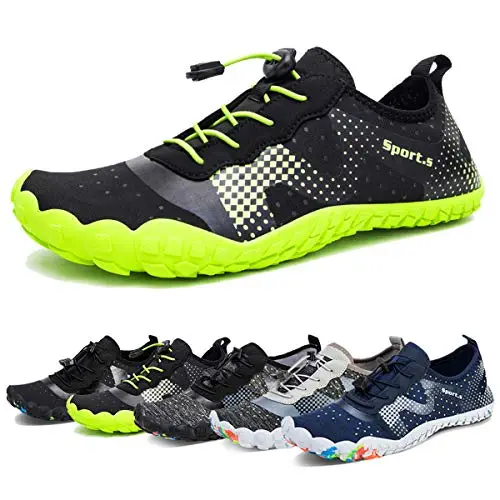 Water Shoes for Men and Women Quick-Dry Aqua Sock...
DURABLE AND UNIQUE SOLE: Professional anti slip rubber outsole with a unique pattern, increase the friction and track adhesion to prevent slipping...
FOOT SAFETY AND COMFORTABLE: The rubber soles, with a really comfortable and thick foam arch-support insert inside of them, are flexible yet thick...
FASHION AND PRACTICAL LOOK OF TOES: Fashion shoes tip, with a toe appearance, give you a more fashion and unique wearing experience. Although there...
GOOD ELASTICITY AND CONVENIENT: Breathable and smooth fabrics with fine stretch on uppers. Non-mesh, don't let the sand into the shoes. The shoe is...
Apart from the rubber's quality, the deeply carved patterns help improve traction and increase fiction for an enhanced anti-slip effect on the wet deck of your kayak. This is one of the best qualities of WateLves's Barefoot Aqua Socks.
The positives of the outsole don't stop here. It features drainage holes to let water out and help dry your feet in a short time. Besides, the rubber sole extends to form thick toe caps for an extra layer of protection and stability. This also helps with stabilizing your feet when going out of your kayak or hiking in mountains.
The non-mesh upper sole is elastic and convenient. They won't let the sand into your shoes, but they'll allow for proper airflow. It's also sweat absorbent. Your feet will feel and smell well after a long kayaking journey!
WateLves's shoes have laces that you adjust according to the size of your feet. However, they're tied together so as not to pose a hassle.
All in all, these shoes offer superb value for the price.
Best for kayakers who're looking for highly functioning shoes without spending a fortune.
Specs
Sole Material: Rubber
Upper Material: Lightweight non-mesh
Cut: Low
Fastener: Laces
Gender: Women & Men
Sizing: Runs big, order one size smaller
Pros
Patterned rubber outsole prevents slipping
Seven holes in the outsole allow for water draining
Breathable non-mesh material
Thick arch-supporting insoles
Versatile, you can use them for different water sports
Cons
Cressi Neoprene Adult Anti-Slip Sole Boots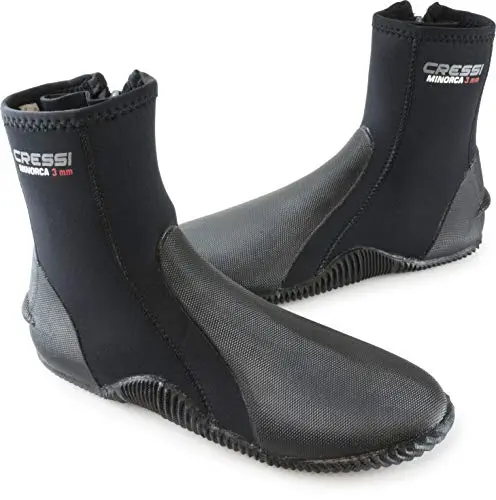 Cressi Minorca Long, Black/Black, 5, US Man 5 | US Lady...
3 mm Neoprene Ultra Durable Short Boots with Anti-Slip Sole, ideal for any Water Sport: snorkeling, scuba diving, free diving, swimming, rafting, etc.
Made of Super Elastic and Ultra Durable Nylon ll Neoprene Rubber to ensure comfort and a perfect control of the scuba diving fins.
Rubber Heel and Toe Cap for Added Strength and Durability.
Sole made of long lasting rubber to avoid slipping on wet or smooth surfaces.
You don't have to break your bank to get good kayaking shoes. Cressi's neoprene boots are sturdy, anti-slip, and flexible whilst being at a great price!
These ankle-high kayaking shoes are made of flexible 3mm neoprene with a rubber outsole. The Nylon || is super elastic and durable. It works well on the kayak and in water.
One of its distinct features is the rubber toe cap and the wide layer of rubber on top of the upper sole to provide extra protection and stability. The rubber sole extends to a reinforced back heel that also protects your heels against impacts and offers extra support.
Not only are they convenient for kayaking, but they also work well for scuba diving, swimming, snorkeling, and rafting.
This is one of the few kayaking shoes that runs true to size. In the world of kayaking shoes, this is something to hold on to!
Best for kayakers who spend a lot of time in the water.
Specs
Sole Material: Rubber
Upper Material: Nylon || & Neoprene
Cut: Ankle
Fastener: Zipper
Gender: Women & Men
Sizing: True to size
Pros
Added back heel support
Extra rubber on the upper sole
Impressive elasticity
Soft built-in sole for enhanced protection
Cons
The heel fin might be annoying to some
Doussprt Men's Quick Drying Aqua Shoes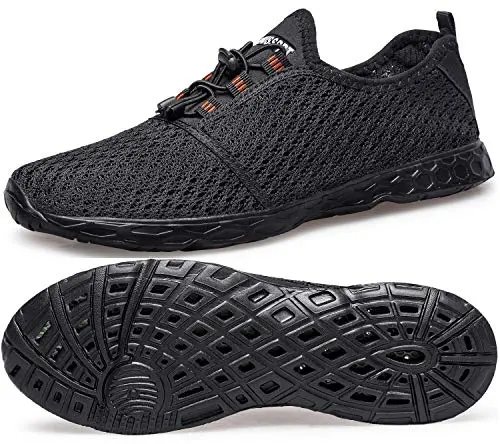 DOUSSPRT Men's Water Shoes Quick Drying Sports Aqua...
1.Fabric
2.Breathable and durable air mesh upper allow the foot to breathe.
3.Open mesh on the upper and hole on the sole provides for superior breathability and quick drying.
4.OCCASION - beach, swimming, pool, wake-boarding, sailing, boating, kayaking, windsurfing, cycling, jogging, walking, fishing, beach volleyball,...
If you'd like a sneakers-looking pair of aqua shoes while still being highly breathable and durable, you'll probably love Doussprt's quick-drying shoes.
Like most high-quality kayaking shoes, they're breathable with a polyester mesh fabric that serves as an upper sole, offering superb flexibility. The outsole is made of slip-resistant rubber with draining holes to let water out and dry quickly after stepping in water.
The fasteners are made of elastic laces that adjust to your sizing, providing a comfortable fit. On the inside, the footbed has an air mesh layer for ventilation and odor control. This also helps with draining.
These shoes will take your kayaking adventure up to the next level!
Best for kayakers who're looking for well-ventilated lightweight aqua shoes.
Specs
Sole Material: Rubber
Upper Material: Polyester mesh
Cut: Low
Fastener: Lace
Gender: Men
Sizing: True to size
Pros
One of the lightest on the market
Unparalleled ventilation
Amazing value for the price
Runs true to the size
Visually appealing
Cons
L-Run Athletic Water Shoes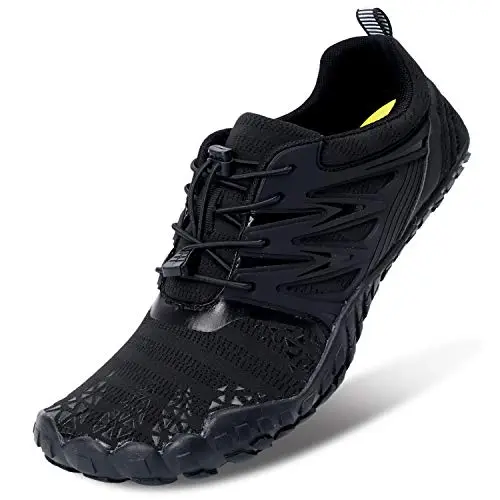 L-RUN Womens Water Shoes Sports Quick Dry Barefoot...
STRETCH MATERIAL: Upper with stretch breathable ultra light weight fabric for fast draining and cross ventilation, give excellent flexible and...
ELASTIC BAND: Elastic band with removable shoeslaces help adjust the shoes according to the width of the feet quickly, convenient and did not step on...
FLEXIBLE&LIGHTWEIGHT: Take advantage of the textile, high-quality flexible and lightweight style fits your barefoot skin perfectly and make you feel...
NON-SLIP&FOOT SAFETY: Thicken outsole with stronger traction, prevent you from slipping in slippery conditions. Durable rubber soles with comfortable...
If you're after some sock-like shoes, then these water shoes from L-Run are probably what you're looking for.
The upper is made of a combination of mesh and leather so that it's comfy whilst protecting your feet. The material is so light and breathable that you'll truly feel you're barefoot!
The upper sole material absorbs sweat to keep your feet fresh all day. To ensure they fit you well, they have a lace-stripe that accommodates your liking. On top of that, they're super flexible and foldable that you can squeeze them dry after getting them off.
The outsole is made of rubber with holes for water draining. It performs well when stepping on stones and rocks, according to reviewers.
Best for kayakers who want barefoot-like shoes.
Specs
Sole Material: Rubber
Upper Material: Mesh & leather
Cut: Low
Fastener: Striped lace
Gender:Men & Women
Sizing: Runs big
Pros
Super comfy with a barefoot feel
Snug fit
Features 11 drainage holes
Works well for hiking
Cons
How to Choose the Best Kayaking Shoes – Buying Guide
After reviewing eight of the best options on the market, let's see what factors you should consider choosing the best kayaking shoes that suit you.
Fit
An ill-fitting shoe is terrible, to begin with. No matter how good and full of features it is, if it doesn't fit well, it won't work.
Ideally, a kayaking shoe should be of a snug fit. It should hold your foot like a glove. Unlike regular shoes, you don't need any 'extra space' for comfort or whatever. All kayaking shoes are made of spandex, lycra, or neoprene, which are flexible comfortable materials. You'll hardly feel like you're wearing any shoes.
When buying online, getting an accurate size can be challenging, but it's not impossible. You need to do two things. First, measure your feet and compare your measurements to the shoes' sizing chart.
Second, and more importantly, skim through customer reviews to get a hint of how much these shoes are true to size. Most of them run one size bigger or smaller than regular shoes. Some kayaking shoes don't have half sizes. Through customer reviews, you'll know whether you should size up or down to get shoes that match you.
Height
There are three height variations of kayaking shoes; low cut, ankle-high, and knee-high.
The choice should be according to your kayaking type and temperature. Low cuts are suitable for warm weather and casual kayaking; the type of kayaking that involves minimal water exposure.
If you're going in for more serious kayaking in colder weather or for longer periods, you need kayaking shoes that provide comfort and protection. That's what ankle-high shoes are for.
Lastly, those who love kayaking challenges in glacial water on long expeditions would better go for kayaking boots. They're perfect for those who wade in and out of their kayaks, so they need something to provide warmth and protect their feet against bumpy terrain.
When increasing the height, the fit should be snugger to prevent water from getting inside. Water getting inside a shoe is manageable, but getting water inside boots is a disaster.
Material
Most of the outsoles of kayaking shoes are made of rubber. The thickness of the rubber outsole, alongside its insole padding, determines the degree of protection and support you'll get from the shoes, in terms of temperature protection and security.
The body of most shoes is made of neoprene because it offers flexibility and comfort while being durable. The thickness of neoprene determines how much protection you'll get against cold weather. Aim for a thickness of 4 mm and above if you'll be kayaking in cold weather.
According to kayaking experts, wearing cotton socks below your kayaking shoes isn't advisable. Opposed to the popular belief that they'll warm your feet, they'll draw temperature from your body to your feet, which will result in you being cold with warm feet. Not the best situation, if you ask us.
One last thing we're looking for in the material of your kayaking shoes is breathability. Being in a wet environment all the time when kayaking, you need a material that's capable of allowing air to flow in and out of your shoes. That's the specialty of neoprene.
Frequently Asked Questions
Can I swim in my kayaking shoes?
Well, that depends. Some water shoes are made primarily for scuba diving, so these can work well for swimming, unlike other shoes, like thick neoprene boots, that are designed for water sports with no swimming.
It's better you check with your shoes' manufacturer for this.
How should kayaking shoes fit?
As we've said before, they should be snug. Just like a glove.
Can I walk on the terrain in my kayaking shoes?
Again, this depends on your shoes. In fact, you should consider this when you're shopping for kayak shoes. If you'll be walking on rough terrain, you need your shoes to have thick rubber soles. The thickest sole possible.
Another consideration is if you'll be walking through sand or snow. In this case, boots are preferable so as not to let sand, pebbles, or ice get to your feet.
Wrap Up
As you've seen, there are some points to check before buying your kayaking shoes. They should have breathable upper soles, thick rubber soles, and snug fits. All the options we featured above tick these boxes, the differences between them depend on your preference.
Last update on 2021-06-09 / Affiliate links / Images from Amazon Product Advertising API