Last Updated on April 25, 2021 by KayakPro
One of the common mistakes beginners make is underestimating how important a kayak paddle is. They just buy whatever has caught their eye and believe it won't make any difference. What they don't understand is that their entire kayaking experience depends on what paddles they use.
As soon as you understand this too, you will realize that you don't want to save on paddles. Of course, randomly choosing the product of the highest price is not an option too. High cost doesn't always mean high quality. Still, the fact is the fact – you need to study the market and find what will be best for you.
High-Quality Paddles for Beginners: Benefits
Better experience on the water.
Good paddles guarantee a much more enjoyable kayaking experience. You won't need to struggle a lot and you won't have any problems with them – you will be able to move through the water and navigate the boat easily, which makes it obvious that there's no better option for paddles for beginner kayakers.
Higher efficiency.
Using cheap paddles made of low-quality material will take you much more efforts and strength. If you have to strain too hard to cut through the water, you won't be able to feel all the excitement kayaking can give you. You should feel comfortable but be efficient at the same time.
Longer sessions.
The increased efficiency increases how long and how far you can go. Having high-quality paddles, you will be able to go without getting tired too fast. Since being a beginner means many hours of practicing, buying a high-quality product is a wise decision.
Better effect on your health.
Kayaking involves doing physical activity, e.g. straining your muscles and joints. If you're planning to become an experienced kayaker, you will be paddling a lot, and your body will often be in tension. Don't neglect your health and go for high-quality paddles even if the cost is higher than you would like it to be.
Top Choices: Paddles for Kayaks
Choosing Paddles for Beginners
A pleasurable kayaking experience starts with learning the necessary techniques and buying the right equipment. The material that your paddles are made of is one of the main factors that influence its efficiency. However, that's not it.
Length and overall shape are important too. These two characteristics depend on what kayak you have and which type of kayaking you're going to do. Basically, the longer the boat, the longer the paddles. But you have to remember about your own height, and the height of your torso in particular.
Paddle shaft diameter should also be taken into account as this criterion is specific for every paddler.
Another thing to pay attention to is type of a blade. A touring kayaker would more likely feel comfortable using a narrow blade, while a whitewater paddler would prefer a larger alternative with a short shaft, which will allow for better maneuverability and quicker acceleration.
To help make your decision process easier, we've put together a list of some of the best kayak paddles on the market today. Here'a a quick look of the top models this year.
Top Kayak Paddles – Comparison Table
IMAGE
PADDLE
FEATURES

Offers:

20% more power per stroke

Highlight:

Carbon abX Resin Blades

Price:

$$$

Check Price

Shaft Material:

Carbon

Great for:

Kayakers and Paddlers

Price:

$$$

Check Price

Shaft Material:

Fiberglass

Great for:

Beginners and Professional Paddlers

Price:

$$$

Check Price
Check Price

Shaft Material:

Lightweight Aluminum

Highlight:

Fiberglass filled with Nylon Blade

Price:

$$

Check Price

Comes with:

Foam Rubber Grips

Highlight:

Two Piece Aluminum Construction

Price:

$$

Check Price

Shaft Material:

Aluminum + Carbon + Fiberglass

Highlight:

2-piece construction

Price:

$$

Check Price

Great for:

Touring & Recreation

Highlight:

Fiberglass Reinforced Nylon Blade

Price:

$$$

Check Price

Shaft Material:

Fiberglass

Highlight:

Poly-fiber composite dihedral blade

Price:

$$

Check Price
With so many options available to you, we put together this guide to help you with your buying decision.  Along with our top recommendations, we'll also break down what you should be looking for when buying a paddle, so that you're decision will be that much easier.
If you just want to know which ones are the best though, check out the list below.
To choose the best kayak paddle, you need to keep the following factors in mind:
Types of Kayak Paddles
As you might guess, the best kayak paddle does not come in the one-size-fits-all category. The type of paddle you might choose will depend on the type of yak you prefer. This is why you get three types: recreational, touring and performance – with the touring kayak offering a hybrid of the two.
Recreational Kayak Paddle
Since they are designed for recreational usage, such paddles tend to be on the heavier side and don't cost as much. They tend to be durable and are mostly preferred by people who don't want to be at the water for longer periods of time, as their heavyweight induces fatigue after a few hours of paddling.
Inexpensive
Tend to be durable
Easy to maintain
Touring Kayak Paddles
Touring paddles are lightweight and remain comfortable even after a whole day of paddling. They are ergonomic and lightweight and are ideal for slow-moving rivers, lakes or the sea. To increase their utility, the touring paddles come in different styles, with various shaft styles and blade shape.
Versatile
Incredibly light weight
Comfortable to use
Performance Kayak Paddle
As their name implies, such paddles allow you to get the maximum 'performance' out of them. These units are equipped with several advanced add-ons thanks to which they encounter less wind resistance on water. Consequently, these units are ideal if you want more power and speed.
Extremely fast performance
Provide a comfortable experience
Ultra-lightweight construction
Whitewater Kayak Paddle
Most people don't know it but whitewater paddles are famous for their durability. They are much better equipped to handle underwater hazards, such as rocks, albeit occasionally. Furthermore, thanks to their thicker shaft and wider blades, you can efficiently maneuver whitewater paddles. However, as their features suggest, these paddles are costly.
Easy to maneuver
Withstand underwater hazards
Ultra-durable and lightweight
Length of Paddle
When choosing the right length of your paddle, the following factors deserve your utmost attention in order to find the best kayak paddle for your needs.
– Type of the Kayak
If you end up choosing a recreational kayak paddle – which is known for being wider, you'd need a long paddle even if you aren't on the taller side to prevent your knuckles from hitting the gunwales. Similar is the case with a sit-on-top yak. Since you'd be sitting higher above the water, you'd need extra length to stroke the paddle without over-stretching.
– Length of your torso
Entry level kayakers should remember this rule of thumb: the longer the length of your torso, the higher you'd sit in the task and the bigger length of the paddle you will need. For instance, if your torso is less than 24'', you'd need a 180cm youth paddle. If it is 26'' of length, you might need a 190 cm to 210cm paddle, as the length of the paddle that you might need increases by 10cm by every 2'' increase in your torso's length.
– Your height
REI has given a pretty good table that recommends the width of your boat depending on the height of the user as well as their age. As an example, if you're under 5' and the width of your boat is less than 23'', the length of your entry-level paddle mustn't be less than 210 centimeters.
Material (Shaft & Blade)
Your budget, style of paddling and personal preference have a strong bearing on the type of material you might end up choosing.
– Blades
Talk about the least expensive blades on the market which are ideal for beginners, and they're made of wood.
Fiberglass, on the contrary, is slightly expensive – though it justifies its additional price with its lightweight and durability. If you want the most expensive and ultra-lightweight blades, look for carbon fiber shaft. Most performance paddles use carbon fiber blades as they require less effort and are more efficient.
– Shaft
Unlike blades, shafts that are made of wood are given a protective coating which gives them more resistance. Most shafts, however, are made of aluminum. Known for its durability and strength, aluminum shafts tend to be heavy, so you might not like them if you intend to spend some time on the water. Then we have shafts that are made of either fiberglass or carbon fiber shaft or a mixture of both. Such shafts tend to be high-end and are a must-have for serious kayakers.
Shape of the Shaft
When it comes to the shape of the shaft, we have two classifications. While the first classification divides the shafts on the basis of their design, the second divides it on the basis of number.
– Design-wise
On the basis of these criteria, the shaft is divided into two types: straight shaft and bent shaft. Both of them offer their own advantages and disadvantages.For instance, while straight shafts are more durable of the two, it's also heavier and difficult to paddle. Bent shafts, on the other hand, tend to be comfortable and are a cinch to paddle.
– Number-wise
When it comes to number, shafts are rated either as one-piece or multi-piece. One-piece shafts, though easy to maneuver, allow zero customization. On the contrary, multi-piece shafts – since they let you take them apart to feather the blades – let you customize them to make each stroke faster and easier.
Shape of the Blade
Choosing the shape of the blade that best complements your paddling style can be difficult, as there are so many of them to choose from. Still, for the purpose of keeping things simple and easy to understand, we explain here the four most common shapes.
– Dihedral:  A blade that has two plane faces is termed as a dihedral. Such blades remove flutter as you paddle the yak through the water – thereby making them ideal for beginners who don't have a firm wrist and stroke.
– Symmetry:
With the blade being naturally balanced, symmetry blades balance the opposing forces as they move through the water. Consequently, the user suffers fewer jitters when using these blades.
– Wing:
As the name implies, such blades have their trailing edge "winged" to allow the water flowing through their rear side to provide extra lift. As a result, with each stroke, you get an early catch as well as more power.
– Flat:
If you're a smaller, recreational or weaker paddler, you might want to have a flat paddle powering your yak. That's because such blades have their power portion close to your body, which allows you to move them without expending much effort.
Durability and Ease of Grip
Since both the durability as well as ease of grip have little impact on the performance of the paddle, we've decided to group them under the same heading.
– Durability
If you want a blade which could last a lifetime – and have a budget to pay for it as well – you shouldn't settle for anything but fiberglass material. Or if you want a good balance of money and value, aluminum might be your best bet.
– Ease of grip
Depending on what you might want from your grip, the type of grip that might suit you would differ. If you want more control, for instance, a wide grip will suit you. A narrower grip, on the contrary, will be more comfortable and easy to grab onto.
Tweener Sizes & Paddle Extensions
Here's how you should select both of these attachments:
– Tweener Sizes
If you narrow down your search to two Tweener sizes, always go with the shorter one. Both sizes would work, though the shorter one would weigh a few ounces less.
– Paddle Extension
Depending on the type of paddle that you may have, it might give you the option to extend its length by adding a material to its center. You might want to do it if you want extra control over your paddle.
Top Kayak Paddles – FAQs
Q: As a beginner, which paddle will be best for me?
A: While all the paddles in this review can be used by beginners, the one which gets our nod is the SeaSense X-Treme II Paddle. To know why's that the case, check out its review.
Q: What is the difference between low and high-angle paddles?
A: If you want a stroke which is more relaxed and intend to kayak in whitewater, you'd do well with a low-angle paddle. However, if you yearn for more speeds in both whitewater and high-water conditions, it is the high-angle paddles which might suit you more.
Q: What size kayak paddle should I get?
A: After taking into account your potential height, the length of your torso and the type of your kayak, this table from REI serves a brilliant guide regarding the size of the paddle that you should get.
Q: What happens when you use a kayak paddle that is too long for kayaking?
A: It depends. If you have a longer-paddle, then using it for extended periods might fatigue your arms. This is why we recommend that you get shorter paddles if you intend to go for longer periods as their compact shape doesn't cause as much fatigue even after extended kayaking sessions.
Q: How to adjust a kayak paddle?
A: While you can use this guide to adjust your kayak paddles, it's important that you know why you should do it in the first place. Also known as 'feathering', adjusting paddles can give you a slight edge over your paddle kayaking competitors by adding more speed and efficiency to your paddle.
Also, if you intend to kayak for longer periods, feathering its paddle will make it easier for your wrists to maneuver it.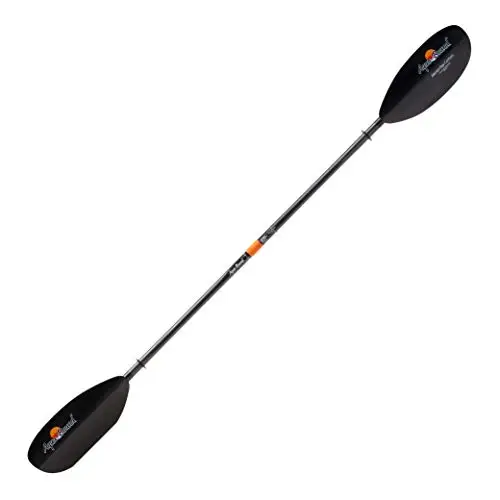 Even though the Aqua Bound Manta Ray paddle will perform adequately in all situations, the fact that it's a higher-angle yak means it reserves its best performance for fast-moving water.
Features
As stated earlier, the Aqua Bound Manta Ray is built for bigger boats, high-angle paddlers and those who want more power. That's because it offers a combination of an all-carbon shaft and carbon-reinforced blades which let you have power and comfort at the same time.
You get two ferrule options with this high-quality paddle including Posi Lok ferrule and Snap Button. The Posi Lok ferrule has a composite construction which allows it to remain corrosion-free and also offers infinite feathering angles. The Snap Button, meanwhile, is made of aluminum and offers 0* and 60* angles.
Lastly, it has a ribbed texture which lets you easily grip the unit even with wet hands. Equally useful is its two-button release system which guarantees a secure connection. Then there is its corrosion-resistant locking system which not only secures the paddle but also boasts a long shelf life.
Two-button release system
Corrosion-resistant locking system
Lightweight carbon shaft
Final Verdict
With its two-button release system, a corrosion-resistant locking system and a lightweight carbon shaft, the Aqua Bound Manta Ray offers a unique combination of power and comfort. Not many paddles on the market can claim to provide the same, which is why it's high on the list of the best kayak paddle in 2021.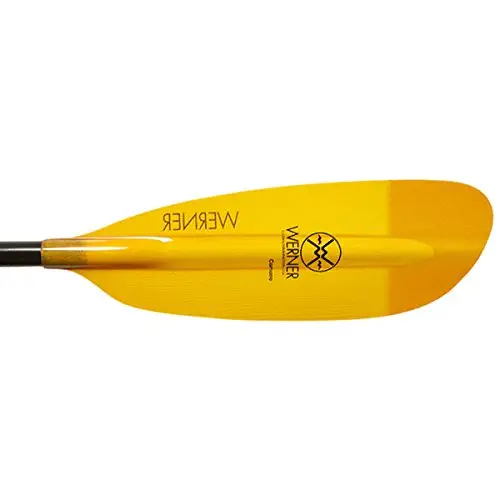 The Werner Camano Premium Fiberglass tries to attract a wide range of audiences by offering 12 different styles and 9-different sizes. Add to the equation its lightweight fiberglass construction, and it doesn't take much to gauge that this best kayak paddle is one of the better ones on the market.
Features
Made of carbon fiber shaft, the Werner Camano lets you choose between a bent and a straight shaft. You might want to go for a more traditional, straight shaft if you want to get the more traditional feel and easy hand-movement. Conversely, if it is the speed that you're after, the bent shaft of the Werner Camano might suit you better.
Regardless of which shaft you choose, the Werner comes with an advanced dihedral blade design. We say it's advanced because the design of the Werner creates stable forward strokes. The Werner Camano also has a mid-size blade which might not be the fastest when it comes to power but proves its worth by allowing for easy strokes.
On top of everything else, this Werner Camano weighs a meager 1.53 pounds. No matter which way you slice it, that's an incredibly diminutive weight for a Werner paddle. As a result, if you want to paddle long distances but don't want to get fatigued too much, the Werner Camano deserves your attention.
Incredibly lightweight
Available in large no. of sizes
Gives a comfortable experience
Final Verdict
The Werner Camano Premium Fiberglass paddle is for those of you who want to kayak for extended periods but not at the cost of back-breaking fatigue.

Not all of us can afford to break the bank to pay the asking price of a high-end paddle. Perhaps, that's the reason why Carlisle Paddle Gear came with the Magic plus – an inexpensive option with all the bells-and-whistles which allow it to provide the best value for money.
Features
What happens when a spooned shape blade works alongside a lightweight fiberglass shaft? For starters, you get a smooth kayaking experience in most waters. More importantly, with neither of them on the heavier side, you can expect to have powerful strokes with minimal effort.
Moving on, while its fiberglass shaft lets this paddle have the stiffness needle for strong paddle strokes, the fact that it is slightly wounded means you can also expect to have the flex necessary to reduce the stress on your joints. Also, the slightly spooned shape means you'll get more efficiency in the water.
What is more, the two-piece construction of the Magic Plus enables it to allow both offset as well as inline blades. It comes with a pushbutton takedown feature which allows you to feather the blades up to 60*-angle for both left and right-handed control.
Powerful yet smooth strokes
Has the flex to reduce stress on joints
Competitive locking system
Final Verdict
With the Carlisle Magic Plus, you definitely get what you pay for. It isn't the speediest kid on the block but as its qualities mentioned above show, it won't disappoint you with its performance or locking system, either.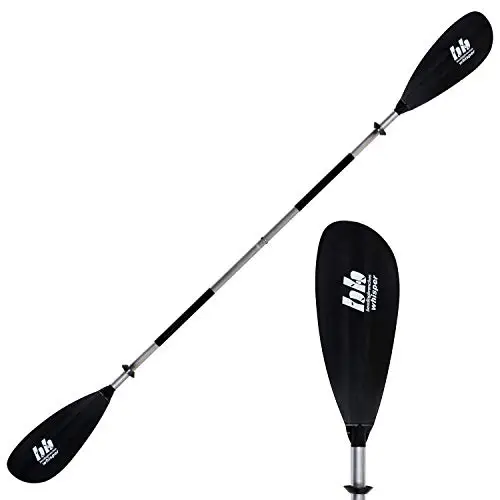 As a mere glance at its price tag will make clear, the Bending Branches Whisper is a worth-having choice for beginners. With its lightweight construction and easy-to-handle design, it's best for those still learning the ropes of the game.
Features
At the price at which the Bending Branches Whisper paddle is available, the performance of its snap-down button and drip rings surprised us in a good way. Pressing the former breaks down this paddle in less than 5 seconds for you to easily store it. The drip rings, meanwhile, prevent water from entering your lap as you paddle.
To improve visibility and reduce slipping, it offers a bright black grip area. You can adjust its 3-hole snap-button ferrule for both right or left-hand control and the fact that it has a coated shaft means you'd have no problems while trying to grip this paddle.
One area where you feel that corners were cut to keep this unit's price low are its blades. With them being on the shorter side, persons taller than 6' might forget using this handle. On the flip side, with aluminum used in the construction of the shaft, you can expect to have flutter-free strokes.
Provides flutter-free stroke
Has two-piece construction
Incredibly easy to grip
Adjustable angles for the ferrule
Blades are smallest of the lot
Final Verdict
Whether you intend to kayak alone around the lake or just spend a halcyon day with your friends on a flat-river, the Bending Branches Whisper is one of the best options for beginners.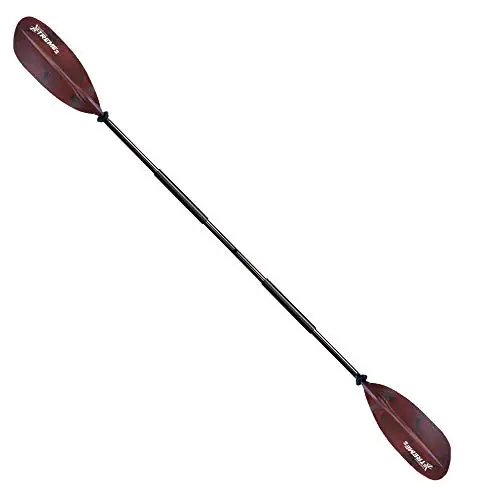 Some of you might be looking to get started with kayaking. Or you might have come here looking for a spare one. Whatever you want to do, the Sea Sense Paddle comes across as the best budget option for you if you intend to kayak for touring purposes.
Features
The Sea Sense Kayak paddle offers a no-frill design. It has a 2-piece construction which can be taken apart at will. You can do that if you have a plan to give a more personalized touch to your paddle. Or you can do it once you're done kayaking for the day and want to store the paddle in a compact space.
As for its lightweight blades, the mere mention that they're plastic should tell you that you shouldn't count on them to win you any race. The grips, however, provide good value for money as their comfortable foam covering allows them to reduce your hand fatigue.
Other than that, you get rubber drip guards with this paddle. They keep your hands dry and your lap free of water as you paddle. The blades, meanwhile, are adjustable to 3-different positions. That means that if you know a little bit about kayaking, you can customize them to complement your paddling style.
Has rubber drip guards
Comfortable foam grips
3-position adjustable blades
Final Verdict
Of all the kayaking paddles that you see in this review, the Sea Sense is by far the most inexpensive option that you can have. However, as its characteristics should have made it clear by now, just because it won't blow a hole in your pocket doesn't mean that this paddle isn't worth having.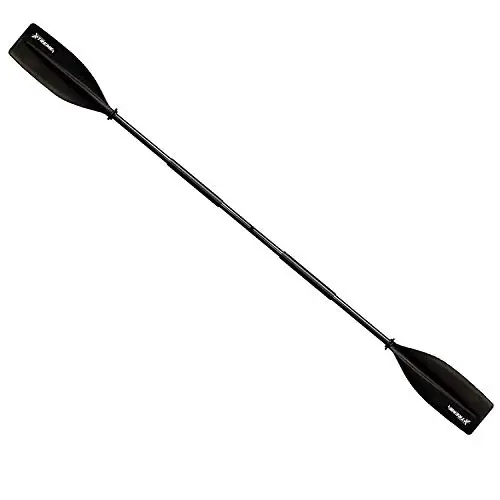 Since you have come this far in your search for the best kayak paddle, you can see that the Sea Sense X1 is a less costly option. Still, despite its meager price tag, the outstanding plastic blades and two-piece aluminum shaft make it a worth-having option.
Features
Its two-piece design equips the Sea Sense X1 with several benefits – with the most important being that you can easily take it apart for compact storage. Or if you're a pro in this game, you can feather the blades to let them complement your strokes.
Next on the list of its qualities which users will find useful are the foam grips. They are sturdy enough to withstand pressure yet give the necessary flex to help you realize that you're grabbing onto something that is secure, which is a best feeling to have in open water.
Lastly, to make sure you can use this paddle for long hours, it comes with drip guards. They keep the water from dripping onto your hands or laps – thereby making sure that you're in control over the movement of this paddle at all times.
Exceptional handling
Can withstand blows
Comfortable for long hours of paddling
Available in only one color
Final Verdict
While it is true in most cases that you get what you pay for, the Sea Sense X1 Kayak is an aberration to this norm. This inexpensive product has enough mettle to hold its own against heavy water waves as well as its competitor paddles.

From paddles to boat seats – and bimini tops to deck chairs – Leader Accessories is a brand which is famous for churning out a variety of outdoor paddles. Still, it isn't the reputation of its manufacturer but the performance of this particular kayak which earned it a place in this review.
Features
You'd have no problems when it comes to the versatility of this kayak. It comes in five colors to let you choose one which complements your personal preference and paddling style.
Though aesthetics is the one of many features which this product has to offer. Take, for instance, its two-piece aluminum shaft. You can both take it apart for easy storage or you can adjust its angle to the one which suits your kayaking style. It is also equipped with molded plastic blades whose compact and lightweight nature won't pose any problems as you try to control them.
On top of everything else, this paddle can be used by both the left-handed as well as right-handed users. It floats on its own when dropped in water and comes with a respectable warranty period. All in all, you've nothing to lose if you choose to go for it.
Easy to store
High-quality construction
Floats on its own
Plastic blades feel cheap
Final Verdict
The Leader Aluminum kayak isn't one for experienced kayakers or those which always feel the need for speed. Instead, this kayak is designed for beginners who're looking for a product which would let them get busy in touring on whitewater.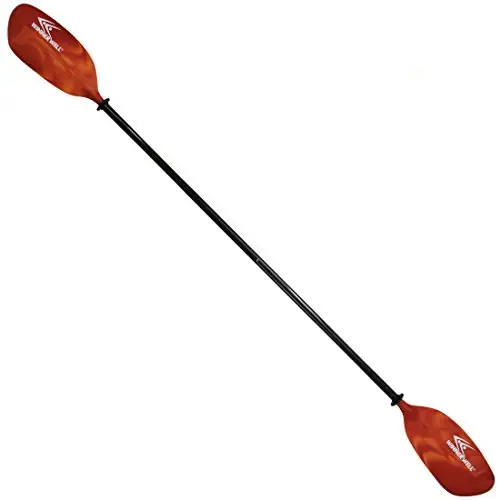 While we have great respect for the fact that this product is unsinkable, we have no doubts either that this feature would be useless had the paddle wasn't comfortable. However, as its inclusion in this review suggests, this kayak is as comfortable as it is unsinkable.
Features
One of the reasons why the Winnerwell Unsinkable got a place in this review is its fiber-glass reinforced nylon blades. It produces powerful and smooth strokes and allows both the right-handed as well as the left-handed users to easily grip it.
Since this paddle is unsinkable, it should go without saying that it is lightweight. It comes with a handle that's slightly wider than any kayak paddles in this review. Still, with its compact blade shape and size, you can easily and efficiency paddle using the handle.
Furthermore, apart from working better, this paddle lets you assemble it in no time whatsoever. The reason behind this lies in its 2-piece design which you can take apart and attach at will. Better yet, even after years of usage, its durable coating won't let this product release aluminum dust into the water.
Incredibly lightweight
Competitively priced
Rugged and durable construction
Final Verdict
With its lightweight design, durable construction and competitive price tag, the Winnerwell Unsinkable proves hard-to-resist for a large number of whitewater sports lovers. It might be a little on the heavier side but when you put everything mentioned above into perspective, this kayak won't cause any discomfort to its user.

The keen-eyed observers among you might have noticed that almost all the above mentioned kayaks are for touring purposes. The Crooked Creak C11370, however, is different. With its 7' length, this kayak is designed to be used alongside fishing kayaks.
Features
Starting with a glance at its construction and the one thing which immediately catches the eye is its dock hook blade cutout. Its slightly raised edge helps the user pull herself over to the edge of the kayak to get a better view of what is going underneath their yak.
However, if you're afraid of going too much close to water, the reinforced blade tip of the C11379 will help you push yourself off to the comfort of your seat. Then there is its lure retrieval slot which equips this paddle with the ability to free the stuck in case it gets stuck in debris and logs.
To make sure you use this paddle on the angle which best suits you, its fiberglass shaft has a measurement scale laser engraved on it. Once you get your angle, you can use the push-button located on the feather to adjust the blade according to it.
Lastly, since you're going on fishing, you might want more speed than your friends who go on touring. Hence the reason why the poly-fiber blade of this kayak has been given a dihedral blade which is known for the power it lends to your strokes to add speed to your yak.
Push-button for angle adjustment
Durable fiberglass shaft
Laser engraved measurement scale
The scale might  not line up if you offset the  blade angles
Final Verdict
Once you connect it via the simple but secure push-button fitting, you'd realize everything this kayak has to offer – and it does have to offer a lot! Granted, it does have its shortcomings, but so does every other kayak you see on the market and in this review. What differentiates this kayak its plus points far outnumber the negative ones.
Paddling Techniques
I always notice the different paddling techniques that beginners to kayaking use. My best friend is a tall guy and in very good physical shape. When he first began paddling (like others I've noticed) he would "dig" into the water like he was paddling through sand. This is exhausting! Relax folks, it's not an endurance test – we're doing this for fun . . . remember?
When you first get into a kayak, your brain is computing a million new things all at the same time. But after the initial "feel" settles in – paddling becomes comfortable and natural and your brain says "hey … this is nice"!
To force myself to relax, I start by resting the paddle across the cockpit and make some adjustments to loosen up. Stretch out your legs – relax your
shoulders – twist your neck from side to side to relieve the tightness. Extend your arms out, with open hands, make arm circles backwards and forwards. This loosens your shoulder and neck muscles.
Lean Back
Rest your back comfortably on the seat – this keeps the boat stable. Your movement should come from your torso.
The Grip
With both arms comfortably in front of you take the paddle in both hands – over-handed with thumbs under. As a general guide, line up your knuckles with the upward blade edge.
Pull and Push
Each paddle stroke is a pull with your downward stroke while the upward arm pushes the paddle shaft away from you. This combined effort distributes the work. Keep your arm comfortably in front of you (like bicycling). No need to hold on too tight – you'll find the rhythm.
Leaning your arms too far forward and over extending your waist will just give you back and shoulder aches. Instead – since your torso muscles are stronger than your arm muscles, get used to using your torso to turn into the stroke – side to side. This lends more power to the stroke and saves on your arm muscles.
As you change sides the paddle shaft should comfortably rotate to line up your knuckles with the upward blade – sweeping the water to the end of the kayak.
You've reached your goal when you get these three elements all working together without thinking about it. Pull/Push – torso turning into the stroke – steadily sweeping the water. Utopia!
If you don't get this at first – keep at it – don't worry – paddling techniques are learned with repetition.
Paddling is rhythmical – it should feel like an extension of your upper body and flow without thinking about it. Once you're "not thinking about it" your whole body is relaxed and paddling is effortless – in harmony with the kayak.
Turning the Kayak
Turning your kayak is easy. You can turn by simply paddling only one side – opposite of the side you want to turn into.
You can turn quicker by placing your paddle in a vertical direction into the water on the side that you want to turn to.
Once you are headed where you want to be – resume paddling.
You can make the kayak go backwards by first slowing the kayak to almost a stop and reverse your paddling direction.
Here are a few clips demonstrating some basic strokes and the benefit of hip rotation. As you watch, note that you are not moving your body from side to side – you stay centered and rotate from your lower torso…
There you go – you're doing it!
Now you know some basic paddling techniques!
Smart Start Kayaking Kayak Paddles Review
Kayak Cover
★★★★★
"
Thanks for sharing this detailed guide. I was really confused about making a decision. Going to buy the Sea Sense X1 paddle
"