Last Updated on April 25, 2021 by KayakPro
The single most important and largest thing that a kayak contains, other than yourself is the paddle. As you know, the paddle occupies a large amount of space in a kayak.
You need to securely park it somewhere when you're fishing, snapping a photo, or simply not using it. We are certain you wouldn't want to keep your paddle coasting off without you in the water. Assistance is what you need whenever you're going fishing, and a kayak paddle holder is a perfect solution.
For these circumstances, the majority of the paddlers are using high-quality and reliable paddle clasps.
Understanding their significance, we chose to compose a post about the 7 best kayak paddle holders in 2021 that money can buy!
The Best Kayak Paddle Holder Reviews – Keep Your Paddle Safe!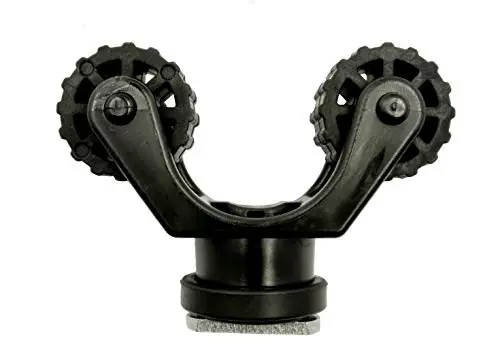 Package dimensions: 8 x 7 x 1.6 inches
Track mount ready: Yes
You will never again need to stress over losing your paddle with this paddle holder while you're on a kayaking trip.
The Yakattack Paddle Holder has a unique design. It has a little t-bolt in the bottom and a rubber piece to guarantee a good tight grip on the track. This mechanism has two rubber wheels on them with threads which helps adjust to the different sizes of the paddles that are available on the market.
This YakAttack kayak paddle holder grabs quite well, you have to simply just position the paddle in between the rollers and it will lock and hold the paddle securely in place.
Furthermore, without using a button or having it underneath the strap or anything of that nature, you can turn them very easily either on your paddle horizontally or vertically on your kayak.
The best part about these is they're designed for all track systems whether they're standard on your kayak or an aftermarket.
Features
Compatible with all sorts and designs of track mechanism
Easy paddle access
Offers strong grip
High-quality rubber materials which allows it to be more durable
Sale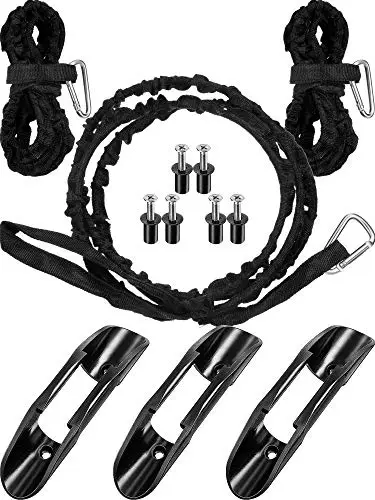 Norme 6 Pieces Kayak Paddle Holder Kayak Paddle Clip...
What you get: you will get 3 packs kayak paddle clips with hardware and 3 packs kayak paddle leashes, easy to use and install, convenient accessories...
Material: the kayak paddle clip is made of strength plastic, not easy to damage and broken, corrosion resistance, and the paddle leash is made of...
Compatible with: kayak paddle accessories works with majority of kayaks, compatible with Perception kayaks, Emotion kayaks, Lifetime kayaks, Pelican...
Usages: paddle clips are applied for kayak paddle storage on kayak, in garage, or for fishing nets, and paddle leashes are good for the water or the...
Package dimensions: 1 x 1 x 1 inches
Track mount ready: Yes
The Norme kayak paddle holder has everything you need to keep your paddle secure and safe. This kit includes three packs of paddle clips, three packs of paddle leashes, screws, and hardware accessories.
You don't need to penetrate openings onto the kayak which makes it suitable for an inflatable kayak. Norme utilizes high-quality plastic to make these paddle clasps.
The solid clasp doesn't get broken and damaged because of standard use. Furthermore, it's corrosion resistant which is another component of this paddle holder. This gives it the ability to prevent any kind of rough environmental condition.
The leash is nylon-made and is additionally of high-end quality. There is no risk of overstretching or it having loose elasticity.
Features
Tight and steady grip holder
Top-notch quality plastic material
Leash can be adjusted based on your preference
Can be used for inflatable kayak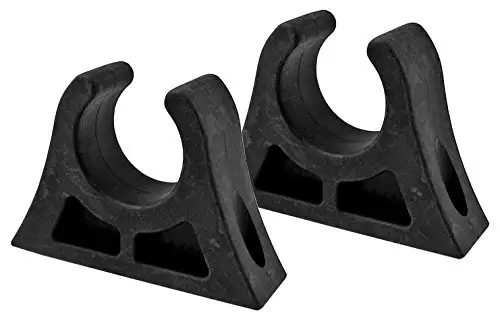 Package dimensions: 6.59 x 2.2 x 3.67 inches
Track mount ready: No
The Shoreline Marine paddle clips are made to be drilled directly onto your boat or kayak, so unlike the YakAttack Paddle holder, these are not compatible to be used with gear tracks. Two rubber clasps are intended to hold a standard paddle.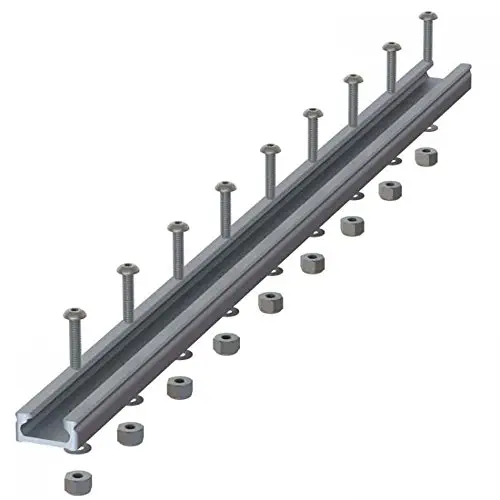 Each clasp is produced with a flexible rubber, which makes your paddle fit into each clasp securely and hold the paddle in place.
The two clasps can be situated at the edge of your kayak and you can choose and customize the distance in between each rubber clip for your length preference.
Features
Easy on and off access
Can be mounted directly to your kayak
Easy to install
Pack includes two paddle clip holder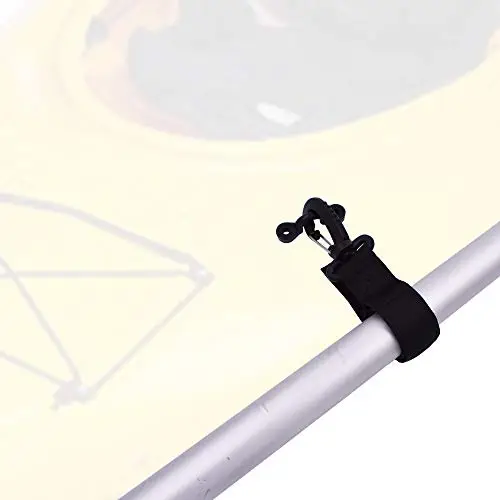 YYST Kayak Paddle Holder Kayak Paddle Clip Kayak Paddle...
Quantity:4 pieces. Two pieces hold one paddle. NO D RING NO PAD EYE.
Universal - Fit any size paddle shafts. No worry about the size of the paddle and shaft.
No More Damage To Your Kayak - NO more drilling holes .NO more needing mounting screws and nuts. You have to install it on your existed pad eyes or D...
Attach to any place - Clips can snap on the pad eye , D ring or any bungee cord. If your have no pad eyes or D rings on your kayaks , Please purchase...
Package dimensions: 4.2 x 3.3 x 0.7 inches
Track mount ready: No
The major advantage of this kayak paddle holder is it doesn't need screwing equipment and harming your kayak or canoe. You simply need to join it to the D-rings, bungee line, or pad eyes of your boat.
There are 4 paddle holders included in this package. Thus, it is a brilliant alternative for dual kayaks as 2 pieces could securely hold one paddle. They are convenient to use when snapped on the kayak.
Features
Straps are universal and could fit all sizes of paddle shafts
No need to screw or drill into your kayak
Sturdy and holds paddle well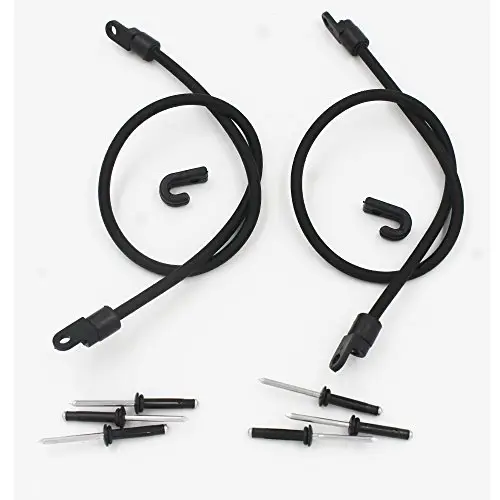 kayak Paddle Keeper Kayak Bungee Paddle Holder Kit...
1. 2 Kayak Bungee Paddle Keepers
2. The bungee is made of 6MM bungee cord. Already installed for you.
3. The two J hooks are included
4. 6 aluminum rivets (water proof o ring included) comes with the kit. screws are not included.
Package dimensions: 3.3 x 3 x 0.8 inches
Track mount ready: No
The kayak bungee paddle holder is the easiest accessory you can add to your fishing kayak and it's constructed with high durability. You want to determine a good mounting spot that is the easiest position you can have access to your paddle.
Once you determine the position, pre-drill the holes on your kayak and set the pieces according to the instruction manual that is provided.
This paddle holder is made in the USA and it's produced using excellent materials. This guarantees that the product will last with you for quite a long time.
This package comes with 2 kayak bungee paddle holders which are made of pre-installed 6MM bungee cord.
This kit additionally contains two J-hooks with the holder, six stainless steel, 304 screws and nuts, six waterproof aluminum rivets, bungee strong, j-snare, and eyelets.
Features
It holds the paddle tight
Easy access to paddle
Made of high-quality materials and it will not break down that easily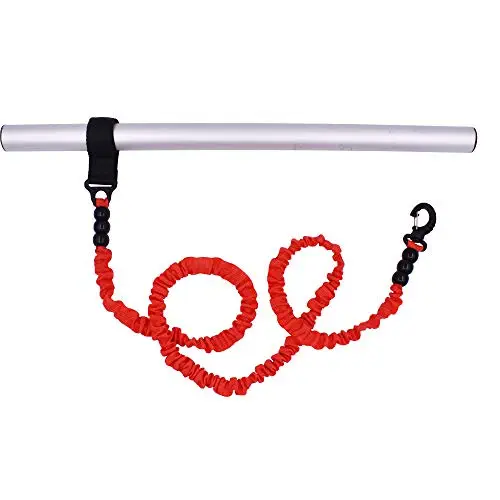 YYST 1 Piece 36 Inch Deluxe Red Kayak Paddle Leash...
Adjustable loop. Easy to attach. Just wrap it on your padddle. And clip one end to your d ring or pad eye or D ring. No more losing the paddle again.
Quantity : 1 piece of red leash with adjustable loop.Length: 36 INCH when unstretchable.
Color : Red . It can be easily noticed while using.
Stainless Steel Wire Gate. We improved our wire gate with stainless steel. Salt water tough. No more Rust.
Package dimensions: 4.45 x 3 x 1.75 inches
Track mount ready: No
Regardless of whether you're going to go fishing or have a lunch break, the deluxe YYST Paddle Lanyard will make your kayak trip a lot easier. At 38 meters long, the YYST leash has a telephone line design, with a coiled rope and allows it to stretch fully without it restraining your movement.
A velcro strap is attached at the end of the paddle leash making it easy to secure it on the paddle shaft. The opposite side of the paddle leash has a tough and sturdy plastic clasp and additionally can be connected to at the edge of the kayak or even a life vest.
If you're not a fan of drilling holes onto your kayak, then the YYST Paddle Leash is the best choice. This paddle leash is made of exceptionally flexible, resilient high-quality tools, this deluxe leash functions equally great in fresh and saltwater conditions. That's why it'll manage its responsibility for quite a long time.
Features
Allows ultimate elasticity that can stretch up to 38 meters
Clip can be added directly to a person's life vest or the kayak
fishing rod or other fishing gear is also compatible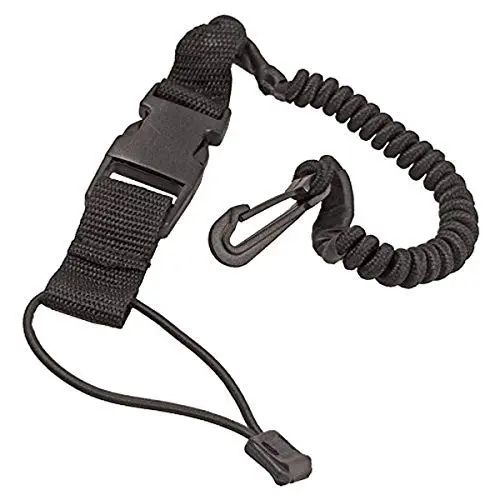 Package Dimensions: 6.67 x 1.17 x 3.66 inches
Track mount ready: No
The Shoreline Marine Propel Kayak Paddle and Rod Leash holder use a spiral feature that can stretch up to 5 feet in length. This allows you to use all types of styles of paddler.
The leash can be attached tightly to the paddle's handle using the eye-strap. This leash has a quick-release buckle that allows you to separate them into two pieces, instead of removing the whole leash. This also implies that you don't need to continually need to be attached to your paddle.
This kayak paddle holder can also be hooked directly on the kayak, or onto the life jacket of the paddler. This helps to keep the paddle from drifting off or falling over the edge.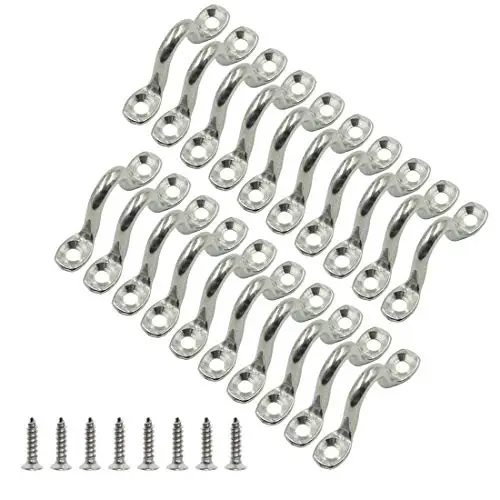 Hxchen 20Pcs M5 316 Stainless Steel Bimini Boat Top PAD...
Material: 316 Stainless Steel; Package Included: 20 x Deck Loop Pad Eye
Mounting hole diameter: 4mm/0.16"; Two mounting holes distance: 41mm/1.6"; Total length: 51mm/2"
Stainless steel pad eye is great for holding down and securing items, such as: boat, bimini, kayak, canoe rigging and more.
The boating accessories are very compact and easy to install. Just put the eye pad into the positioned as desired and punch down the screws. (Screws...
Features
Budget-friendly
5 feet stretching ability
Buckles for quick on/off release
Factors to Consider When Purchasing a Kayak Paddle Holder
Materials
The best materials to use are to use plastic or aluminum. The materials used by the manufacturers make it easy to work with. Thus, giving it the reason you see a wide assortment of inexpensive paddle holders available.
If you're searching for a lightweight holder, the best option for you should be hard plastic. It's better in terms of maintenance and cleaning. Additionally, hard plastic is better because it won't harm or damage your paddle.
Compatibility
The holder should be compatible with your kayak's paddle and design. Kayaks have various sides and surfaces, so you have to pick them carefully.
Things you'd have to keep in mind is the kayak paddle's weight. Do you have a heavier kayak paddle (like carbon with fiberglass blade paddle)? You may require at least two kayak paddle holders to lift and support its length and weight.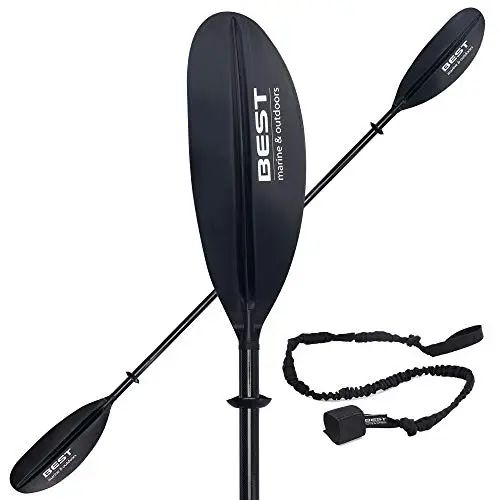 Best Marine Kayak Paddle. 234cm Premium Carbon Fiber...
HOW ARE WE DIFFERENT? - Our kayak paddles are made of a carbon fiber shaft and reinforced fiberglass blades. Each paddle weighs 33.5oz, is 234cm long...
WHY BEST MARINE AND OUTDOORS? - Our company goal and mission is to help people find inner peace and purpose through kayaking. Our featherlight paddle...
WHO IS OUR PADDLE FOR? - The number one piece of advice most advanced kayakers will offer you is a "carbon fiber paddle". Aluminum and fiberglass...
HOW DOES IT WORK? - At 234cm in length (92 inches) our kayak paddles are the perfect length for most kayakers! They separate into two pieces for easy...
Installation
You'd be astonished at how many individuals ignore this aspect! The bolts shouldn't go into a difficult area to reach as that will make them harder to install. This will cause the paddle to be placed in an inconvenient area. Easy installation means you can relocate and remove the holder anytime.
The majority of the holders come with a few bolts that are situated in a line. Bigger holders come with more bolts that you need to tighten and cover more space. Hence, pick a holder as per your paddle and kayak size.
Comfort
Rowing your boat is great and fun until you find yourself uncomfortable. Along these lines, this is one of the priorities you ought to consider before deciding to buy a certain kayak paddle holder due.
Choose a paddle holder that you can bring on all occasions. One that is suitable when you're out kayak fishing or even going out for a fresh breeze of air. Search for a kayak paddle holder with features that enhance your comfort, such as cushioning around the sleeve area.
Quality
Generally, kayak paddle holders can cost anywhere between $5 to $20 depending on design and construction.
For example, you can get a Kayak Paddle Clip Holder in your local hardware store for approximately $5 but is it made with cheap nylon which can potentially break, but for an extra $10 you can buy the YakAttack RotoGrip Kayak Paddle Holder which is more durable because it's constructed with ABS plastic.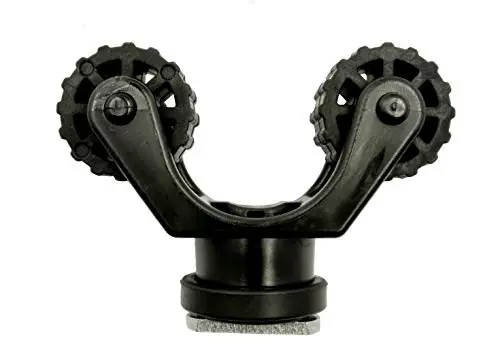 It's great to purchase a high-quality kayak paddle holder once only, as opposed to purchasing another one each time the less-expensive one breaks.
FAQ's
Do I have to remove the kayak paddle holder when I transport my kayak on a roof rack?
No, you don't necessarily need to remove the holder. Some kayak paddle holders are designed in a way that they can come off and clip back on easily.
But, you can either remove the kayak holder whenever you want or leave it on. That said, some are easy to remove, and by leaving it on you'll save a lot of space. Personally, when I store my kayak, I leave it on since it has a tight grip on the paddle. It carries it well, and it saves me more space.
Can I DIY a homemade kayak paddle holder instead of buying one?
Yes, bungee usually works the best. You can mount two pad-eyes along with the boat 17-18 inches apart. Next, loop the bungee over the paddle and secure it with a hook.
You could also do a handcrafted paddle leash. This will permit you to drop the paddle in the water right beside your kayak, without stressing over it floating far away.
For this, you can use a Diamond Braid Starter Cord with a Metal Trigger Snap Clip Hooks, with Swivel Eye in the end. Simply tie the opposite end around the center of the kayak shaft.
To shield it from sliding around the paddle shaft, you can use a VELCRO Brand ONE-WRAP Cable and tie it around the paddle shaft and over the knot.
Sale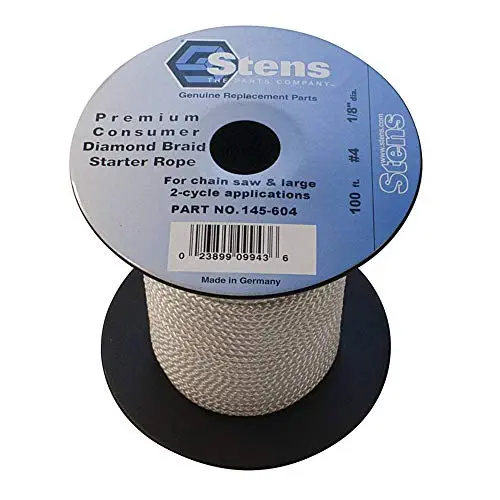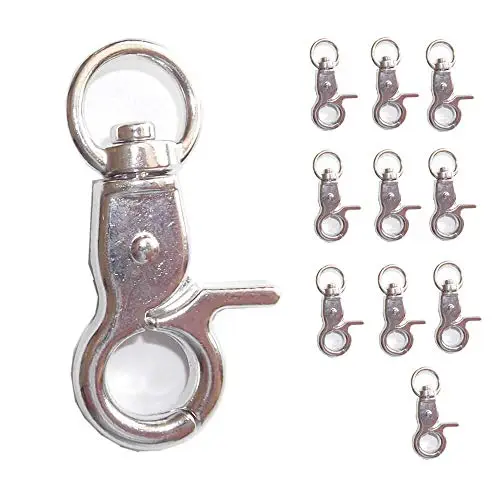 Metal Trigger Snap Clip Hooks, Sturdy Alloy Scissor...
Superior quality: Sturdy alloy trigger swivel clip hooks are made of premium zinc alloy, heavy duty, strong and durable, tight grip and firm locking,...
Size: Height 1.73" x width 0.86" (45mm x 22mm), 10pcs/package, 102g/package. Easy open & close. High polish white nickle plated (silver tone)
The hook opening can be extended to 0.78 inch (20mm), but hook inner diameter is 10mm (0.39"). The item that attaches to this trigger clip must be...
Wide applications : Heavy duty metal swivel clip hooks can be used to lock pet cage door,to connect dog lanyards, to make keychains, to diy some...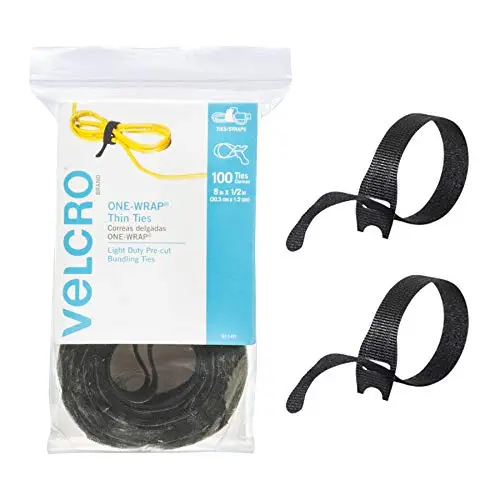 VELCRO Brand ONE-WRAP Cable Ties | 100Pk | 8 x 1/2"...
WIRE ORGANIZING SELF BUNDLING TIES - Cord organizer ties are simple to use, self-fastening thin ties that will contain and store cords and wires...
WIRE AND CORD MANAGEMENT - These bundling ties are ideal fasteners for cord organization, wire management, and securing loose or extra-long cords out...
STRONG AND REUSABLE - Strong, trusted, and used by data and network centers across the globe; These fasteners can be easily reused and repositioned;...
PRE-CUT AND EASY TO USE - These pre-cut ties stay firmly in place with an easy to use slotted head; simply insert the rounded end through the hole and...
Final Thoughts
An ordinary-sized fishing boat will have various storage and compartment areas to store your different bits of fishing gear. A kayak, however, has limited storage space.
If not used properly, your fishing kayak could restrict the amount of fishing gear you can carry with you. So what's our solution? A kayak paddle holder!
My personal favorite is the Yakattack RotoGrip Paddle Holder, it's convenient and handy to be able to snap the paddle into the holder so it's not in the way. At the same time, it's easy to reach and access. Track installation is tight, quick, and secure.
Another great choice is Norme Kayak Paddle Holder, this also gives an extremely strong grip on the paddle. Also, it's easy to relocate, adjust, and remove.
But one thing is for sure, you wouldn't need to replace your kayak holder again with this guide! Good luck and a happy fishing trip!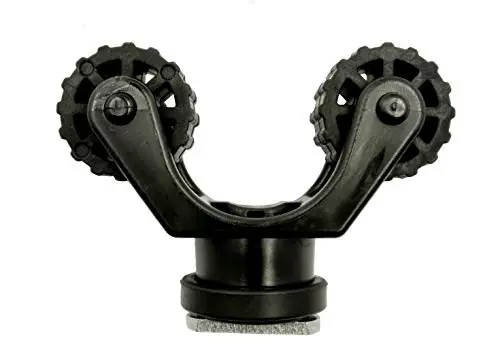 Sale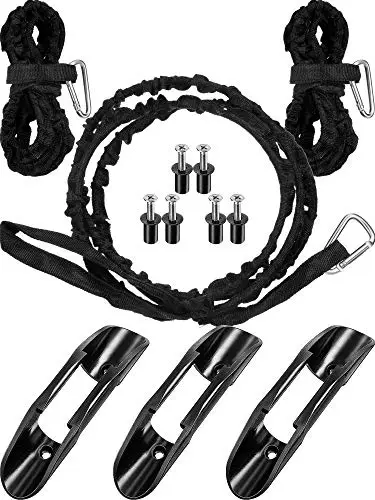 Norme 6 Pieces Kayak Paddle Holder Kayak Paddle Clip...
What you get: you will get 3 packs kayak paddle clips with hardware and 3 packs kayak paddle leashes, easy to use and install, convenient accessories...
Material: the kayak paddle clip is made of strength plastic, not easy to damage and broken, corrosion resistance, and the paddle leash is made of...
Compatible with: kayak paddle accessories works with majority of kayaks, compatible with Perception kayaks, Emotion kayaks, Lifetime kayaks, Pelican...
Usages: paddle clips are applied for kayak paddle storage on kayak, in garage, or for fishing nets, and paddle leashes are good for the water or the...
Last update on 2021-06-09 / Affiliate links / Images from Amazon Product Advertising API