Last Updated on May 4, 2021 by KayakPro
Many, including myself, love kayaking. Not only because it's fun, but also because it can improve your aerobic fitness, strength, and flexibility. The only downside is that kayaks are notoriously unstable in turbulent waters, making it not the safest activity in the world.
This is why a kayak life vest is your single most important piece of safety equipment while kayaking.
If you're searching for a kayak life vest, you're in the right place. In this article, I'll list everything you need to know when buying this essential equipment!
What Is a Kayak Life Vest?
Kayak life vests, also known as Personal Flotation Devices (PFDs), are pieces of equipment designed to assist a wearer in keeping afloat in water.
PFDs are available in different sizes to accommodate variations in body weight. Designs differ depending on personal convenience and level of protection. They're an essential gear that every kayaker, canoer, and stand-up paddler should own.
Kayak-specific PFDs have large armholes and keep the greater part of the water's buoyancy far from the shoulders and upper chest. As a result, these vests allow you to have the fullest range of arm and upper body motion while paddling.
Many of them have convenient features such as zipper pockets and pouches for hydration bladders that can be mounted on the back of the PFD.
Life Jackets vs. Life Vests
Life jackets and life vests are often used interchangeably, mostly because they both prevent drowning. Despite that, there are several remarkable differences between the two.
Life Jackets
Compared to life vests, life jackets are only worn in case of accidental immersion. They're quite bulky and often come with oversized collars as head support. Due to this, they're not a preferred tool when you're participating in water sports that require a lot of movement, as it'll prevent you from maneuvering around comfortably.
Despite that, water sports experts and members of the coast guard recommend children and non-swimmers to wear life jackets, as it gives them more buoyancy and hence more chances to survive an accident.
Life jackets only come in yellow, orange, or red, whereas PFDs are approved in a wide range of colors, prints, and designs.
Life Vests
Life vests are specially designed for use in various recreational boating activities. They're generally less bulky, more comfortable, and smaller.
Unlike life jackets, PFDs have limited turning-over capability and are less buoyant. They provide you with more flexibility and a range of motion whilst conducting the activity.
Plus, you can get PFDs for specific water sports activities like kayaking, paddle sports, and snorkeling. Most come with features that aren't available in standard life jackets.
Standard PFDs vs. Inflatable PFDs: What's Best Suited for You?
Kayak life vests come in two different types: standard PFDs, AKA paddle vests, and inflatable PFDs. Standard, non-inflatable PFDs dominate the kayaking market, but inflatable PFDs are quickly rising up in ranks.
Standard PFDs
Most recreational kayakers, canoers, and stand up paddle boarders wear this type of PFD. They resemble a vest and depend on lightweight foam to keep users above water. These are labeled as Type III USCG-approved PFDs.
Unlike inflatable PFDs, you don't need to activate a standard PFD to help you float while on water. Furthermore, most of them come with pockets for stashing snacks, tools, sunscreen, emergency gear, and fishing equipment. They're best used for calm, inland water or where there is a good chance of fast rescue.
Standard PFDs have a buoyancy level of 15.5. Buoyancy is the upward force we need from the water to stay afloat. The average person in water needs about 7 to 12 pounds of buoyancy to float above water.
Standard PFDs Pros
Ideal for continuous use
Need little or no maintenance
Easy to use; no inflating needed
Pockets for convenient storage
Standard PFDs Cons
Aren't suitable for extremely rough waters
Some find them bulky and restrictive
Can be quite warm during summer
Inflatable PFDs
Inflatable PFDs are a relatively new subcategory of life vests. Many people prefer inflatable PFDs because they're extremely comfortable to wear. Depending on the design, inflatable PFDs are labeled either as USCG-approved Type III or Type V.
You'll find inflatable PDFs more expensive than standard life vests. Despite that, users believe they're well worth the extra price because of the increased ease and range of motion they provide.
When it comes to inflation, these vests come in one of two ways: manually or automatically. With manual inflatables, you pull a cord that activates a CO2 gas cartridge that inflates it. The latter design inflates when submerged in water.
Inflatable PFDs have a buoyancy level of 5.5 to 22.0.
Inflatable PFDs Pros
Don't obstruct your range of motion while paddling
Cool to wear on a hot day
Lighter than standard PFDs
Inflatable PFDs Cons
Not inherently buoyant, therefore they won't work without inflation
Regular maintenance is required to ensure proper operation
CO2 cartridge needs to be replaced after every inflation
Can't be used for high-impact activities
Hybrid PFDs
Why not both? Hybrid PFDs are a specialized best-of-both-worlds solution that provides inherent buoyancy in a compact, comfortable-to-wear package. They, too, are classified as both Type III and Type V. The only downside to hybrid PFDs is that they may not adequately float unless partially inflated.
Hybrids have a buoyancy level of 22.0 when fully inflated and 7.5 when deflated.
6 Best Kayak Life Vests of 2021
Now that we've covered the basics, here are some of the best PFDs you can find available today!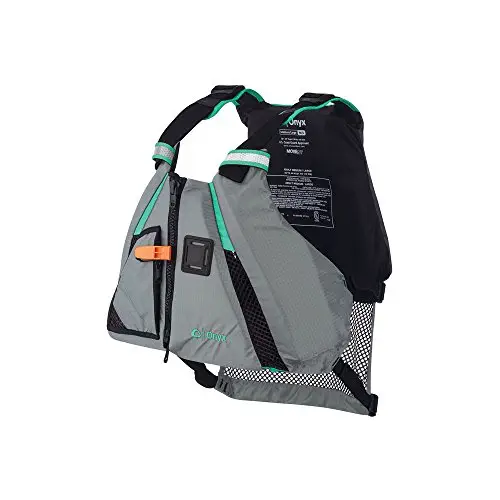 The Onyx MoveVent Life Vest is designed with comfort and functionality in mind. It's a Type III vest that's suitable for most water sports activities, including kayaking and kayak fishing.
When it comes to design, the Onyx MoveVent is nearly perfect. It comes with adjustable neoprene shoulder pads for comfort, front and back ventilation to keep you nice and cool while you're in the water, and adjustable side belts to ensure it fits securely to your body.
The zippered pockets are a nice bonus; they give you ample storage for boating accessories. The lash tab on the back is convenient, as well. You can use it to mount almost anything onto your vest.
For maximum visibility and safety, this life vest is made with a SOLAS-grade reflective material with a whistle attached. Its soft, comfortable flotation foam is made from 200 deniers heavy-duty nylon fabric for extra durability.
Pros
Snug fit
Extremely durable
Cooling mesh lining
Great value
Cons
Can be bulky for smaller paddlers
Sale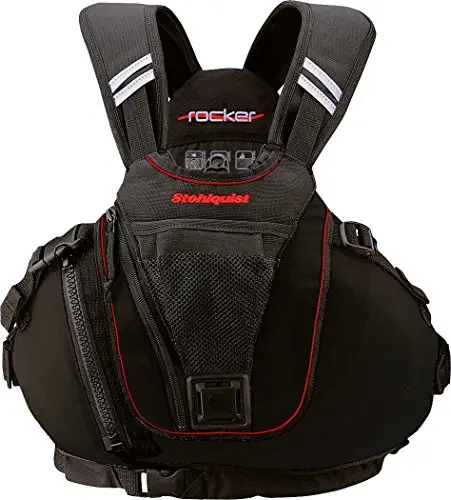 The Stohlquist Rocker is for those who are planning on tackling some seriously tricky rapids. It's compact, tough, and made with an ergonomically articulated body wrapping foam. The cross-chest cinch harness and self-tensioned shoulders it comes with creating a harmonious balance between comfort and security.
To prevent the vest from riding up, six diagonal adjustment straps with textured inner panels are included. The foam is concentrated around the waist, so there's no obstruction at all for the upper body. It also comes with pockets that are large enough to fit a multitude of things at once.
The mesh siding makes it breathable, meaning you won't feel hot when wearing the vest. The mesh is located on the side panels and the lower half back area, which makes it ideal for hot weather.
Pros
Highly adjustable
Easy to put on and remove
Doesn't look or feel bulky
Cons
Can be slightly restrictive if you try to bend forward too much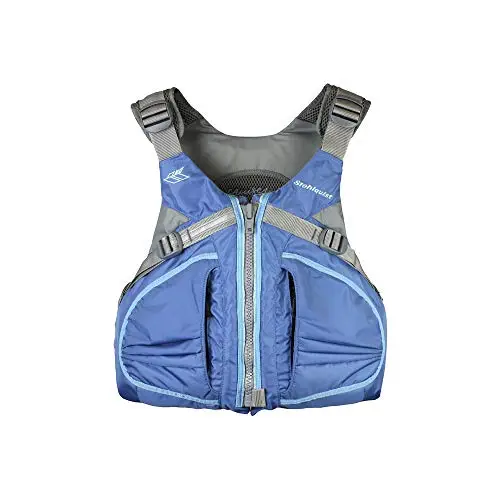 Stohlquist Women's Cruiser Life Vest
Graded Sizing and a higher mesh-back design; Check Fit Guide tab for proper sizing
Women specific features include a smaller cut, shortened torso, supportive inner cups, and the WRAPTURE shaped torso
Comfort features include cross-chest cinch harness for zero ride-up, ventilated shoulder and back pads, adjustable 1-1/2†webbing shoulder pulls...
Functional features include 4-way accessory lash tab on back, #10 YKK zipper with non-corroding slider, 3M reflective on front and back for added...
I like the Stohlquist Women's Cruiser Life Vest because it's specifically designed to comfort women. It has a smaller cut, shortened torso, supportive inner cups, and WRAPTURE shaped torso. Here's a video on how this function works. Features you wouldn't find in universal life vests.
The comfort of this vest is backed up by many female users. Many are impressed by its fit. It doesn't feel restrictive at all, especially in the torso and chest areas.
Other comfort features include a cross-chest cinch harness for zero ride-up, ventilated shoulder and back pads, and adjustable shoulder pulls. On top of that, it also comes with a 4-way accessory lash tab on the back and sizable pockets. You can easily fit your phone, keys, or other necessities inside.
Pros
Made with women's comfort and body type in mind
Extra-wide armholes prevent restricted movement
Cross-chest cinch strap eliminates annoying ride ups
Made with a durable Cordura nylon shell that resists abrasion and UV rays
Reflective accents on front and back enhance visibility
Cons
May feel slightly bulky to some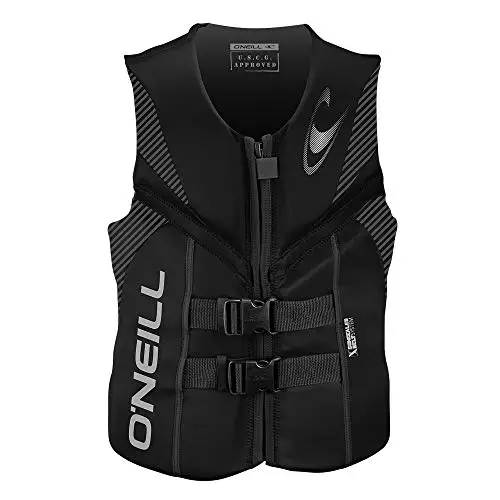 O'Neill Men's Reactor USCG Life Vest BLKBLKBLK MEDIUM
USCG Approved Personal Flotation Device; Perfect for Wake Sports, Waterskiing, Tubing, and Swimming
Segmented Foam Core And Anatomical Flex Points Allow Unrestricted Movement
Quick Release Safety Buckles And Heavy Duty Front Zipper Create an Unparalleled Sense of Security
Minimal Bulk Design Allows Full Mobility, While Expansion Panels Enable a Comfortable Fit
The Men's Reactor USCG Life Vest is designed to give you that high-cost experience in a budget-friendly package. This life vest sits comfortably in between the mid-price range.
This USCG-approved PFD is ideal for kayaking, wake sports, waterskiing, tubing, and swimming. Turbulent waters won't be an issue with this one. It's designed to keep you afloat no matter how strong the water waves are!
I also like the comfortable fit the Men's Reactor provides. It easily slips on and closes using two adjustable side buckles. The wide arm cut allows for unrestricted movement, and soft, flexible floatation foam molds to your body to provide superior comfort. In the front, everything is kept secure by a sturdy chest zipper.
Pros
Ideal for tall, large men (and women!)
Made with tough, high-quality materials
Great for strong water sports
Cons
Takes a while to dry
Doesn't have pockets
Sale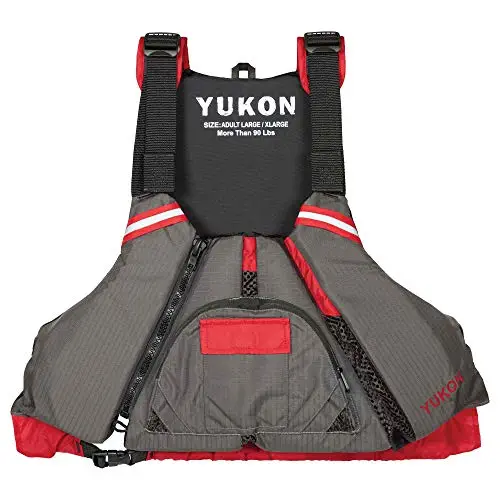 The Yukon Sport Paddle Life Vest gives you the freedom of movement to paddle hard, making it ideal for active kayakers and rafters alike.
Many love the Yukon life vest because it's extremely lightweight. This isn't a surprise as it's made with sculpted PVC-free HydroZote foam, which is considered to be one of the lightest foam materials available.
Its segmented hinged body makes it increasingly easy to adjust and move around. The reflective stripes on the front and back ensure you're seen while paddling at dusk.
For extra comfort, Yukon designed this vest with a breathable mesh lower back and neoprene shoulder pads. It also has an easy-entry velcro over-pocket and a lashing tab for all of your accessories. The drain vents it comes with allow this PFD to ventilate and shed water if and when you flip and roll.
Pros
Large expandable front pocket with over-pocket and lashing tab
Ergonomically designed to adjust to any length or width of the body
Four loops on the back allow for water reservoir attachment
Exceptionally well made
Fits plus-sized men and women
Immensely comfortable when worn
Cons
Smaller people could experience fitting issues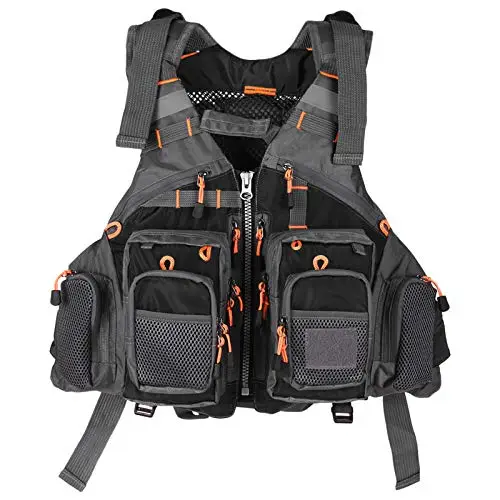 Lixada Fly Fishing Vest with Breathable Mesh for...
HIGH LEVEL OF COMFORT: This vest made of high-quality light mesh fabric and premium rips top breathable polyester shell to stay sweat absorbency,...
MULTI ZIPPED POCKETS: Four generous chest pocket, four zipped front pockets, two side mesh pocket, and one generous back pocket in total.
EXPANDABLE STORAGE WITH FISHING ROD HOLDER: Large and expandable to store more gears (pliers, fishing lure boxes, wallet, phone, keys and other...
PERFECT ONE-SIZE-FITS FOR ANYONE: Adjustable shoulder and waist straps offer a perfect fit experience for almost any person. (Fits for the person who...
Although advertised for fishermen, the Lixada Fly Fishing Vest is suitable for any outdoor activity that needs a good vest.
There are many things I love about this vest. For one, it's made of high-quality light mesh fabric and breathable polyester to absorb sweat. It has 11 zippered pockets and/or belt packs, some of which are large and expandable to store more gear. It's also one-size-fits-all; its adjustable shoulder and waist straps offer a perfect fit experience for almost any person. The reflectors are a mere bonus.
Overall, the Lixada Vest is well-designed and fully functional. Recommended for outdoorsmen or women who need a versatile life activity vest.
Pros
Custom-fit design with adjustable buckle straps
Highly breathable
Plenty of pockets
Multiple attachment points
Cons
Although labeled universal, it may not fit especially small people
Factors to Consider When Buying a Kayak Life Vest
PFDs come in a variety of shapes, colors, and materials. Some are made to be more rugged and last longer, while some have the capacity to protect you from the chilly water. Regardless, you need to choose a kayak life vest that's right for you and the water conditions you expect to encounter.
Here are some important factors to consider when buying a kayak life vest:
Stamp of Approval
Always look for the United States Coast Guard approval stamp on any PFD you buy. If the product has the stamp, it means that the vest meets the current safety requirements of the United States and is approved for production under Coast Guard approval.
Avoid PFDs without these stamps and those that are labeled "Former-May Use," as these life vests aren't approved for production and may be deemed as unsafe. They can be used as long as they're good and serviceable, but it's best to steer clear of them.
Choose the Right Size
When choosing a kayak life vest, it's paramount that you get the right size. A properly sized PFD should fit like a glove. It needs to be snug enough so it won't slip but loose enough to allow you to move freely without chafing your skin while you're paddling and playing.
For Adults
If you're an adult, your chest size determines the size of the PFD you need. Simply measure the circumference of your chest at its broadest point and check the PFD manufacturer's size recommendations. When worn, the vest should fit like a good pair of shoes, tight but comfortable.
For females, women-specific PFDs often offer a better fit than unisex ones due to the contoured cups for bust lines and styles made for women's torso lengths.

Here's how you can choose the right kayak life vest size:
Loosen the straps of the vest before putting it on.
Starting with the waist belt, tighten all the straps. Work your way up until you reach the final strap.
Pull the vest from the shoulder straps. You can do this yourself or have someone do it for you. If the life vest pulls up around the head, the vest is too big. Make sure it stays secure, or return the vest and buy another in a different size.
For Children
Unlike adult PFDs, your child's weight determines the right size needed for the PFD you're going to buy them. Manufacturers typically label them as infants, children, or youth.
Infant PFDs are for toddlers weighing 8 to 30 pounds. Child PFDs are for children weighing 30 to 50 pounds. Finally, youth PFDs are for kids measuring 50 to 90 pounds.
You may be tempted to buy a PFD that's slightly bigger for your children on the assumption that they may grow into it in a few months or years' time. Please don't do this!
A PFD too large will slide up in the water and rest somewhere around the child's ears, making them susceptible to drowning. If it's too small, it might not provide enough flotation to keep them above water.
For Dogs
Doggy PFDs aren't USCG certified, so you won't find any seal of approval when buying these vests. Regardless, a doggy life vest is necessary to keep them safe in the water. They're family, after all!
Unlike kayak life vests for adults and children, the only way to ensure the life vest is suitable for your dog is to put it on him.
When worn, the life vest should fit snugly so your dog cannot twist, step, or swim out of it. Easy release buckles are what I'd personally recommend, including one that has handles so you can easily lift your furry friend out of the water and into your boat.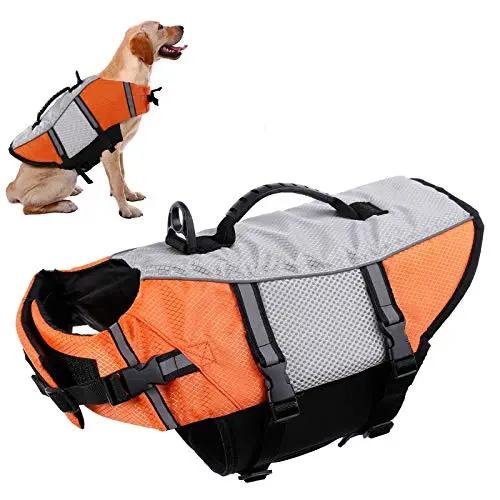 Dog Life Vest Jacket for Swimming Kayaking Boating...
★SUPER SAFE: ★ Upgraded durable and convenient rescue handle at the top of the vest (located on the pups back when worn) which is solidly attached...
★ADJUSTABLE: ★The vest wraps around the pup with magic tapes and is further secured by side release buckles. Straps on neck and belly are well...
★SAVE ENERGY: ★ The dog life jacket works perfectly in the water and the pup is able to cruise around without having to exert too much energy. The...
★HIGH VISIBILITY: ★Reflective dog life Jacket with bright color, new high visibility reflective straps on neck and belt, which is easy to see if...
Additional Features
While not always a necessity, getting a vest with additional features is convenient. These features include:

Reflective tape for extra visibility
Multiple pockets, loops, or tool hangers
Multiple tabs that let you attach a knife, whistle, fishfinder, and other accessories
Fishing features that allow you to store or attach lures, flies, and the like
Built-in vents that allow body heat to escape
FAQs
What is the best life vest for kayaking?
All of the above products mentioned are what I consider to be some of the best vests for kayaking. Regardless of what you choose, do keep in mind that your life vest must fit like a glove around your body. If it doesn't, contact the manufacturers and they'll send you a replacement with better size.
Most life vests come with a size chart, so it's best to measure yourself first before purchasing one for yourself.
Do I have to wear a life vest when kayaking?
Yes. By law, boaters are required to wear either a life vest or a life jacket on canoes, kayaks, and boats less than 16 feet in length. This requirement is intended to protect boaters from the dangers of water in case they accidentally fall in.
The US Natural Park Service recommends that everyone wears a life jacket at all times when near or in the water, i.e., wading, swimming, fishing, boating, or during any other water-related activity.
"You may not have time to put on your life jacket if you encounter a water hazard, slip while fishing, or fall out of your vessel," they wrote. "Don't take the chance!"
How do I choose a life jacket for kayaking?
There are three things you check before buying a life jacket for kayaking: size, comfort, and whether or not it's US Coast Guard approved.
Size is a no-brainer. You need a well-fitting life jacket that doesn't restrict your breathing and movement. Furthermore, as kayaking requires good upper body and arm mobility, look for a jacket with large armholes and multiple adjustment points.
For extra convenience, search for a life jacket with pockets.
What type of PFD is used for kayaking?
Most US Coast Guard-approved life jackets are Type III or Type V. Manufacturers usually write the jacket type in the product description.
Final Thoughts
A kayak life vest is one of the most important equipment you need while on the water. It's a life-saving device that you'll be glad to have in case something happens while you're kayaking.
My personal choice for the best kayak life vest is the Onyx MoveVent Life Vest. It's valued for its comfort, durability, and functionality. Plus, it comes at an extremely competitive price!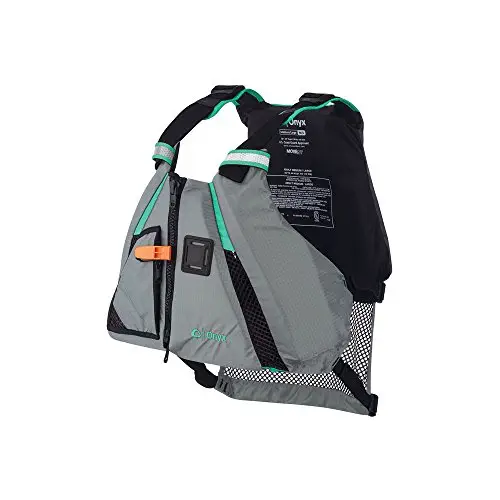 Last update on 2021-06-09 / Affiliate links / Images from Amazon Product Advertising API