Gone are the days when people invested a lot of their time and patience sitting and waiting to get a bite on their line. Thanks to technology, there's no need to go through the pain and agony of finding the perfect fishing spot.
But, choosing the best kayak fish finder is difficult due to the variety of options available on the market today. There are a lot of models that are quite advanced and feature-rich, which let you know the exact location of the fish. The depth of the water, the vegetation beneath, and other factors are also spotted through images and readings by the user.
Also, some models come with GPS, some come with large display screens, and some even come with Wi-Fi connectivity to sync with your smartphone. The good news is that most of these are easy to set up.
Fish Finders – Comparison Table
IMAGE
FISH FINDER
DETAILS
 
 

Garmin Striker 4 with Transducer

Maximum Depth:

1600 ft Freshwater, 750 ft Saltwater

Highlight:

Transmit Power 200 W

Price:

$

Check Price
 

Maximum Depth:

260 ft

Highlight:

Great for Ice Fishing

Price:

$

Check Price
 

Venterior VT-FF001 Portable Fish Finder

Maximum Depth:

328 ft

Highlight:

Great for Lakes, Rivers, and Oceans

Price:

$

Check Price
 

HawkEye Fishtrax 1C Fish Finder

Maximum Depth:

240 ft

Highlight:

Comes with LED Backlight

Price:

$

Check Price
 

LUCKY Handheld Fish Finder

Maximum Depth:

328 ft

Highlight:

Battery Life 4-5 hours

Price:

$

Check Price
 

Humminbird 409620-1 Helix 5 DI Fish Finder

Comes with:

Built-in UniMap Cartography

Highlight:

Comes with Gimbal Mounting System

Price:

$

Check Price
 

Vexilar SP200 T-Box Smartphone Fish Finder

Item Weight:

1.6 pounds

Highlight:

Semi Enclosed Battery Compartment

Price:

$

Check Price
 

HOOK2 5 – 5-inch GPS Fish Finder

Offers:

GPS Mapping

Highlight:

Equipped with Transducers

Price:

$

Check Price
 

Humminbird 410170-1 Maximum Depth Portable Fish Finder

Maximum Depth:

600 ft

Highlight:

Transmit Power 300 W

Price:

$

Check Price
 

LUCKY Fish Finder Wired & Wireless

Maximum Depth:

328 ft

Highlight:

45 Degrees Beam Angle

Price:

$

Check Price
But, the right model will always depend on the type of kayak you have. So, if you are in search of the best kayak fish finder in 2020, we've reviewed 10 models that are at the top of the list.
Kayak Fish Finder in 2020 Reviews
Here are some of the best kayak fish finders that we found after analyzing each product. Take a look:
1. Garmin Striker 4 with Transducer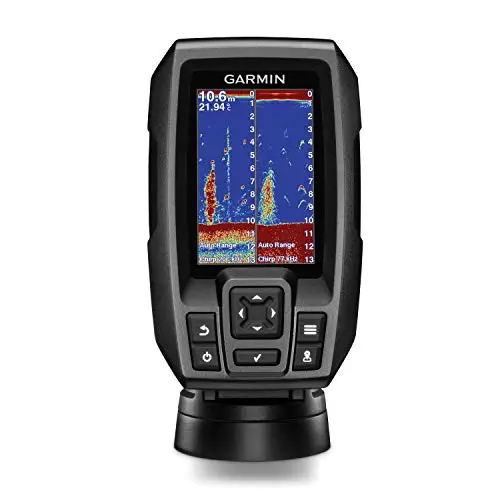 If you love kayak fishing, the Garmin Striker 4 will take your excitement to the next level. With an ability to work in both deep and shallow water, it comes equipped with high-frequency sonar to give you photographic images. The images offer details about any object, fish or structure floating around near the kayak.
What makes its interface user-friendly is that it comes with a keypad and dedicated buttons. Also, its 3.5-screen display is good enough to give a clear picture of what's happening around the kayak.
The Garmin Striker 4 (with Transducer) makes use of a waypoint map that helps you identify and navigate to hot spots, docks, and ramps. It can go down to 1,600 feet in freshwater, and 750 feet in saltwater.
Using chirp sonar, it sends frequencies on a consistent basis to provide you with information. The chirp sonar is helpful in creating crisper fish arches along with advanced target separation.
Portability is another key feature and one of the best advantages of this kayak fish finder. It's perfect while canoeing or kayaking, and even better if you've invested in a pedal kayak for fishing. Plus, it offers extra space for storage and a rechargeable battery, keeping costs down. With these amazing features, Garmin Striker 4 proves to be the best kayak fish finder in the industry.
Identifies fish and other small objects easily
Display screen could have been a bit bigger
2. Deeper PRO+ Smart Sonar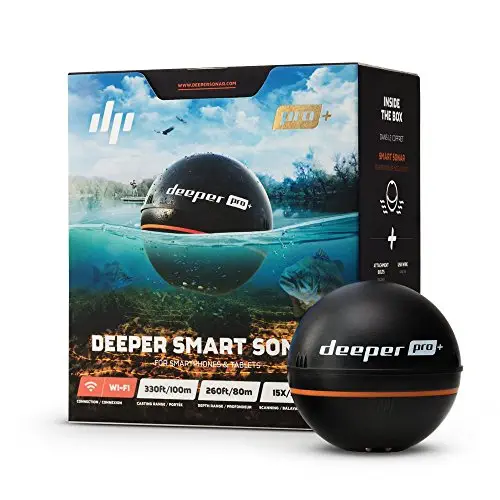 If you love fishing from the shore or through the ice, I'm sure you know about castable fish finders. The Deeper Smart 3.0 fits that category and gives advanced readings on water conditions for fishing. Deeper Pro+ is considered to be the best kayak fish finder among professional fishermen.
What's incredible about this dual-beam sonar unit is that it works in tune with your tablet or smartphone. It gathers detailed information by using your Bluetooth connection and displays the results on your smartphone.
Deeper PRO+ Smart Sonar has the potential to stay connected to your personal device at a distance of up to 130 feet. Plus, this kayak fish finder has a built-in GPS that helps in the creation of bathymetric maps.
In fact, you do this right from the shore. Also, you can review, analyze, and save all the maps on your smartphone, which is why we love it.
One of the main reasons we like this model is because of its versatility. You can use it from the shore, while kayaking, or on a boat. Once installed, the trolling is smooth, making this one of the best fish finders on the list.
Works on both Android and iOS devices
Easy to install without cables
Battery life is poor
The safety strap is of poor quality
3. Venterior VT-FF001 Portable Fish Finder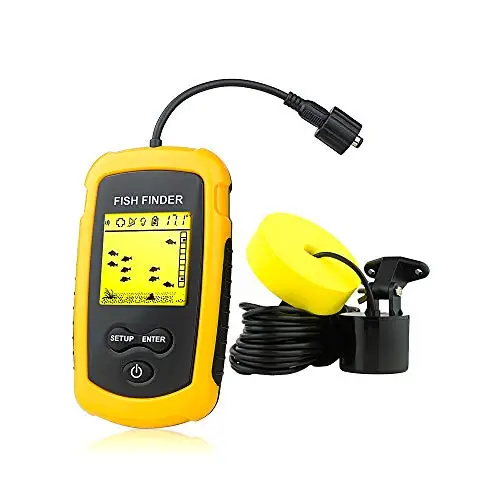 Good news for avid anglers who are looking for the lightest model and Venterior VT-FF001 does proper justice in this respect. Right from giving you accurate water depth to detecting the location of fish, it is easy to use and makes your fishing job so easy and hassle-free.
Even if you are willing to set out in the dark, the backlight mode will make things look clear. So, whether it's a river, lake, or sea, both kayaking and fishing would be no doubt enjoyable.  The Venterior is definitely one of the best fish finders for kayaks.
Venterior VT-FF001 comes with a round-shaped transducer along with a cable of 25ft long and a detachable transducer float. The depth of water this one can detect is up to 328 feet. Besides, it has a fish alarm, 5-user sensitivity, and battery saver mode.
The audible alarm feature helps the user to stay alert whenever a group of fish passes by. Installing the VT-FF001 becomes effortless with a wing nut, stainless steel bolt, and a side-scan adapter as well.
Although Venterior VT-FF001 sports a very simple look, it comprises such features that would take your fishing session to the zenith of excitement. Just make sure that the display unit is not exposed to water, or otherwise, this fish finder for kayaks is worth considering for canoe and kayak owners.
Multiple sensitivity settings to choose from
Display backlight helps to view readings at night
Does not stay fixed at a place
Issues in measuring accurate depth
4. HawkEye Fishtrax 1C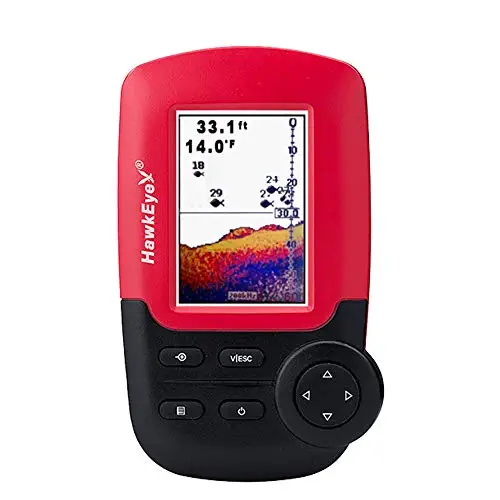 Compact, easy to mount, and multi-featured, the HawkEye Fishtrax 1C Fish Finder has been designed to provide you quality time in the waters. Despite having a mini size, it is packed with brilliant features.
Out of the three models, this one is the most advanced and powerful as well. Equipped with a full-colored screen, it has one hundred sensitivity settings that would let you achieve complete accuracy. Easy to use, its operation is based on three modes – the Data mode, the Fish Finder mode, and the Ice Flasher mode.
The FishTrax intelligent sonar not only gives accurate readings but also tracks down up to a depth of 240 feet. Operating this new-age fish finder is also quite easy with a handful of soft buttons.
These make the menu navigation hassle-free, making it convenient for users to set out on fishing trips. The audible alarm proves to be great whenever the fish appears within the range.
Having updated with the algorithmic software, the HawkEye Fishtrax 1C Fish Finder cuts down the chances of giving you false readings.
The LED backlight mode consumes low power and will not cause the battery to heat up the device. Its easy-touch programming, too, makes FishTrax 1C a great pick for kayakers. Without any doubt, Hawkeye Fishtrax is the best kayak fish finder in the industry.
Color screen of HD quality
Gives accurate readings even at greater depths
5. LUCKY Handheld Fish Finder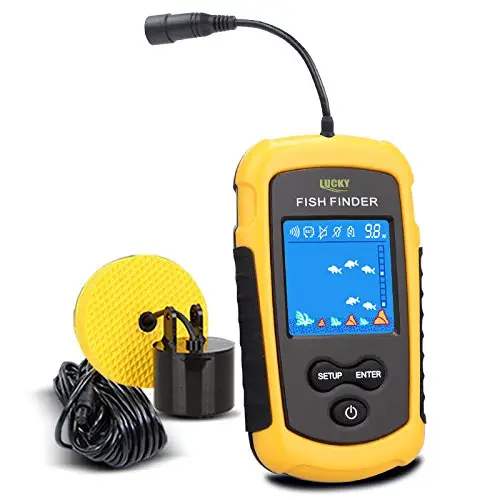 Those boring fishing sessions will now come to an end with this Lucky Handheld Fish Finder. It scores high on portability, detects the exact water depth and brings everything into the display on the 2-inch Anti-UV screen.
Also, it gives you the exact location where the fish is and even lets you know about those rocks, sand, and weeds underwater. What also makes it flexible is its ability to be used in diverse settings. To be precise, you can take it for fishing at the lake, sea, offshore, etc.
The Lucky Handheld comes with some of the best functions like fish school alarm, backlight mode, battery save mode, 5-mode sensitivity options, and more. It's just that you will find it a bit tough to let it work in smaller spaces like a water bucket or a swimming pool.
So, it would be advisable to utilize it in bigger spaces. Apart from the kayakers, the canoe owners can make good use of this one.
Those who are into ice fishing will also find it great, provided that the transducer needs to be dropped below the ice so that accurate readings can be achieved. The batter life is also quite good as it would give you around eight to nine hours of constant use.
6. Humminbird 409620-1 Helix 5 DI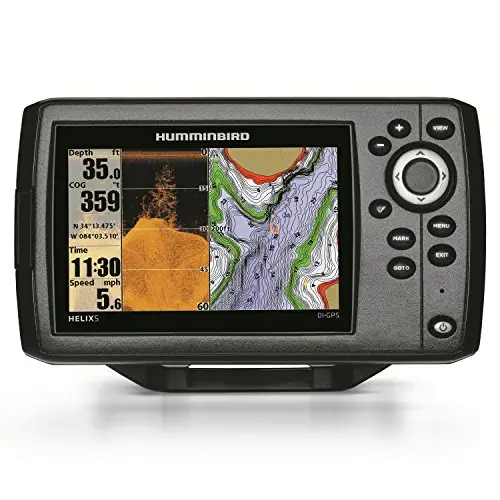 If you have been looking forward to bettering your freshwater or saltwater fishing sessions, Humminbird 409620-1 Helix 5 DI can make a grand contribution.
Featuring the SwitchFire technology, it lets you customize the sensitivity as per your convenience and brings you optimum results on the 5-inch LED-backlit screen. It has a 500W RMS power output as well as a peak to peak output of 4000W that tracks down the bottom with sheer accuracy.
The built-in GPS makes it easier to let the user know about the location as well as the speed. Talking about the display, it brings you absolutely bright and clear images to be viewed effortlessly under the sunlight, offering some of the best visibility we have seen.
On the other hand, the sonar installed is quite modernized and features a 20-degree down looking beam that would fetch you the most high-quality image of the environs. As it comprises dual beams, it lets you widen the scan parameter.
What also deserves mention about the Humminbird 409620-1 Helix 5 DI is its split-screen view. Here you can mark waypoints and simultaneously fish around.
This keeps you aware from one side of the screen as to what is going on below the deck while the other side lets you see marked viewpoints through GPS. Compact and user-friendly, this model is indeed impressive and deserves to be with every angler. Based on our experience, Humminbird Helix 5 DI is the best kayak fish finder you can use.
Easy to use and mount as well
Gives accurate readings in LCD screen underwater
Auto depth feature does not work correctly
7. Vexilar SP200 T-Box Smartphone Fish Finder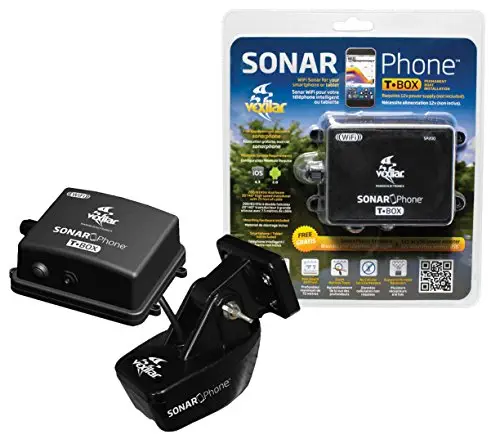 Rich in technology and smart in connectivity, the Vexilar SP200 T-Box Smartphone is a super-innovative device meant to add life to your fishing hours. Using Wi-Fi signal technology, it would turn your smartphone into a fine fish finding gadget.
What's great is that this model has been designed to provide its own Hotspot and lets you share it with others. All Android and iOS users can take full advantage of this technology and have incredible fishing experience.
Vexilar SP200 makes it quite convenient for use as it has pre-drilled holes, making the mounts easier. So, no matter how many accessories you wish to mount it on your kayak, there will be no hardships.
The 25-feet cable that it comes with proves to be quite advantageous for setting it up. Moreover, it brings you a neoprene armband in addition so that you feel safer to check your phone display all the time.
Apart from these, the Vexilar SP200 T-Box Smartphone comes with a depth indicator, water temperature indicator, audible fish alarm, battery indicator, noise rejection, Zoom Bottom Track, and other features.
The device would also go well with a tablet, which should, of course, have Wi-Fi. Smartphone users should go for it at least once to have a different experience.
Pre-drilled holes make it easier to mount
User-friendly interface
Not compatible to work with all types of phones
8. HOOK2 5 – 5-inch GPS Chirp Sonar Fish Finder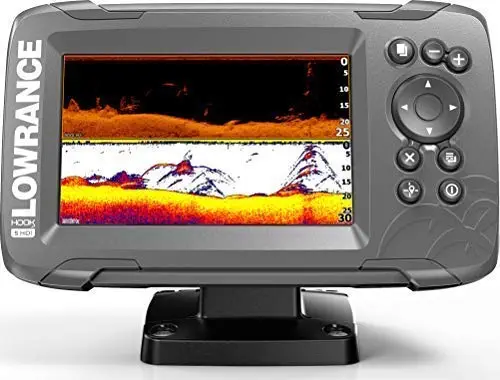 Fishing is going to be more adventurous this time with the Lowrance Hook2 5 Fish Finder. Equipped with menus similar to what you find in a cellphone, it lets you spend quality time fishing. As the interface comes clutter-free, you don't need to get too engrossed in the settings
All these have been possible for its SolarMax display. Furthermore, its auto-tuning sonar makes its operation so user-friendly. Thanks to the Chirp Sonar cone that creates a wide-angle and makes enough coverage unlike what a conventional one does.
Installation of the HOOK2 5 is also quite easy. In other words, you can easily mount a single transducer in multiple ways. It can be mounted on the trolling motor, transom, or even inside the hull.
Apart from this, it allows users to enjoy multiple sonar views owing to its SplitShot transducer. To be precise, it allows the straight-down view as well as the fish arch view. The internal mapping provided also helps in identifying depth changes and even your ideal spot for fishing.
The fun part is when you will be able to save all the routes, trails and waypoints by means of a micro SD slot. Now plan your next fishing date and head to the shore with this Lowrance Hook2 5 Fish Finder for an unforgettable experience.
Best display screen for meter readings
Easy to install and use
Depth readings are not accurate
9. Humminbird 410170-1 Sonar Portable Fish Finder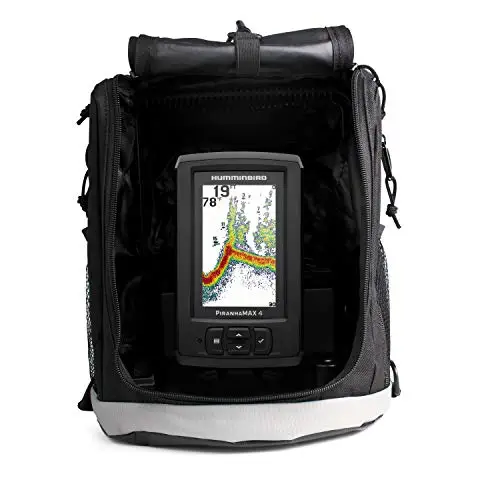 Technology has gone to such heights that it will now keep you updated with what is below the boat while you're fishing. Humminbird 410170-1 is one such modernized fish finder that comes with a very comprehensive interface.
Equipped with a big LCD 4.3-inch screen, it would give you a bright picture of what is going around your kayak. What also makes this one stand out is its portability. It comes with a carrying case along with a transducer, a wall charger, and a 7-Ampere-hour battery.
One of its noteworthy features is the dual-beam sonar that lets you choose from a wide beam for more accurate detail or covering a big area. This helps you track down the fish, contours, and structure as well.
The swivel mount makes it easier for you to size your viewing area angle. Apart from this, it has the function of unlocking the ability of optional Down Imaging. Also, it comes with depth alarms, fish alarms, and a wonderful zooming option.
Installing this model that's equipped with some of the best solar technology on a small boat is not problematic at all. In fact, the performance here is flawless and the user will just love the experience. Just make sure to follow the instruction manual and things will look quite smooth.
Dual-beam sonar makes wide coverage
Some of the best fish alerts on the screen
Fails to stay stagnant
Poor quality transducer
10. LUCKY Wired & Wireless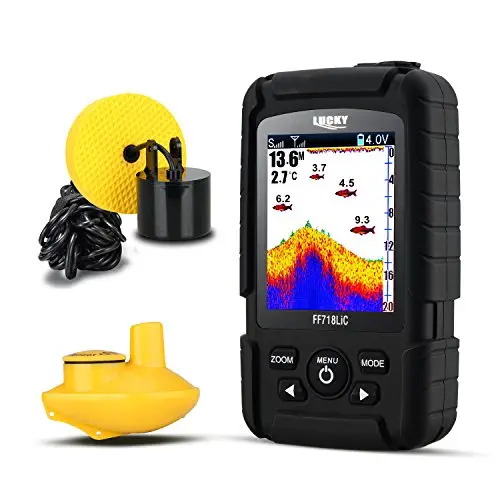 Lucky brings you one of the best fish finders, having both wired and wireless modes. With a simple interface and multiple features, it has proved to be a very powerful device as per many kayakers and fishermen.
It has a 2.8-inch LCD screen with rich colors that would bring you the most accurate readings. With the wires, it can measure up to a depth of 328 feet while the wireless mode can take the measurement up to 147 feet.
Powered by a rechargeable lithium battery of 3.7 V, this versatile gem by Lucky is ideal for all types of fishing conditions. For instance, anglers can make good use of it for marking targets and feature finding.
On the other hand, the shore anglers can use it for marking fish and finding structure with its outstanding scanning depth. Boat fishers will find it easier to scan those unreachable areas without affecting their targets. Ice fishing, too, is going to be fun with this portable fish finder.
The LUCKY Fish Finder, in other words, is worth going for with its best in class battery life and sharp accuracy. Although it cannot be called fully waterproof, it would work well during the rainy season. If you are, therefore, looking for power-packed fish finders with sonar technology, this would do a great job.
Takes no time to find the fish
Hassle-free operation
Finding accurate depth is a challenge
Benefits of Using a Kayak Fish Finder
Fishing is no doubt fun and super adventurous. But when it is done on a kayak, the experience reaches a different level. Therefore, a kayak fish finder can add quality time to your fishing sessions.  With that in mind, we've put together a buying guide so you know what to look for before you buy.
Just imagine the advantage of minimizing your waiting time for the fish to get caught in the net. Yes, a kayak fish finder makes this possible and even helps you track down whatever is beneath the boat.
After all, who does not want a safe trip across the waters? The best kayak fish finder, therefore, brings you all such perks of being a happy kayaker. So, let's take a quick look at the number of benefits a kayak fish finder would bring you:
Searches fish deep down
What's great about a kayak fish finder is that it has advanced presets and programs that help you to accumulate enough data about the fish location as well as the water depth.
As a result, it raises the probability to catch fish instead of wondering whether there are any. Moreover, you can easily judge the water temperature and also find out if there are impending hazards under the water. In other words, you get a very clear picture of the water as well as the safety conditions through fish finders.
Brings Sonar Technology into play
The most essential part played by a kayak fish finder is the transducer that runs on the basis of sonar technology. This helps you to know the real scenario under the water.
Apart from knowing how deep the water is, it lets you know where the fish school is, the plant, the landscape, and every little detail. By means of the LCD screen, you get to know all these. The best fish finders also give you the advantage to use your smartphone to track down things underwater.
Navigation becomes so easy
With kayak fish finders, what kayakers and fishermen can also benefit from, is effortless navigation. The majority of these devices come equipped with a GPS that lets you safely glide across the waters and pass along stumps, brush piles and docks.
Apart from letting you navigate seamlessly, it helps you to point out your waypoint locations. This makes it easier for you to choose the trails you should follow. Some fish finders have even preloaded maps that act as proper guides to make your fishing trips as smooth as possible.
Adds no weight to your kayak
One thing that kayakers can remain assured about is the portability of a fish finder. Most of these models are light in weight and quite compact so that it can easily mount with no obstruction.
Moreover, it takes no space to install. Hence, it can be easily carried on both short and long trips with no hassles at all. It also doesn't matter whether you have multiple people on the boat or you are alone because a fish finder will add no extra weight to obstruct your kayak from moving.
Keeps you aware of obstacles underwater
When you move along the waters with your kayak, you stay clueless of what is there beneath and whether that would cause hindrance to your fishing trips. So, once again it's the transducer that comes into play by emitting ultrasonic waves.
What happens hereafter is that these waves cover the areas beneath and convert into proper readings. Furthermore, you are able to track the fish by means of structures like bars and arches that are displayed on the fish finder only. All these factors give you a fair idea of the probable hindrance you might come across in the midst of your fishing trip.
What to Look For in a Kayak Fish Finder
When deciding which finder to buy, the one you choose must comprise everything that could meet your fishing needs, wants and preferences. So, here are some of the most crucial features to consider in a kayak fish finder. Have a look:
Size of display and screen resolution
Most kayakers tend to go with fish finders having larger displays. However, this might not work out on those smaller kayaks. For instance, if your kayak is spacious enough, a 5 to 6-inch screen would be acceptable. Otherwise, it would be wise to choose one with screen sizes ranging from 3 to 4 inches.
When it comes to resolution, it should be good enough to bring you quality results. The higher the resolution, the clearer the images and the better the coverage. Make sure the resolution stays above 640 x 640 for better results.
Set up process
A kayak, of course, would be limited in space, and accordingly, you need to choose the right kit that would help you set up the fish finder with ease. A good option to mount the fish finder will be the gear tracks. Some models come equipped with pre-drilled holes that make the installation process hassle-free.
A lot of kayakers also prefer mounting their fish finders on such places in their kayak that can be easily accessible and viewed as well. If it's a big size, make sure it has a good space for accommodation.
Portability and convenience
Fishing gets a lot better and pleasant when it involves portable accessories. A fishfinder demands the same requirement that adds a good deal of convenience. If your device is light in weight, it would be easier for you to evaluate the details, especially when you on the driver's seat.
This is a reason why modern kayakers go for such fish finders that can be synced with smartphones through Bluetooth or Wi-Fi. This lets one use the settings seamlessly, making their rides more comfortable and safer.
Type of Transducer
As discussed above, a transducer is an integral part of a fish finder. Therefore, it is advisable to check the right type of transducer for your kayak. What it indicates is that a transducer should be compatible with your boat. It should be installed in the right manner, or otherwise, there would be inaccurate readings and lapses.
Most people, therefore, prefer installing fish finders on kayaks instead of boats for compatibility reasons as well as to save time. The most crucial factor should be to determine as to what type of kayak you are using. Accordingly, you can proceed to choose the most compatible transducer.
GPS accuracy
The 21st-century models are proving to be quite advantageous for kayakers. Now, the manufacturers are placing an advanced GPS tracking system inside these devices so that one finds it easier to navigate the water without any effort.
Having updated features, fish finders with built-in GPS create the fishing hotspots, mark your waypoints and even guide you to return to the starting point. So, a fish finder for a kayak with GPS would any day be a worthy device for regular kayakers.
How to Install a Fish Finder on a Kayak
The process of installing it on a kayak can be quite a challenging task. If you are completely new to it, you might be left clueless as to how you should go about it. To help you out, here are some things to consider during the installation process.
Look for the right spot
As already mentioned above, you need to first choose the most appropriate spot for installing it on the kayak. Make sure the space you choose to install can be easily accessed and stays away from the paddling area.
Once done, you have to find a spot where you can place the transducer. A flat surface somewhere at the bottom of your kayak will be great to consider. Try to keep this spot as clean as possible by not allowing debris to interfere.
Apply the install pad
Choose to use a thinner layer of the installation pad. Just make sure that you are installing the pad in tune with the direction where the transducer is kept.
In other words, keep it pointed towards the front direction towards which the kayak is moving. To make sure the installation pad has been fixed completely, use glue of good quality on the concerned spot.
Keep the transducer in the right position
As explained in the first step, the transducer should be placed at the bottom of the kayak for better results. By means of silicone, you can position the transducer.
Try to keep bubbles away or otherwise, the readings would be inaccurate. Once the installation pad has been installed, allow the dry it fully that might take up to 48 hours.
Setting up the fish finder
After you have rightly placed the transducer, it's time for mounting the fish finder on the kayak, similar to the video below.
Tighten the screws well
Get the screws and tighten them well. Take away the top section of the fish finder and place it on top of the mounting spot. Once you have done it, fix them with the mounting screws.
Organize the wires and cables
Head towards the base of the fish finder and reassemble the cables and wires. Find the right spot where the wires and power cables would pass through. It would be best if you can utilize a grommet as this would keep those wires organized.
Get the grommet installed
Get the power drill again to make a hole so that you can install the grommet with ease. Since all the wires and cables would pass through here, you need to first set up the battery connector and the power line.
There will be possibly red wires whose ends need to be stripped for connecting them to the battery. Once done, do the same for the black wires.
Run the fish finder
Take the wire and plug it at the back end of the kayak. Once you do it, the fish finder should be good to run.
FAQs
What is the purpose of a kayak fish finder?
Fishing often seems tedious since it usually takes time to catch fish. The best kayak fish finder, therefore, gets this job done with ease. Equipped with modern features and settings, a fish finder makes fishing a super entertaining activity on the waters.
Apart from helping you track the exact location of the fish, it also lets you know what is there beneath the waters. So, fishing seems to be a lot effortless and less time-consuming with a fish finder.
How safe are fish finders?
Since a fish finder stays deep down the water, it is questioned for being waterproof or not. The truth is that the transducer inside the fish finder is actually waterproof while the fish finder is water-resistant.
This means that a fish finder can bear water splashes but cannot stay submerged in water for long. However, there are waterproof covers for assuring complete protection to a fish finder.
What is the easiest way to set up a kayak fish finder?
It would always be wise to mount a kayak fish finder at such a place that is easy to access and can be viewed as well. Just make sure that it doesn't obstruct your paddling and result in an unpleasant journey. Also, keep the wires at a good distance so that there are no chances of fire or similar accidents.
What is the role of a transducer in kayak fishing?
Without a transducer, a fish finder is incomplete. In other words, it is an integral part of a fish finder equipped with sonar technology that emits signals or sound waves.
These help to bring details to the kayaker about everything related to the water and fish. Furthermore, you get to know more about the aquatic life as well as about any impending hazards coming your way.
What should be the best screen size of a kayak fish finder?
The display of a fish finder matters a lot to kayakers. For these devices, the screen size should not be more than 5 inches. In fact, if the kayak is a large one, a 5-inch display screen would be fine. But if it's a small one, a 3.5 to 4-inch display screen would be good enough for a fish finder.
Is it essential to buy a fish finder with a built-in GPS?
Fishfinders with GPS are, of course, beneficial for kayak fishing. Here one finds it a lot easier to identify the right direction to sail along and also tracking the return route. Besides, it helps one in fishing at unknown locations and also proves to be advantageous for setting out on new routes.
Conclusion
So, who wins the race in the list of kayak fish finders? Venterior VT-FF001 Portable Fish Finder deserves to lift the trophy. Let's see why and how. What Venterior VT-FF001 impresses in kayak fishing is its depth detection ability of up to 328 feet.
Alongside, it lets you measure the exact depth of water, helps in tracking where the fish lies, creates no problem in fishing amidst dark settings for its backlight mode, equipped with sonar technology, and what not. It doesn't even make a difference whether you choose to do kayak fishing at a river, lake or sea.
Venterior VT-FF001 even brings you a 25ft long cable that makes the installation painless. On top of it, the fish school audible alarm, 5-user sensitivity, and battery saver mode are great additions.
So, if you are planning to invest in an efficient, updated and versatile fishfinder, Venterior VT-FF001 will never leave you disheartened on the waters.