Last Updated on April 25, 2021 by KayakPro
Are you looking for the best kayak covers to protect your beloved yak?  For many keen canoe and kayak goers, your vessel is a significant investment, both in terms of finances and emotions. Choosing the best kayak is a labor of love, and a process that can take a long time to get right – there is a vast range of factors and considerations in your purchase, and finally making a choice is a major deal.
In addition, many water fans see their kayak as the perfect way to relax, unwind, and enjoy nature – they are far more than merely a mode of transport. With this in mind, finding the right protection and security for your boat is imperative.
Proper storage needs to be found to keep the vessel safe and secure when not in use, and kayakers must ensure that they have adequate, safe transport – everything from your hanging hook to a kayak cart needs to be considered.
Best Kayak Covers – Comparison Table
IMAGE
KAYAK COVER
DETAILS

Made of:

Waterproof Polyester

Highlight:

Great for Off-Season Storage

Price:

$$

Check Price

Made Of:

210D Durable Oxford Tafetta Material

Highlight:

Suitable for 7 Kayak Sizes

Price:

$$

Check Price

Made of:

Medium-Weight Coated Nylon Packcloth Fabric

Highlight:

Protects Cockpits up to 26 in

Price:

$$

Check Price

Made of:

Waterproof Polyester

Highlight:

Suitable for 7 Kayak Sizes

Price:

$$

Check Price

Made of:

Heavy Duty Water Resistance Fabric

Highlight:

Internal Single Sewn

Price:

$$

Check Price

Made of:

Premium Polyester Oxford

Highlight:

Great for Kayaks, Fishing Boat, and paddleboard

Price:

$$

Check Price

Made of:

210D Oxford Polyester

Highlight: Comes with

Adjustable Drawstring Bungee Cord

Price:

$$

Check Price

Made of:

600D Marine Grade Waterproof Fabric

Highlight:

Great for 44-57 inch long Kayaks

Price:

$$

Check Price

Made of:

600D Waterproof Fabric

Highlight:

Offers 100% UV Protection

Price:

$$

Check Price

Made of:

Waterproof Polyester

Highlight:

Suitable for 7 Sizes of Kayaks

Price:

$$

Check Price
There is one area, however, which is crucial to protecting your kayak from the elements, making sure it stays in great shape and free from damage or scratches, and helping it look as fresh and new as the day the two of you met. Welcome to the all-important world of kayak covers!
A top rated kayak cover is an essential weapon in your arsenal, but, as with your initial purchase, there is a range of factors to be considered in your decision. Fortunately, we have put together the ultimate guide to help you choose a good cover for your kayak; whether you are a veteran kayak fan, or just finding your sea legs, this is the best guide to the top kayak covers of 2021: happy shopping!
Kayak Cover Storage Buying Guide
Learning how to care for your kayak is a crucial part of ownership; these are usually significant investments, and learning how to properly store and care for your kayak or canoe is a real bonus, which will help to increase the lifespan of your kayak significantly.
To help you out, we have answered some of the most common questions we receive and have the insider knowledge you need to keep your kayak in tip-top condition for longer.
Is it ok to store a kayak or canoe outside?
This is a common question from kayakers, especially those living in the city who may have limited indoor storage space, and no access to a garage or lock-up. In an ideal world, your kayak should really be stored indoors to protect it from weather, dirt, curious animals, or even theft and vandalism.
Some owners opt for hooks that allow the kayak to be hung on the wall, and this can be a great way to keep your kayak out of the way, but still safely inside. In the event, however, that you are forced to store your kayak outside, there are a few essentials you should consider:
 Pick your spot for your kayak
You can't just store your kayak anywhere; exposure to excessive heat and sunlight, extremely cold temperatures, and wind and rain can all cause damage over time. To help counteract this, make sure you pick a shady spot with protection from the worse of the wind.
You should also make sure that your chosen area doesn't tend to collect snow or rainwater, or get too icy – these can all cause damage to your kayak. You should also make sure you have easy access – nothing puts you off kayaking more than a struggle to retrieve your vessel every trip!
Prepare the kayak or canoe
Once you have the perfect spot, make sure your boat is fully prepped and ready to be stored. Start by removing the paddles, and any soft fabric components to the vessel, before cleaning the boat thoroughly with soap and water. This will remove any dirt or salt, which can erode the hull or lead to mold and fungus developing.
Once you have cleaned the area, rinse with warm water, towel dry, and leave the kayak somewhere to dry completely. Again, any moisture retailed can lead to mold development. You can also spray the boat with a sun protective spray – this will help to reduce the chances of any UV damage.
Store the kayak correctly
Once cleaned and prepped, it is important that you store your boat correctly to prevent future issues. It should never be stored flat on the ground; the weight must be evenly distributed, or you risk bending the hull. Instead, place the boat vertically, with the bow towards the ceiling, or horizontally, with the hull against the wall – if you choose this option, remember to rotate the vessel monthly during the winter.
Secure tightly, but do not overtighten straps – this can lead to pressure points that cause long-term damage. A kayak rack can be useful for helping you to maintain the best position. Avoid placing near a heat source, or in direct sunlight – both can cause damage, and you should avoid anything above 100 Fahrenheit, or below freezing.
Keep your kayak out of sight
Kayaks are valuable, not only in terms of emotional value to their owner but in terms of financial potential, so storage is key. Keep your kayak hidden from potential thieves by ensuring it is well hidden and out of sight. You should also invest in some form of insurance to keep you protected in the event of theft or malicious damage.
When it comes to storage, one of the best things you can do to protect your kayak is to invest in a top-quality cover. This material needs to be durable enough to battle the elements, should stay waterproof to keep your vessel dry both on and off the water, and offer adequate protection from the sun thanks to UV protection or a lightweight, reflective material.
To help you out and make sure you choose the best, we have put together the best of the best. Why not check out our top ten recommendations below – there is something to suit every budget, need, and preference!
Top Kayak and Canoe Cover Reviews
To help you make your choice, we have put together a list of the 10 best kayak covers – there is sure to be something to capture your attention!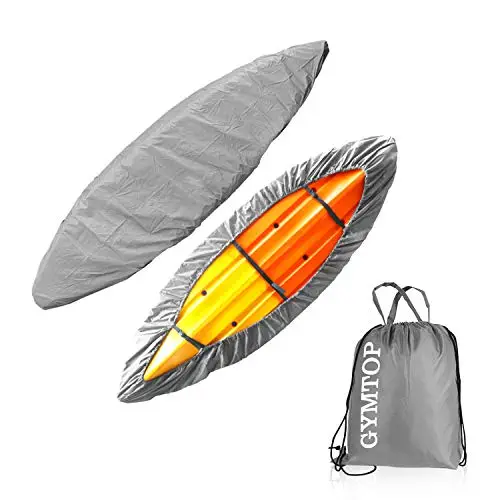 With the sun reflecting material, this is the perfect pick if you are looking to keep your kayak color bright and vibrant, even as it ages. The UV resistant cover is also waterproof and can fight off dust, snow, and dirt – perfect for any occasion, and helping to ensure that your boat stays safe and protected, no matter the weather.
Even better, it is super easy to manage and use, and does not require any extra tools or assistance, making storage a breeze. The annular elastic can slip on and off without issue, and the drawstring means you can draw the cover tight for total protection.
This GYMTOP model is suitable for a wide range of sizes: 7.8-9ft, 9.3-10.5ft, 10.8-12ft, 12.3-13.5ft, 13.8-15ft, 15.3-16.5ft and 16.8-18ft. Perfect for a quick cover when the bad weather strikes, or for storing your kayak out of season, this is the ultimate protection, and one of the best kayak covers on the list.
Suitable for a wide range of sizes
UV protected and reflective to avoid the worst of the suns rays
Easy to use -even when kayaking alone
Material is a little thin compared to other models
Plastic clips are a little flimsy and breakable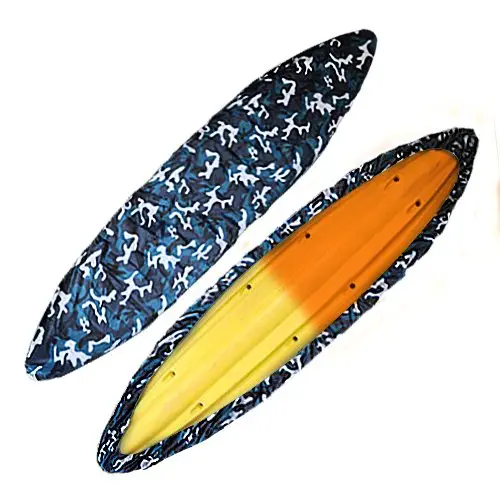 With a vibrant camo print, this is a boat cover designed to stand out from the crowd for all the right reasons! Even better, this is far from a case of style over substance, thanks to 210D Oxford taffeta, which is perfect for protecting your boat against everything from sand and grit to harsh sunlight – all of which can cause significant damage.
Whether you are kayaking on a beach or relaxing on a lake, you can rest assured that your vessel is fully protected when not in use, which is why I think this is definitely one of the best kayak covers money can buy right now. The cover is smooth and silky to the touch, with a bold print that will turn heads and includes waterproofing, UV resistance, and anti-dust properties.
Even better, you can secure the cover with a drawstring neck – not only does this offer extra protection, but it also helps to deter any creepy crawlies who may wish to make themselves at home! This cover comes to suit seven sizes; 7.8-9ft, 9.3-10.5ft, 10.8-12ft, 12.3-13.5ft, 13.8-15ft, 15.3-16.5ft and 16.8-18ft.
Stylish design helps to add a fashionable touch to your kayak
The cover is smooth and silky but still durable for storage
The drawstring allows the boat to stay protected and snug
Quite oversized – may be a little large for smaller models
Colour does tend to fade after prolonged sun exposure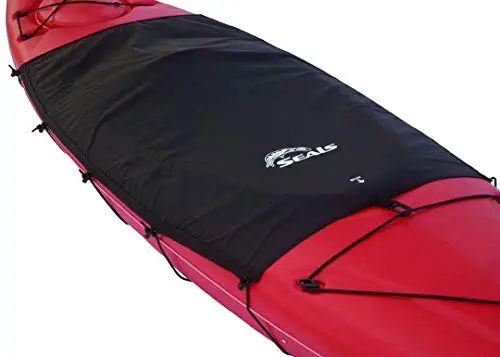 The best kayak covers can often cover the basics extremely well when it comes to storage.  Sometimes, your main priority is just to protect that which is most important – and for kayakers, that is the place you are planning to sit! A cockpit drape is a perfect way to keep the cockpit dry and free from splashed, keeping it ready for any time you feel like jumping on board.
Suitable for cockpits up to a total of 26 inches wide, the design comes in three main sizes: Drape Small, designed for lengths of up to 44inches, Drape X for lengths of 45-60 inches, and Tandem for the largest kayaks – this can fit up to 10 inches.
Constructed from medium-weight coated nylon packcloth, it is sturdy and durable enough to withstand the challenges of the elements, and the adjustable bungee cords wrap firmly around the kayak to keep the drape snug and secure at all times – no more concerns about wet trousers!  This is one of the main reasons it's one of the best kayak covers out there.
Comes in a range of sizes to meet your exact requirements
Bungee cords allow the drape to attach securely to the hull of your kayak
Sturdy and durable – able to withstand wind, rain, snow, dust, and sand with ease!
Only covers cockpit area
Be careful when transporting in high winds – this could cause damage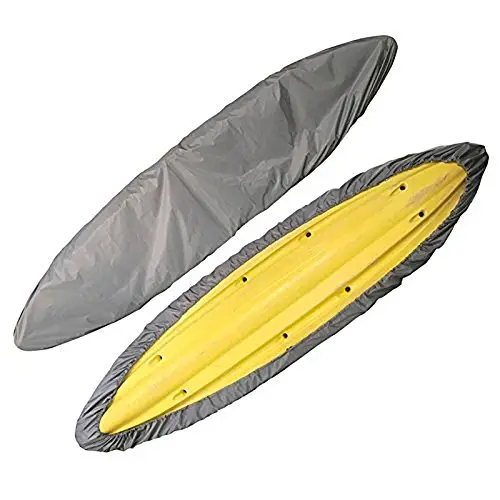 Bright and vibrant, this is the perfect storage cover for those who want to combine practical protection with a fashionable flair. Created from waterproof, reflective polyester, this is a cozy choice to keep your kayak snug as a bug, even when faced with driving rain, strong winds, snow, or harsh sunlight, all of which can cause damage to your vessel.
The elastic drawstring is important for helping to keep the boat secured and prevent any unwanted visitors, and the cover is easy to slip on and off without issue. When not in use, simply fold away neatly and pack ready for the next trip – the iiSPORT cover is lightweight and portable enough to hide away in any corner.
There are plenty of options for different size kayaks – choose from 8.5, 10, 12-13, and 13.5-15 inches. One of the best aspects of this choice is customer service – this is top quality, and guarantees a satisfying solution to any issue. Even better, you can grab 2, and save cash thanks to some fantastic promotional offers!
Great customer service offers you great peace of mind
The bright, cheerful color stands out from the crowd
The polyester material is durable and hardwearing
Do come up quite small in size compared to other models
Seams can pull quite quickly, creating gaps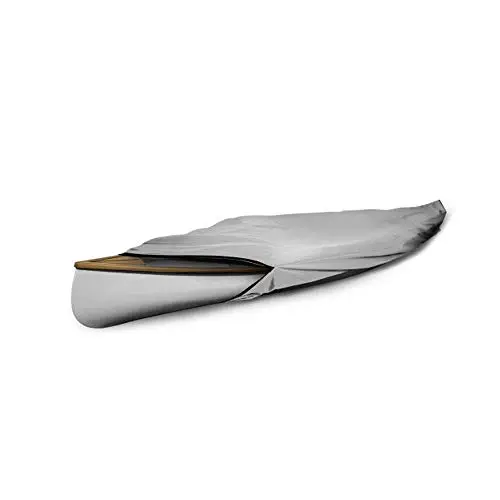 Sleek and sophisticated, this stunning grey kayak protector is the ultimate accessory to keep your boat safe and secure in storage. As one of the best kayak covers in 2021, the heavy-duty fabric is water-resistant to keep the body of your vessel safe and dry, and the construction has a hidden advantage; there are no seams stitched outside; instead, the sewing is all internal.
This helps to reduce the chances of splitting seams with regular use, or the fabric becoming significantly weakened by the elements.
The cover is designed to be quick and easy to use, even for solo sailors, and has the added bonus of excellent customer service; there is a two-year warranty on the product, allowing you to shop with confidence, and be protected in the event of damage or breakages.
Internal stitching helps to reduce the chances of damage or a split seam when using
Great customer service – two years warranty helps protect your product for the long haul
Sleek, stylish color is sure to appeal to image-conscious kayakers
Protects against dirt, dust, and damage to your kayak
Can be difficult to clean, especially if it becomes stained by pollen or dirt
The zipper is a little temperamental and tends to stick or even break if force is used – be gentle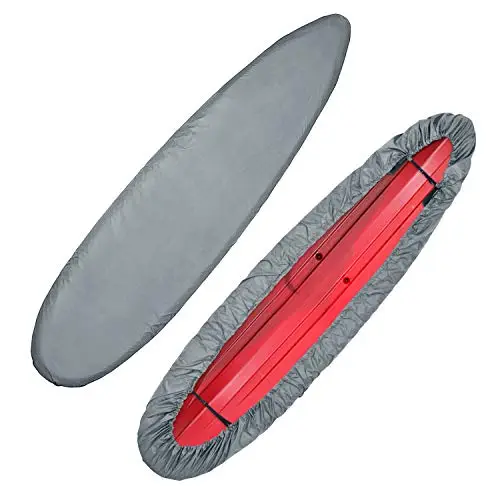 Secure and stylish, this storage cover from Kohree ticks every box and is designed to help protect your kayak in any situation, and to the highest quality.
Premium polyester oxford fabric is coated with silver to boost the waterproofing properties, as well as offering UV protection – perfect if you are headed out to harsh sunlight – and damage from weather, including wind, rain, dust, and debris.
As an added bonus, you can enjoy extra security thanks to the inclusion of two straps; this not only prevents the cover from being blown away in bad weather, but it also reduces the chances of the protective shield collapsing in heavy rainfall, which can gather on top and cause damage.
Perfect for kayaks sized 10.7-11.4ft, this is a sturdy, durable option which is easy to slip on and off in no time – a great, top-rated all-rounder – ideal if you are after top-quality protection every time.
Straps allow a closer covering; this means greater security and protection for your vessel
Robust and durable material for ultimate protection and longevity
Doubles up as a dust sheet for safe indoor storage
The buckles are a little fragile and can become strained under large forces such as strong winds, or tugging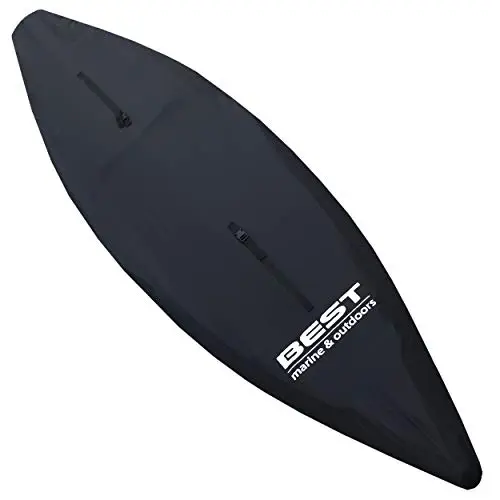 If you want a kayak protector that was built to last, this offering from Marine Kayak drape is a pretty safe bet. Constructe4d from 210D oxford polyester, the cover is durable, sturdy and hardwearing, as well as offering protection and resistance against the harsh UV rays of the sun.
This is imperative to help reduce fading and sun damage during storage, both of which can leave your kayak looking and feeling less than its best and increases the lifespan of your vessel.
In addition, the cover comes with adjustable bungee cords, as well as 4 wrap-around buckles – this allows you to get a snug, close fit, and helps protect your kayak more efficiently.
There is a wide range of sizes covered, and kayakers will also be pleased to hear that the customer service of the creator is appealing; an automatic 3-month guarantee covers every purchase – no questions asked! This allows you to shop with confidence and take a chance on a new cover.
Very good choice of sizes available – simply measure your kayak, and select the best length
Good protection against UV rays and sun damage
Sturdy, durable polyester construction
No questions asked guarantee for the first three months of the life of the cover
Water repellent, not resistant – if left out in the rain, or if the water is allowed to pool on the kayak, it will begin to seep through.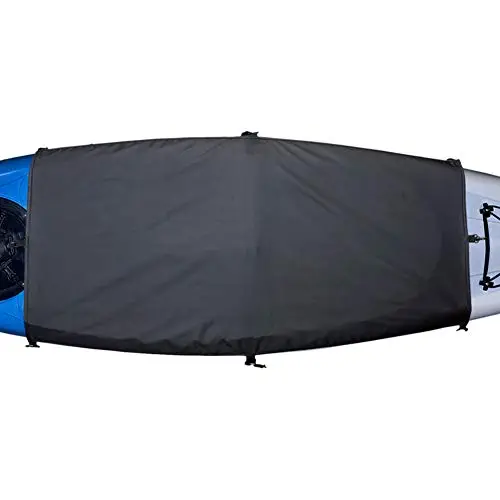 Take a tough, no-nonsense approach to protect your kayak when you invest in the Explore Land universal cover. Made from 600D marine grade fabric, this is a waterproof, badass cockpit drape that helps to keep the most important aspects of your kayak warm, dry, and ready for use.
There is nothing worse than taking your kayak down to the beach, only to find that the interior is filled with water – this can seriously slow you down. This universal cover can help to prevent this nightmare, with adjustable bungee cords included, which help to wrap the cover tightly around the hull, keeping the drape snug and secure, even during transportation.
In addition, extra hooks on the cover can be attached to the deck lines, preventing slippage and allowing for a more secure hold. Protect your hatch and cockpit from rain, water, dust, and dirt, and ensure that you are ready to take to the water at a moment's notice.
Marine-grade fabric is tough and impenetrable enough to last a long time
Adjustable bungee cords allow the drape to fit your kayak shape and size exactly
Easy to attach and adjust as needed
Does not protect the whole kayak, just the cockpit area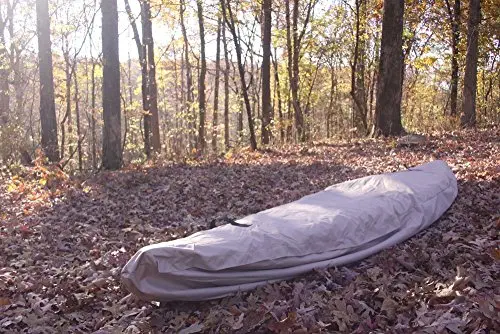 If you need a kayak protector that can handle any situation you throw at it, this Vortex model should be top of your list! Constructed from heavy-duty 600D waterproof fabric, this is the ultimate choice for keeping your vessel safe, dry, and in pristine condition.
The fabric is designed to battle the elements and can withstand wind, rain, water, dirt, dust, and debris with ease, and the heavy-duty zipper helps to ensure that nothing gets in without your permission.
As an added touch, this zipper is totally protected by a waterproof flap, and this reduces the risk of the zipper becoming stuck or rusting after prolonged exposure to the elements.
Sun protection
is also a significant factor, thanks to the 100% UV protection assured by the durable material, and the double-stitched and serged seams are strong and sturdy for extra security and peace of mind. A 5-year warranty is really the icing on the cake and allows you to shop with total confidence.
Super tough, durable, and able to withstand the challenges of nature!
The zipper has its own protection to avoid rusting or becoming stuck and unusable
100% UV protection is essential for reflecting the harsh rays of the sun
It comes with a handy carry bag!
Sizes seem a little niche; make sure you measure your kayak and double-check before ordering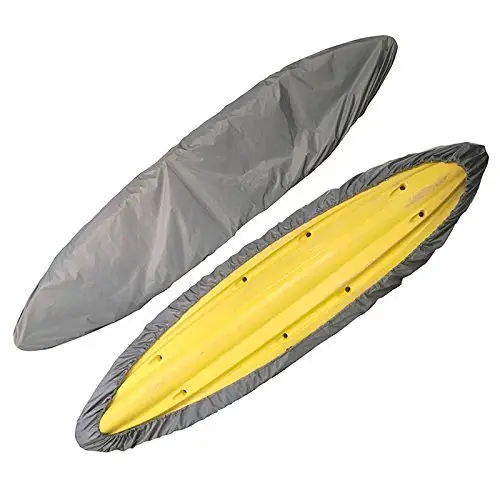 Whether you find yourself plagued by sun, wind, rain, or all of the above, this Richermall cover has your back! The waterproof polyester material is designed to be hardwearing and durable and offers an extra level of sun protection, ensuring that you are covered in all weather and situations.
It also helps to keep your kayak secure and safe from unwanted creepy crawlies thanks to an elastic drawstring, and this also ensures that the cover is easy to use, even if you are heading out alone.
There are a total of seven kayak sizes available – 7.8-9ft, 9.3-10ft, 10.8-12ft, 12.3-13.5ft, 13.8-15ft, and 16.8-18ft – so you are sure to find your perfect match, helping to add an extra tight fit, and offering a little extra snugness and security to your kayak.
As an added bonus, this is a cover that manages to keep its price low and is a perfect pick for those looking to store their kayak out of season.
Comes in a wide range of sizes, allowing you to pick your best fit
Can protect against wind, rain, sun, and snow, as well as dust and dirt
Elastic at either end means these covers are easy and straightforward to attach
Seems to struggle a little with very heavy water
May not be suitable for transporting in very high winds
Which Covers for Your Kayak are Right for You?
The covers we have selected for inclusion in our top ten all have one thing in common: they are excellent quality, appealing for consumers, and within a range of price tags to suit every budget. In the end, however, there can only be one winner, and our crown in this category goes to the Vortex Tan 13 waterproof cover.
Constructed from marine grade fabric, it offers safe, dry and secure cover for your whole kayak, and has the added bonus of paying close attention to details; the zipper itself is protected by an extra waterproof flap, and this can make a world of difference if you are trying to zip or unzip with freezing cold fingers, in the pouring rain, or after the cover has received prolonged exposure to the elements.
These are all factors that can degrade zippers, and ultimately render the cover unusable. The Vortex model is also versatile and flexible, suitable for use in all weather conditions, and comes with an impressive five-year warranty to offer total peace of mind to shoppers. It is rare to find a single product to cover all your needs, but this is the cover that manages to achieve just that, which is why it's at the top of the list for the best kayak covers in 2021!
Smart Start Kayaking Kayak Cover Review
Kayak Cover
★★★★★
"
Needed a solid cover for my fishing kayak because the weather was doing some damage, and really happy with the Vortex. Very durable and easy to get on and off.
"