Last Updated on April 25, 2021 by KayakPro
When presented with the word "kayak", many people will picture kayakers paddling their way through whitewater or sea trying to win a race or reach a thrilling drop.
This is pretty understandable, after all, kayaking is a sport all about moving forward – at least most of the time it is.
But what about when you want to keep your kayak in one place while on the water? Well, it sounds like you need the best kayak anchor to help you out.
Imagine waking up one morning, packing up your kayaking gear, and heading out to do some fishing. You get into the water and paddle until you arrive at that perfect spot. But just as you get within the ideal casting distance, the current grabs you or the wind turns you around!
Fishing isn't the only reason why you'd need your kayak to stay in place. Maybe you want to go for a swim, catch up with your group, enjoy the view, or simply rest for a bit. This is where a kayak anchor comes in.
A reliable kayak anchor should be heavy enough to hold your kayak securely in place on a wide range of underwater terrain, yet light enough to keep it swift.
There are several other factors to consider before picking the right kayak anchor, including size, design, and scope. To make the decision easier for you, we've put together a detailed buying guide along with reviews of the 7 best kayak anchors in 2021.
How to Choose the Best Kayak Anchor
No matter why you're shopping for a kayak anchor, you need to keep in mind the following key points so you end up choosing the best kayak anchor for your boat.
Anchor Design
We've heard people saying that "anything can be an anchor as long as it's heavy enough". This can be a huge mistake because if you don't use a proper anchor, you'll just have deadweight sliding across the bottom of the water in unfavorable conditions. On top of being dangerous, this can also be quite damaging to the bottom.
Not only is it very important that you get a proper anchor, but you should also choose the type that works best for your kayak. The 2 most common anchor designs are the mushroom anchor and grapnel anchor.
Mushroom anchor: these anchors rely on their weight for anchoring support, which explains why they're usually very heavy and bulky. This design is rarely used in kayaks.

Grapnel anchor: this type of anchor typically consists of four hooks or flukes that may or may not be foldable for easy storage. These anchors provide excellent grip as they can hold onto rocks, plants, coral, mud, and even sand to effectively keep your kayak in place.
Grapnel anchors, also known as grappling hook anchors, are also very easy to use. The fact that they don't rely on their weight for anchoring support means they're pretty lightweight, generally either 1.5 pounds or 3 pounds.
Being lighter in weight, grapnel anchors won't overload your kayak, which is another reason why this design is by far the most commonly used one in kayaks. This is the type you should buy for your kayak, and all of the anchors on our list are grapnel design.
Rope and Scope
As we just mentioned, grapnel anchors are the go-to option for most kayakers. Their working mechanism is simple yet effective: lying on the side and grabbing the bottom. This is where the importance of rope and scope shines through.
The scope is basically how much rope is required for the anchor to trail far enough behind your kayak that it tips over on its side and catches on the bottom. In other words, the scope is the ratio between the water's depth and the length of the anchor line.
Generally speaking, the ideal ratio is 7:1. This means that for every foot of water depth, you should have 7 feet of rope. So if the water depth is 10 feet, you need 70 feet of anchor line.
Weight vs Size
Contrary to popular belief, size tends to be the determining factor of an anchor's holding power, not its weight. If you choose a heavy anchor that doesn't bite into the bottom, it'll just drag along the floor slowing you down but never holding your kayak in place.
So, it's best if you pick a larger rather than heavier anchor with big, well-designed wings to effectively grab onto the bottom.
After that, you can consider how much you want the anchor to weigh. If you're paddling on calm water with a lightweight kayak in nice weather, then a 1.5-pound anchor should suit you fine since you won't need much weight to hold you down.
But, if you're kayaking through rougher water and/or carrying lots of gear, a 3-pound anchor will give you the extra anchoring power for support in such conditions. Avoid anchors weighing more than 3.5 pounds because they're simply too heavy for kayaking.
Anchoring Points
Another thing you should decide is where to position your anchor. Ideally, you want to mount the anchor to the stern or the bow of the kayak to achieve better balance and less wind drag.
This is due to the narrow profile of kayaks, so you want to be facing downstream for the waves to hit the boat in the right direction, keeping you safe.
If you tie off the anchor on the side of your kayak, you're letting any waves and wind openly hit you from the side. You'll face more drag, a larger wind profile, and if the waves get violent you can possibly capsize or at least struggle to keep your kayak balanced.
Mounting Plates
Although most kayaks should have suitable points from where you can cast an anchor, sometimes you'll need to install a mounting plate for added security and ease of use. You can do this yourself or have an outfitter do the work if you're not up for it.
You may also want to consider installing an anchor trolley, which allows you to switch the anchor mounting plate from the stern to the bow and back again according to your preferences at the time.
Accessories
One last thing to consider is the accessories included with the anchor. Most anchor kits come with storage bags (usually padded) and some sort of buoy or float. They also often contain clips or rings that you can use to attach the anchor to your kayak.
7 Best Kayak Anchors in 2021
Sale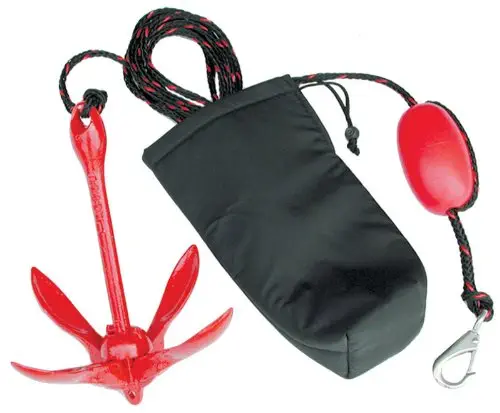 Airhead Complete Grapnel Anchor System , Black , 3.5...
3 1/3 pound 4 fluke folding anchor will hold in mud, sand, gravel and rock
Designed for boats, sailboats, personal watercraft, inflatable boats, canoes, and float tubes
Fits under most boat seats, in PWC storage compartments, or in PWC storage canisters
25 foot long marine grade rope
First up, we have a reliable and affordable option: the Airhead Compete Grapnel Anchor system.
Compared to other kits on the list, this one is more budget-friendly with an upgraded buoy and clip release system, not a simple steel hook.
This means you won't be dealing with accidental unhooking from the anchor (wish I had that when I first started).
The rope, buoy, and anchor all have a matching color, where the anchor has been powder coated red.
Not only does this look nice, but the extra layer of paint will help the anchor better withstand harsh conditions and delay rusting a little longer than uncoated metals.
This folding anchor weighs 3.3 pounds and it comes with a padded nylon storage case and 25 feet of rope that's suitable for a water depth of 3.5 feet.
Pros
Good for all conditions

On the heavier side for enhanced grip

Affordable price
Cons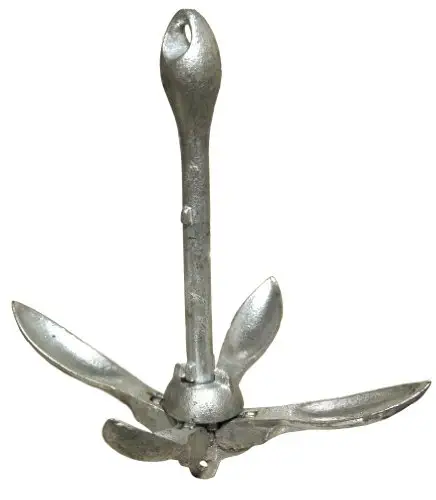 Galvanized Folding Anchor
Country Of Origin : China
The Package Height Of The Product Is 0.3 Inches
The Package Length Of The Product Is 5.75 Inches
The Package Width Of The Package Is 3.75 Inches
The Danielson Galv Anchor is an excellent choice for lightweight boats such as inflatable kayaks, or for paddling on calm waters since it weighs 1.5 lbs.
This folding anchor has a compact design, measuring only about 7 inches in length. It has four wings to deliver you the grabbing power your kayak needs, but the weight won't add much to the anchoring support.
The Danielson anchor is made from galvanized steel, which is highly resistant to corrosion and rust. It features a ring to attach the rope, but you may want to switch to a chain for extra security.
Given its price and weight, you shouldn't expect too much from this anchor. As we mentioned above, it's great for keeping your kayak in place during mild conditions. But it won't do as well against harsh water and strong wind.
Pros
Easy to store

Lockable in open or closed positions

Good corrosion and rust resistance

Low price
Cons
Not suitable for challenging conditions
Sale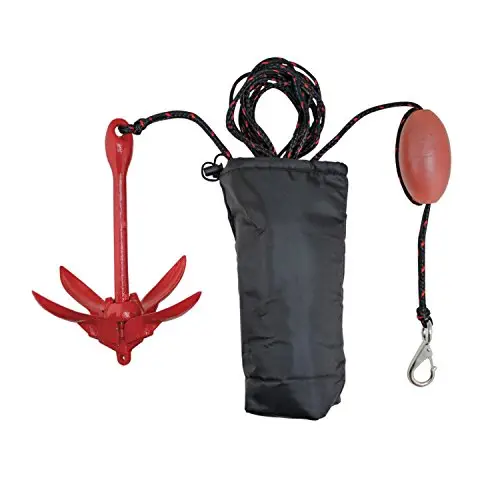 Extreme Max 3006.6548 BoatTector Complete Grapnel...
Complete PWC anchor kit includes 3. 5 lb. anchor, 25' rope and snap hook, marker buoy and storage bag
Anchor: Folding 3. 5 lb. grapnel anchor with four shanks, ideally suited for use in coral, rocky, or heavily weeded bottom conditions
Rope: 25' hollow braid polythene rope with steel snap hook
Marker Buoy: Durable marine-grade foam
A couple of bucks more expensive than the Airhead Anchor, the Extreme Max 3006.6548 Grapnel Anchor Kit is another budget-friendly option that provides kayakers with all the basics they need from an anchor.
This foldable anchor weighs 3.5 pounds, which makes it perfect for use in rocky, coral, or heavily weeded bottom conditions. It's made out of galvanized steel anchor to resist corrosion and even comes with a sturdy padded nylon bag for storage.
This grapnel anchor also features a snap-hook fastening and a rope, but they're not marine-grade so you may want to trade them in for higher quality gear if you're planning on sea kayaking.
The rope is only 25 feet long, so you'll probably find it difficult to maintain the proper 7:1 rope scope required for proper anchoring. The kit, however, includes a buoy to help you retrieve the anchor.
Pros
Galvanized steel construction

Sturdy storage bag

Comes with buoy
Cons
The rope is only 25 feet long
Sale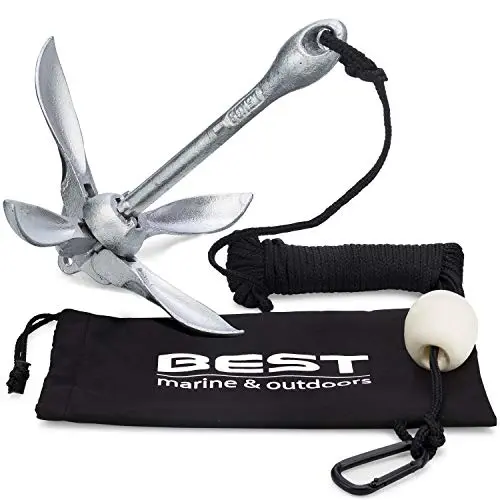 Best Marine Kayak Anchor with 40ft Rope. Premium 3.5lb...
HOW ARE WE DIFFERENT? - Our anchors are made of rust resistant galvanized iron and include an extra long 40ft marine grade rope, a nylon storage bag,...
WHY BEST MARINE AND OUTDOORS? - Our company goal and mission is to help people find inner peace and purpose through kayaking and boating. Our anchor...
WHO IS OUR ANCHOR FOR? - Spending time on the water is the perfect opportunity to get away and relax. Our anchor is the ideal accessory for outdoor...
HOW DOES IT WORK? - Slide the anchor collar upwards, fold open the 4 flukes, slide the collar back down, and lock into position. Use as much anchor...
When it comes to durability and utility, the BEST Marine Kayak Anchor is a superb choice with hundreds of users vouching for its quality. This unit weighs 3.5 pounds and is made from galvanized steel to prevent rust and corrosion. It folds down to a compact 2-inch by 3.5-inch size, which makes it convenient for storage.
The Best anchor comes with a nylon rope that's 40 feet long. While this can be good to maintain the proper scope ratio, the rope isn't marine-rated as the name might suggest.
Also, the kit lacks a dry bag, so you'll either buy one or store your anchor somewhere waterproof. It's also missing the padded storage bag, so there's a chance that an anchor fluke will damage your kayak's hull by accident.
On a positive note, the BEST Grapnel Kayak Anchor features a quick release hook for when you need to free the kayak as quickly as possible.
Pros
Quick-release hook

Durable build

Long rope
Cons
Another decent anchor from Airhead is the SUP Grapnel Anchor, which is a tiny bit pricier than its sibling.
What we first noticed about the Airhead SUP Anchor Kit is the bright red color that makes for easy visibility. It comes with a 15-foot long yellow rope attached to a stainless steel spring hook. While it's adequately sturdy, this anchor line is suitable for shallow waters only.
This foldable anchor includes a padded nylon storage bag with webbing and D-ring so you can easily secure it to your kayak or SUP. It's also pretty lightweight and compact, weighing only 1.5 lbs.
The Airhead SUP Anchor is ideal for kicking back and relaxing. It grabs easily onto rocks and branches, but it has a harder time latching onto sand and mud.
Pros
Bright colors for improved visibility

Great for relaxing

Comes with padded storage bad
Cons
Short 15-foot rope

Not for long-term anchoring or harsh weather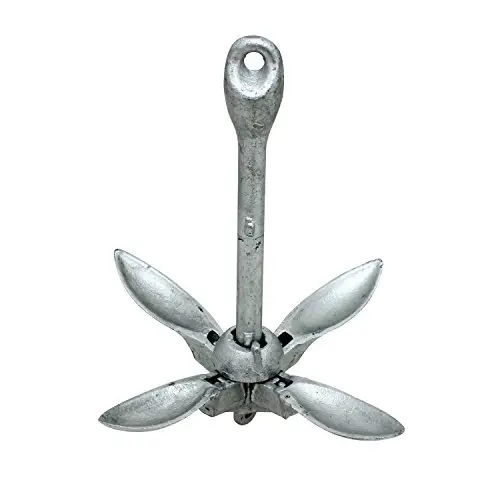 Next up is a reliable option from Extreme Max, the 3006.6545 Folding Anchor is another four-prong anchor that weighs only 3.5 pounds, but this one is made from stainless steel and comes with a sliding collar.
The fact that it folds down to a compact and very portable unit, this anchor will take up little storage space and you can easily pack it inside your kayak.
This anchor is available in a variety of sizes including a 1.5-pound design, allowing you to choose the appropriate size that works for your kayak specifications and the condition of water you're paddling in.
If you're in the market for a simple grapnel anchor that easily folds to a small package but doesn't come with additional accessories (such as a rope, padded bag, and buoy) then the Extreme Max 3006.6545 Folding Anchor may be exactly what you need.
Although it doesn't come with any extras, this anchor is a premium-quality option suitable for a wide range of terrain including grass, weeds, and rocky bottoms. It's designed for short holds in low to no current waters.
Pros
Premium stainless steel construction

Durable

Folds down easily

Compact storage size
Cons
Not meant for high currents

No rope included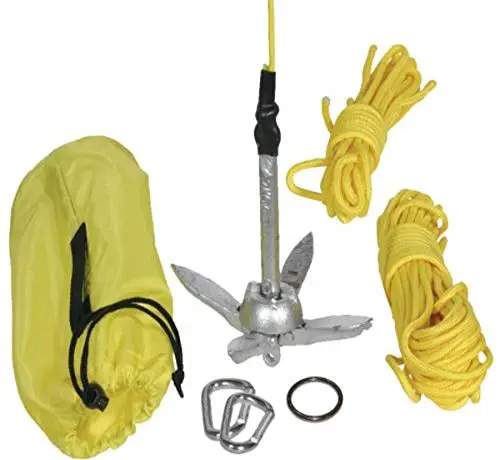 Last but not least, the Seattle Sports Kayak Anchor is available in two sizes: the 1.5-pound design that's ideal for smaller kayaks and mild conditions where extra weight isn't required and the 3.25-pound version that provides additional anchoring power to handle harsher waters.
As a grapnel type anchor, the Seattle Sports Kayak Anchor is just as effective at keeping your kayak in place as a heavier model, but thanks to its lightweight construction, it's made suitable for inflatable or folding kayaks.
Impressive enough, this anchor kit comes with a 50-foot long nylon rope and a ring fitting that lets you quickly switch the mounting point from bow to stern. If you're a kayak angler, this will give you more options when choosing your casting position.
Pros
Available in 1.5 and 3.25-pound options

50-foot rope

Comes with mobile ring fitting
Cons
Wrap Up
Choosing the best kayak anchor requires careful research so you can find the right option for your kayaking needs.
That being said, we recommend the Airhead Complete Grapnel Anchor System as today's winner. It's an excellent choice if you're looking for a reliable grapnel anchor that you can use in any condition thanks to its 3.3-pound design. It's also easy to fold and store, and comes at a very affordable price.
Last update on 2021-06-09 / Affiliate links / Images from Amazon Product Advertising API