Last Updated on November 30, 2020 by KayakPro
Whether you are a seasoned pro or a terrified newcomer, kayaking is an amazing chance to get out and about in nature, take on the challenge of the water, and have a lot of laughs! For some perspective kayakers, it can be a little intimidating – this is a sport where many outsiders worry that they lack all the proper gear, and this can quickly add up if you are on a budget.
Some items are crucial, and it is true that you may wish to spend a little extra to get started, especially if this is something you are looking to pursue more seriously. As a beginner, however, you will find that many items aren't necessary to get started, and the ones that are can becan be borrowed or hired – this will provide plenty of inspiration for you to head out and get your very own shiny new gadgets!
The good news is that you actually don't require half as much stuff as you probably think, and the other positive: the range of accessories offers huge variations in prices, style, and necessity. Some of it is also essential for safety and comfort, and these are two factors that will make your kayak experience far more enjoyable!
Best Kayak Accessories – Comparison Table
IMAGE
ACCESSORIES
DETAILS

MARCHWAY Floating Waterproof Dry Bag

Made of:

500D Tarpaulin

Comes with:

Adjustable Shoulder Strap

Price:

$$

Check Price

Sport Brella Versa-Brella Adjustable Umbrella

Size:

40 x 44 inches

Comes with:

360 degree Swivel

Price:

$$

Check Price

Aleader Women's Mesh Slip-on Water Shoes

Material:

Durable Synthetic/mesh upper

Great for:

Wet and Slippery Surfaces

Price:

$$

Check Price

Blue Sky Basics Waterproof Pouch with Waist Strap

Size:

9.0″ x 6.7″

Great for:

Snorkeling, Swimming, and Kayaking

Price:

$$

Check Price

Camping and Kayaking Paddle Leash with a 2 Rod Leash Set

Comes with:

Woven Construction

Offers:

20 inches Elongation

Price:

$$

Check Price

Complete Grapnel Anchor System

Comes with:

Nylon Storage Case

Highlight:

Sailboats, Kayaks, Personal Watercraft

Price:

$$

Check Price

Seattle Sports Paddlers Bilge Pump

Dimensions:

Height 21 inch, Diameter 1.75

Offers:

Comfortable and Easy Pumping

Price:

$$

Check Price

Water Shoes for Men and Women

Offers:

Perfect Elasticity

Weight:

14.4 ounces

Price:

$$

Check Price

Essential Marine Universal Kayak Scupper Plug Kit

Fits:

All Kayak Scuppers

Made of:

Durable Rubber

Price:

$$

Check Price

Onyx MoveVent Torsion Kayak/Paddle Life Jacket

Offers:

Added Comfort

Comes with:

Expandable Zippered Pockets

Price:

$$

Check Price
From stylish life jackets to the floatation device you never knew you needed, amazing fish finder gadgets to make your trip smooth and simple, and a handy rod holder that lets you keep your hands free for more important tasks (like eating lunch) there really is something for everyone. Read on to discover the very best kayak accessories!
Things to Look for When You're Buying Kayak Accessories
Kitting out your kayak can be a lot of fun, but staying safe on the water means ensuring that you invest in the best possible accessories. From life vests to a fish finder, here are the top considerations to allow you to choose the best options every time.
Durability
Durability is essential for any hardware you use outdoors on your kayak, especially when navigating potentially rough waters. Your items must have a long lifespan, and withstand wind, rain, sand, and salt, as well as the other myriad of weather possibilities and emergency circumstances that may occur. Beauty is nice, but your tools must also be practical.
Size
Make sure that any accessory you pick is comfortable, and allows you freedom of your legs and arms. This is especially important for anything which ensures safety, such as a life jacket or other flotation device – check it is not too tight, and the armholes allow for movement.
Ease of Use & Installation
Your attachments and add-ons should be quick and easy to set up, and any containers easy to open even when in motion. Kayaking should be an enjoyable idea, and this includes assembly and setting up your things, and purchasing paddles, bags and other essential pieces of kit.
Weather and Water-Resistance
Whether a spray skirt or a kayak paddle, it is important to make sure your things can withstand a certain amount of stress from weather and water – even rapids.
A life vest needs to be protective, and a dry bag really keeps things dry – check that everything from clothing to paddles can handle a lake or a whitewater route without falling apart before your kayak has even left the shore – the most basic of capabilities.
Plastics or vinyl are usually popular choices for material here, and these kinds of fabrics are constant recommendations for most reviews.
FAQs
What Kayak Accessories Do I need?
Choosing the best items for kayaking is a lot of fun, but there are a few essentials you need to cover the kayak before you leave home and board your kayak. A life vest is non-negotiable, and you will need a dry bag for food, and to keep your belongings safe and dry from water damage.
Paddle floats can be a godsend if you drop your paddle, and emergency equipment such as a flashlight, compass and whistle are vital – as well as aa batteries where needed! If you are into fishing, other extras can really help depending on your price point and budget. A spray skirt is also great for staying dry, and a kayak cart invaluable if you transport the canoe or kayak from place to place.
How do You Prepare for Kayaking?
Purchasing accessories is only part of the prep. You should also read up on the basics of kayaking, speak to people with plenty of experience, and of course, make a list of the places you wish to see on your outings! Identifying key features, and knowing your hull from your bow, and your rudders from your blades will allow you to feel more confident and prepared. Reviews are also a great opportunity to boost knowledge.
Can you Anchor a Kayak?
Contrary to popular belief, kayaks can be anchored in shallow water, and this can be great for outings centered around fishing. An anchor is a popular accessory for many kayakers!
What are the Most Common Accessories for a Kayak?
Apart from life-saving equipment and a dry bag, the most common accessory choices tend to be leashes and ropes in order to keep supplies secure, a skirt to keep the participant dry and safe from splashes, and shades to protect the body from heat and sun glare. A kayak cart is also a great aid in transportation from a car or vehicle, and a bag or container for spare clothes is essential – especially for an ocean kayak out for an adventure!
How to Mount Accessories on your Kayak?
There is a range of extras that can be added to the frame to accessorize your kayak, and your kayak cart will be able to store equipment until you are ready to mount it!
How to choose the best kayak accessories
The accessories you choose will really depend on your trip and requirements, and it is important to consider why you are kayaking – two hours chilled paddling is very different from three days of intense fishing and hardcore kayaking! Account for the type of challenge you will face – will it be whitewater battles, or a calm snooze in the cockpit down a tranquil lake?
Do you need a reinforced kayak rudder for constant changes in direction, or a tough kayak cart to get your gear from car to lake in no time? It can be a good idea to speak to someone with experience and ask for their minimum accessory requirements, as well as top brands – customer reviews can be very useful!
What are the advantages/benefits of kayak accessories?
They may seem a bit unnecessary, but the right purchase can really enhance your kayaking experience, making your journey from ground to water more enjoyable, as well as keeping you out of trouble! As a minimum, lifesaving equipment such as vests and flotation aids are crucial, even if you are only planning on paddling. A wetsuit is great for fishing fans – or for tackling rapids – and a crucial tool is a bag to keep food and essentials safe.
Kayaking Accessories Product Reviews
To get you started on your kayak journey, we have reviewed some of the top accessories to allow you tackle the water with confidence – none of our picks are duds, and all will prove essential for your trips! We would never recommend an option we didn't love, and fully support every wetsuit, paddle, and bag on our list!
1. MARCHWAY Floating Waterproof Dry Bag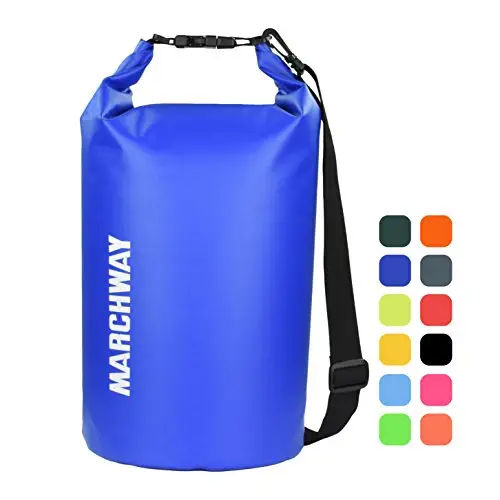 Keeping items dry whilst aboard your kayak can be a real challenge – especially if you are storing electronics or valuables such as your phone. These MARCHWAY dry bags could be the answer to your prayers, and should be essential on your list of fishing kayak accessories!
A perfect blend of durability and lightweight design, this is the perfect protection for your items while on board. The ripstop tarpaulin is used to offer strength and resilience, and the choice of 2 sizes; 10L or 20L means that paddlers can store everything they need safely and securely while on the water. Easy to clean, there is another reason for popularity: the bag can float on water, and this makes it a perfect, versatile kayak accessory.
It is also designed to be super easy to store, thanks to the ability of the neck to roll down 3-5 times, and then remain in place with a plug buckle. This helps to maintain the watertight seal, keeping everything from your camera to your clothes safe and secure, and taking you from kayak to beach with grace.
Available in two sizes for ultimate convenience
The lightweight finish makes it easy to transport
Rolls down to a smaller size for easy portability
The strap is a little uncomfortable
2. Sport Brella Versa-Brella Adjustable Umbrella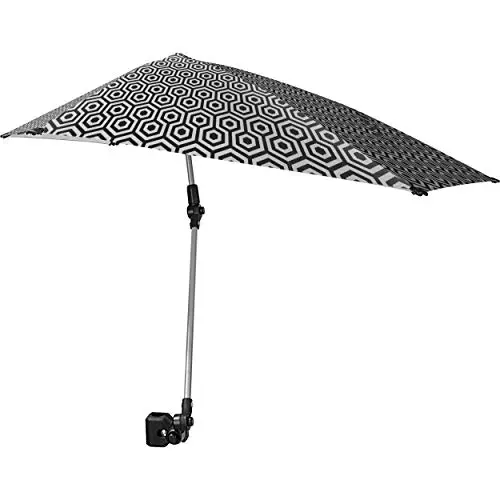 Avoiding the drips can be tricky in a kayak, but the Sport Brella umbrella could be just what you are looking for. Able to offer shade from the hot sun, and protection from the elements in unpleasant conditions, this fabric must-have should be an essential addition to your collection.
SPF 50+ protection means that this is an item not only designed for the dismal days, but which can also offer excellent sun protection. Keep in mind that the reflective surface of lakes and rivers can result in the effects of the sun being exacerbated, resulting in painful sunburn and glare.
In addition, the inclusion of a universal clamp means that you can securely fasten the device to the side of the vessel or the kayak rudder, leaving your hands free to paddle.
As well as offering protection, kayaking accessories need to be portable and able to fit into a relatively confined space. This umbrella folds away neatly into a compact carrying case which only weighs 1.8 pounds, making it easy to transport.
Offers 4 way 360 degree swivel and 2 push button hinges for ultimate adjustability
Protects against the sun with SPF 50+
Good coverage from a range of angles
Not very sturdy against strong winds
3. Aleader Women's Mesh Slip-on Water Shoes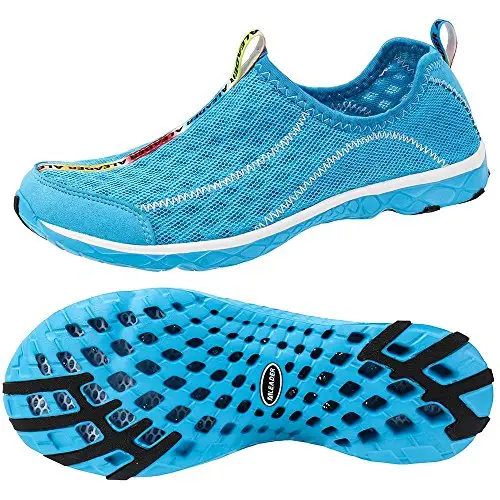 A key consideration when kayaking is to make sure you stay warm and dry, and part of this is ensuring that you are equipped in the correct clothing. The correct gear doesn't have to cost a fortune, and these slip on water shoes offer grip and stability, allowing you to move freely around the kayak while staying cosy and dry.
A unique blend of materials helps to make these the perfect pick, and offers both safety and comfort in a single product. A synthetic and mesh upper allows breathability, while a solute midsole offers bounce back and durability – essential if you are tackling tough oceans, including water with a high salt content which can wear away at the fabric.
The inclusion of open mesh on the upper and hole on the soles also helps the product to dry quickly, helping to enhance your
kayaking experience
. Moving around the deck is easy thanks to a water drain outsold; this ensures that you have grip and traction even when the surface is covered in water and slippery.
Feet are also kept dry and cool thanks to the inclusion of a ComforDry sock-liner, and this provides comfort and cushioning even in the dampest of conditions!
Super fast drying for comfort, convenience and pleasant kayak experience
Allows the feet to breathe and feel cool thanks to mesh material
Great grip and traction to ensure safety
Rocks and stones can become trapped in the soles
Size tends to run large
4. Blue Sky Basics Waterproof Pouch with Waist Strap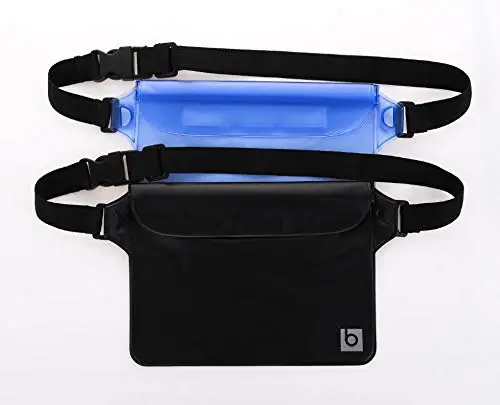 Choosing the right container for your belongings is a challenge between the right level of waterproofing, while still choosing a material which is lightweight and easy to transport. The case you choose will be important on the water, and you need to ensure that it offers plenty of storage, able to fit your favorite items as well as resist wind, sand and water on your journey.
This BlueSky pouch is a favorite kayaking accessory, and is the perfect storage unit for essentials such as your phone, camera and even books to enjoy on a leisurely trip down the river.
The inclusion of waist straps helps make sure you have your kit close at hand, while a translucent pouch offers the chance to text and use your device while it is safe and dry – a real advantage when you are surrounded by open waters! This is one of the best dry bags we have reviewed, and helps keep your gear dry and protected.
Super spacious – plenty of room for your essentials
Touch screen pouch allows accessibility while keeping your things safe
Plenty of storage
The zip can get stuck – make sure it is securely fastened before you head off paddling!
5. Camping and Kayaking Paddle Leash with a 2 Rod Leash Set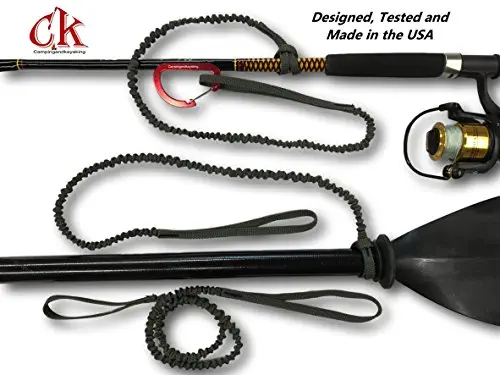 Keeping your equipment together is a major concern when you are paddling, for security and ease of use. This set of three leashes is the perfect addition to your adventures, keeping paddles and rods within easy reach without having to rely on an extra bag taking up valuable space. They can also attach to the handle of the kayak for instant retrieval when required.
Fixed elongation means you don't have to worry about the materials praying or over-stretching, and this helps to ensure reliability on trips sort years to come. While many ocean kayak models may come with dedicated rod holders, this can be a great option if a variety of fish are on the menu, and you need a range of choices for optimum results!
The bungee effect is also a safer option if you find yourself caught on rocks, reefs or debris; rather than simply snapping and breaking, the cord will be able to extend a short distance before pinging straight back to the source. This helps to reduce the chances of you losing a kayak paddle or equipment due to snags.
Perfect for keeping essentials together and in one safe place
Fixed elongation – no need to worry about frays or damage
Perfect for keeping paddles on hand, even if you drop one!
6. Complete Grapnel Anchor System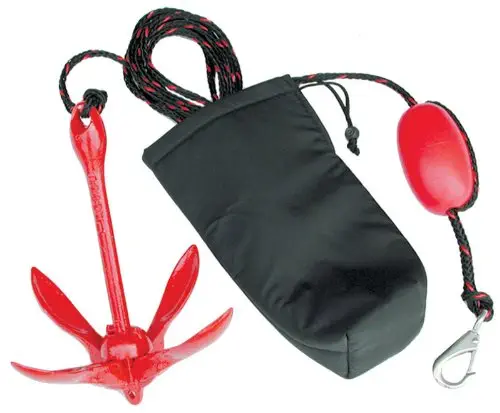 For fishing fans, the best kayak accessories tend to centre around their suitability for achieving one goal: capturing the most elusive fish! Kayak fishing is a great chance to really get back to basics, and has the added bonus of allowing you to catch catch dinner right from the comfort of your boat; what ends up on the menu really is up to chance! A kayak anchor is one of the essential accessories for this task, and investing in high quality can really boost your whole experience.
The Grapnel anchor is a complete system, designed for all kinds of craft, from sailboat to kayak. With a 25ft marine grade rope, there is no need to worry about slipping or moving from your chosen location, even in open water, and the 3 1/2 pound 4 fluke anchor is touch enough to hold in gravel, sand, mud and rock.
Even better, the whole system folds down to a small, convenient nylon bag – perfect for the restricted storage space on board a kayak! Take a break from the paddle, leave your hands free, and make the most of your rod holder – this is a chance to let the boat do the hard work for you! A kayak anchor is a must have, so it is worth taking the time to invest in one of the best.
Folds right down for compact, easy storage
Perfect for maintaining tour position while fishing
Light and easy to handle, while still offering strength and stability
May not be strong enough for rapids or super fast currents
Could struggle in particularly bad weather
7. Seattle Sports Paddlers Bilge Pump

When it comes to the most important accessories for kayaks, a bilge pump is amongst the top of the list, and is something you need to have in your inventory before you hit the water. – it won't be much use sitting at home!
This is likely to be one of your most valued devices, and is essential for removing bilge water from the bottom of the kayak – a common issue if the drainage holes are blocked with plugs. If you much water is allowed to build up here, it can lead to issues with damp and mildew, as well as increasing the risk of rust or damage to your vessel.
This Seattle Sports bilge pump is compact, portable, and east to use – everything you could possibly need to keep your kayak in the best possible shape. The design is ergonomic, with comfortable, easy-to-grip rubber on the outside, making it easy to use and pump even in wet conditions.
In addition, the manual nature of the model means that you are able to bail and redirect water if required, offering you greater flexibility, and one of the major advantages of a hand pump.
With a vibrant yellow finish, the colour is bright and visible – perfect if it finds its way overboard – and the inclusion of a foam collar adds a buoyancy to prevent the pump from sinking if it ends up in the water. An essential piece of gear, this bilge pump is sure to become one of your most used accessories in no time!
Bright colour means it is easy to find and spot even in the water
Super light and portable
Bright and easy to see
Unlikely to be suitable for huge amounts of water, due to the small size and manual function
8. Water Shoes for Men and Women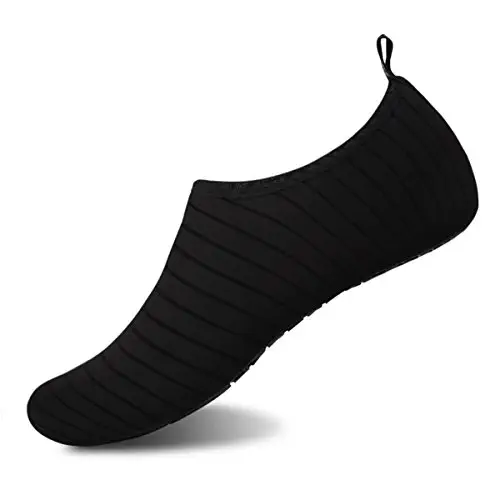 As well as making sure that you have the best gear, building up your collection of kayaking accessories also involves ensuring that you have the best clothing, and part of this is footwear. You need to be confident that you are able to climb in and out of your kayak with ease, and that the shows you choose can handle water, dry quickly, and provide enough traction and grip to keep you safe on the boat.
These great water shoes are lightweight and comfortable, designed to keep your balance while on the water. Available in a range of sizes, you can achieve the perfect first for extra snugness, and the breathable material means that there are no worries about uncomfortable, sweaty feet.
The lack of mesh also reduces the risk of sand in your socks, and the thin sole is flexible and makes fast movement easy, while still offering professional anti-slip rubber to keep you gripping and safe, and reducing the chances of you hiding into the water without warning! They also dry quickly thanks to the eleven drainage holes on the bottom – no more nasty, soggy feet!
Comfortable for moving around on the kayak
Dry quickly
Offer plenty of grip to reduce slipping
Perfect for ensuring your safety
Come in a convenient storage bag when not in use
Toe is quite narrow
Can start to smell after exposure to lots of salt – make sure they have a chance to dry properly in the sun
9. Essential Marine Universal Kayak Scupper Plug Kit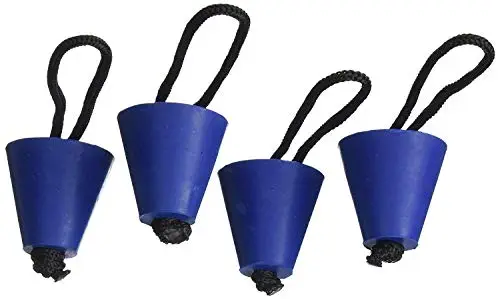 Whether you are an experienced kayaker or a newbie just testing the water, scupper plugs are likely to be amongst your most valued kayak accessories. They are essential seals to help compliment the scupper holes; areas which are designed to drain the water from your kayak, and prevent the risk of capsizing as the kayak overflows!
Scupper plus block these holes, helping to reduce the chances of water coming back up through the scupper holes – this can be a real issue in choppy waters or bad weather, and increase the unwanted event of your kayak filling up with water and becoming unbalanced.
This kit from Essential Marine is a must in your list of kayak accessories, and the nature of them means they can be used in any
sit on top kayak
. They are super simple to use, and feature cords attached to the device to make them easier to insert and remove, even through an inch to so of water.
Help to prevent water from rising back up through the holes and into the kayak
Bright coloured and easy to spot
Handy 'grab tags' for easier use
While they should fit most kayak designs, there may be some exceptions
10. Onyx MoveVent Torsion Kayak /Paddle Life Jacket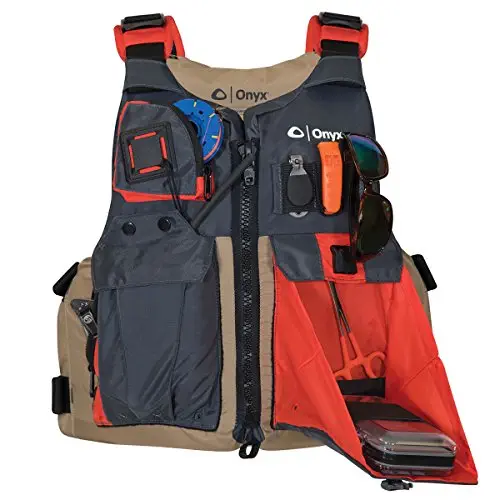 It goes without saying that there is one item which can be considered the absolute pinnacle of kayaking accessories: the life vest. Whether you are kayak fishing or simple taking in the sights along the river, a life jacket is a real non-negotiable, and if you take anything, this should be just one of the flotation devices you carry on board.
This model from Onyx has everything you need from a life vest; it is a bright, eye-catching colour, includes a whistle for attracting attention, and the sculpted, flexible design moulds to your body, helping to keep you safe on the water.
A bubble foam lining is included on the inner back of the life vest, and this helps to keep you balanced and comfortable, while zippered pockets are useful for extra whistles and even small flotation devices. They also feature mesh drainage, preventing the life vest from filling up with water and becoming heavy – without this feature, you risk being pulled under the water by the weight, and this can be very dangerous.
A drying hook is also included, allowing you to hang up the garment after each use and keep it ready for the next trip. Life jackets really are the most important of accessories at any point you are on your kayak, and it is important to take this seriously.
Bright, eye catching colour in case you fall overboard
Includes a whistle to help attract the attention of help
Mesh pockets reduce the risk of submersion
Allows free movement while wearing
Zip is plastic, and tends to stick during use
11. Deeper Pro Smart Portable Sonar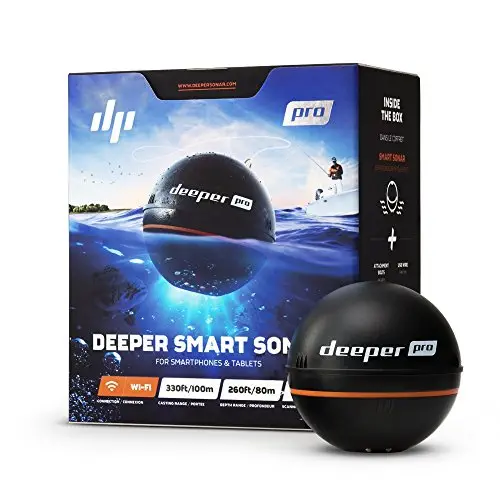 Take your kayak fishing experience to the next level with the most futuristic and technical of accessories: sonar. Kayaking takes a whole new turn as you get up close and personal with your target, and catching the fish of your dreams is a reality!
This wireless, portable sonar system is designed for keen anglers, and can help you to locate fish more quickly, leading to greater opportunities for happiness and success! One of the most essential resources for fishing fans of all levels, this device can cast up to 33ft, and scan right down to an amazing 260ft, allowing fishers to het up close and personal, and boosting visibility.
A dual bean final frequency is offered, with 90kHz wide beam and 290kHz narrow beam to choose from. Anglers can identify the location of fish, as well as experience underwater structures, the bottom contour and hardness, and any vegetation, while also reading water depth and temperature – this is also useful information for general kayakers.
The GPS system allows you to save, review and analyse your maps with the Lake Book, a bathymetric management platform perfect for storing key details for every kayak adventure!
To keep your device safe, the sonar system also comes with a dry bag which helps to store it and prevent damage when not in use; you can even store it in your kayak for easy access on every trip!
Offers anglers the chance to get up close and personal with your favourite fish
Long battery life
Offers vital information for your kayak trip
Charge runs down even when not in use
Does not offer the depth of more expensive models
12. YYST 10 Pcs Nylon Bungee Deck Loops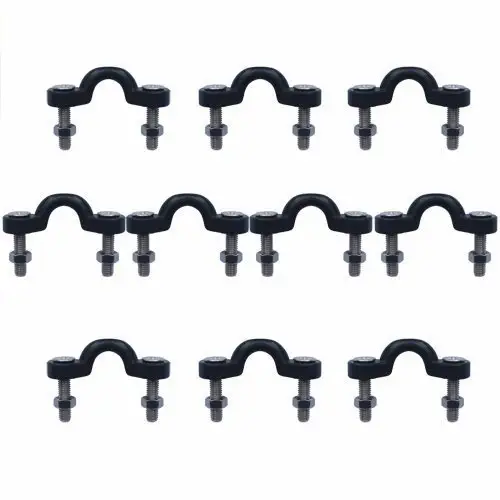 Practicality is key when it comes to your kayak, and this means having all of the essentials you could possible need on hand, and within easy reach – this covers everything from dry bags to life vests, a kayak anchor to an electronics bag, and an essential repair kit to paddles, and everything in between.
Deck loops are the perfect addition to any canoe, boat or kayak, and should be amongst your priorities.
These bungee deck loops can be used with ropes up to 3/8″, providing you with plenty of space and room to manoeuvre, and ensuring that your gear is safely stored and within easy reach whenever you are paddling or kayaking.
Very tough and durable
Suitable for a wide variety of tasks
Able to tackle heavy loads
Would be stronger with stainless steel washers as an alternative
13. West System Adhesive Repair Kit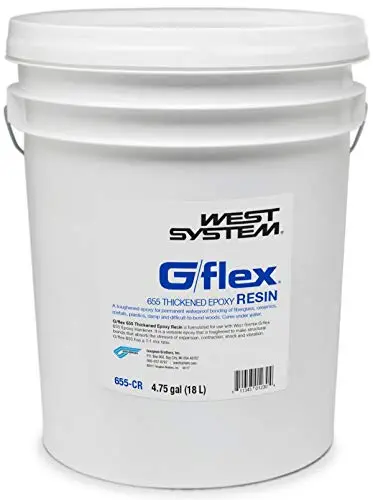 To the serious sailor, a repair kit is as much of an essential as a life vest, and every kayak should make sure they have one on board. Keeping a reliable and fully stocked repair kit on board os as critical as a flotation device, and could be the difference between an enjoyable kayaking experience, and ending up with more than wet feet!
This West System repair kit is a key part of any kayaking trip, and is suitable for HDPE, LDPE, ABS, PVC and polycarbonate surfaces. The perfect choice to keep your kayak safe and seaworthy, no matter what challenge you have on your hands during your trip!
Splits, cracks and tears on your kayak can all be addressed, and this is a great way to stay paddling until you can get the gear for a more comprehensive repair. In some cases, this is all you need to get back to the water, and so is a small investment which can make a major difference.
Small and portable, easy to store under a seat on the kayak
Contains equipment for essential, immediate repairs
Can be sealed and used on multiple trips
May not be able to handle trickier, more intensive repairs
14. COR Board Racks Heavy-duty Padded Wall Storage Sling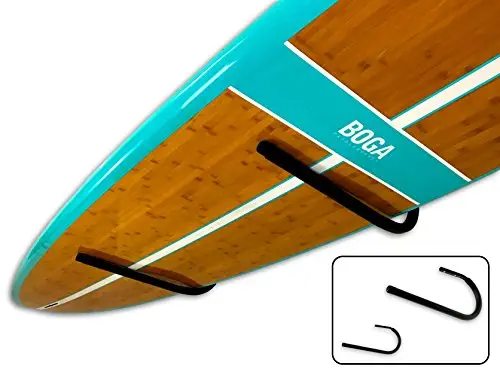 Kayak accessories do not have to be restricted to the kit you take with you on the water! This wall storage sling is the perfect tool to keep your kayak safe and out of the way when not in use, and is one of the best storage options we have discovered.
With spaces for each kayak paddle, you can keep everything in one place ready for your next adventure, and rest assured that your boat is safe and supported.
This sling is super easy to install, and the sturdy construction means that it is able to take the bulk of your kayak with ease. Each mount has three anchors, allowing the mass to be spread, and adding strength and support to the vessel. All you need to do is slide it off, head to the water, and enjoy paddling!
Allows your kayak to be stored out of sight without a rack
Made from sturdy, durable materials
Easy to use
The wall is required to be quite high – the options for space are fairly limited
15. Surf to Summit Hot Seat Kayak Seat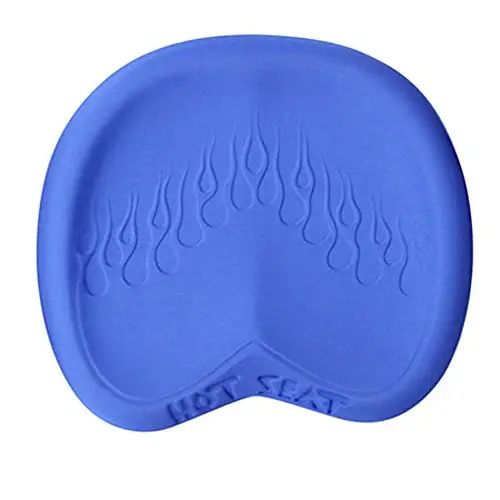 Totally transform your cockpit with this hot seat kayak seat! Upgrade your kayaking experience in a single swift movement, and try something totally different with a customised seat.
The cool blue colour is sure to be a firm favourite, and this is a perfect way to improve your gear in no time, and enjoy a status as king of the kayaks and the focus of events.
As an added bonus, it is designed to be super comfortable as well as a fashion must, and you can personalize your look by adding adhesives – be ready for any situation!
Cool blue color allows maximum visibility
Comfortable enough for longer trips
Easy to install
A little thin compared to other model
Conclusion
In the end, the amount of accessories you need varies between boaters, so don't worry if your needs are different from others – it is ultimately your choice. One perfect product may be a terrible idea for others, and certain things may not be necessary depending on the nature of your trip.
If you don't transport your kayak, a trolley may be a waste, but a spare paddle could be a must for rough waters! We love all our products, but the Onyx life jacket is the ultimate favorite for paddlers and kayakers alike. A pair of shoes is a nice touch, a motion sensor may be a bonus, but staying safe is always the key priority, and this allows you to do it in style.
Smart Start Kayaking Kayak Accessories Review
Kayak Cover
★★★★★
"
Wow! that was a lot of information and I really loved reading it. I came here searching for the smart sonar but I've found a lot of valuable information about other accessories. Stay Blessed!
"